News
WandaVision Trailer Arrives, Teases Late 2020 Release Date
Marvel is bringing Paul Bettany as Vision and Elizabeth Olsen as Scarlet Witch to Disney+ with a WandaVision TV series. Check out the first full trailer.
You think there's a lot of Marvel programming out there now? Just you wait. Even with the unceremonious cancelation of Daredevil, the slightly more ceremonious cancelation of Iron Fist, and the inexcusable cancelation and Jessica Jones and the rest of the Marvel Netflix line (look, we're not happy about it, either), there will still be plenty of Marvel TV coming your way. Indeed, like a HYDRA, cut off one Marvel TV show and two more shall take its place. Or in this case, one with two leads.
The first batch of Marvel TV shows on the upcoming Disney+ streaming service will include a series following the unlikely pairing of an android and a mutant (?) magic user/probability manipulator, Vision and the Scarlet Witch, with the title of WandaVision.
Jac Schaeffer, who wrote Captain Marvel, is writing, producing, and acting as showrunner. The show will also tie-into the upcoming Doctor Strange in the Multiverse of Madness.
Here's everything else we know so far about WandaVision…
WandaVision Trailer
We didn't expect it, but the first footage from WandaVision arrived during the Emmys, and it looks more gloriously weird than we could have possibly hoped!
Check it out here!
We did a full breakdown of all the MCU secrets in the WandaVision trailer right here.
WandaVision Poster
Is this disturbing enough for you?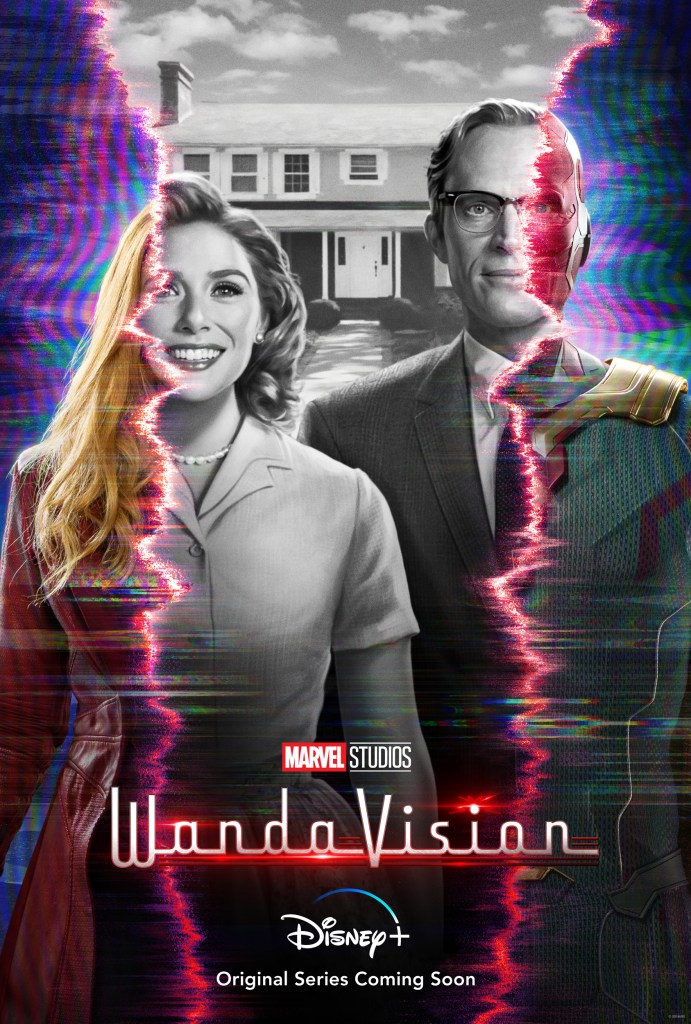 WandaVision Release Date
WandaVision will be the second live action Marvel TV series to hit Disney+. While no exact date has been revealed yet, Disney+ has confirmed that it will get here in late 2020.
As for exactly when? We can certainly guess! The Mandalorian Season 2 will premiere on October 30th. That will likely run for eight episodes, just as the first season did. So with that in mind, WandaVision will probably drop during the last week of December, just in time for the holidays!
WandaVision Cast
Paul Bettany and Elizabeth Olsen will reprise their big-screen roles as Vision and Wanda, of course.
Three major players will join them, two from the Marvel Cinematic Universe and one newbie. Kat Dennings and Randall Park will be reprising their MCU roles of Darcy Lewis and Agent Jimmy Woo respectively.
Kathryn Hahn will also be joining as a "nosey neighbor." Sounds like WandaVision really is going to explore Wanda and Vis's blissful domestic life.
Teyonah Parris (If Beale Street Could Talk) has been cast in WandaVision as Monica Rambeau, a character who first appeared as a child in Captain Marvel.
WandaVision Story
Here's the official synopsis, courtesy of Disney:
"Marvel Studios' WandaVision blends the style of classic sitcoms with the Marvel Cinematic Universe in which Wanda Maximoff (Elizabeth Olsen) and Vision (Paul Bettany)—two super-powered beings living their ideal suburban lives—begin to suspect that everything is not as it seems."
They added another one, which reveals some more details, too…
"The series is a blend of classic television and the Marvel Cinematic Universe in which Wanda Maximoff and Vision—two super-powered beings living idealized suburban lives—begin to suspect that everything is not as it seems."
WandaVision will also tie into Doctor Strange in the Multiverse of Madness. Sounds like that could be the show's solution to the whole "Vision is dead" problem. Indeed, the quasi-1950s setting of the D23 teaser poster appears to hint an explanation attributed to Wanda's reality-based powers.
Vision and Scarlet Witch were a staple of Avengers comics for many years, and even supported a limited series that detailed their domestic bliss.
Star Paul Bettany, who is reprising his role as Vision for the series, spoke to Collider about the series at Sundance.
"I so admire Kevin Feige and the courage that he has. The decision that he's made with this show is so bonkers, quite frankly, and really risky and really new and unlike anything [Marvel Studios has] ever done. It has been — I'm going to speak for [Elizabeth Olsen]; I guess she wouldn't mind — is it's been one of the highlights of my career, making this show. I don't know how it's gonna come out but it's been so much fun to make. The writing is just extraordinary. I mean, Jac Schaeffer is the head writer on [WandaVision] and she's just been brilliant. It's the happiest set I've ever been on."
"There's quite a few other comic books that we're pulling from and it's going to be Wanda and the Vision, and I think at the Disney+ launch chat, they showed a photo of us in the '50s," Olsen told Variety. Could this be an example of Wanda's occasional mental health issues rearing its head, where she is coping with the traumatic death of Vision in Infinity War and Avengers: Endgame by creating a fantasy world/domestic life where he still lives? Could WandaVision be the Marvel Studios equivalent of the completely bonkers and surreal Legion? Time will tell.