Features
WandaVision Trailer Breakdown and Analysis – All the Marvel Comics and MCU Easter Eggs
The new WandaVision trailer brings up a lot of questions and we're here to give it a closer look, and help out with any Marvel Comics and MCU Easter eggs that may be lurking...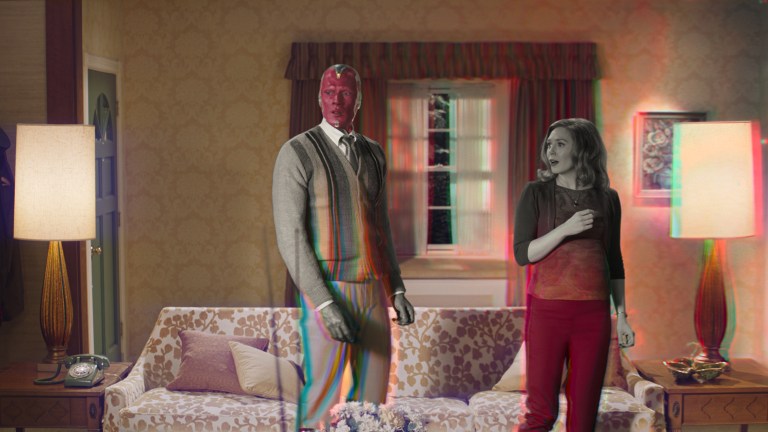 It's been a long, dry spell for the Marvel Cinematic Universe. After Spider-Man: Far From Home, all we had was the finale of Agents of SHIELD, and that barely even counts anymore in terms of the larger MCU.
We were supposed to have Black Widow back in May, but that's been delayed until at least November thanks to COVID. Similarly, we're waiting for Marvel stuff to start packing into Disney+. Luckily, as we angrily pound the floor and wonder when we're going to get to the fireworks factory, Marvel has released a brand new trailer for WandaVision.
Here it is in all of its Twilight Zone of the Superheroes goodness.
Now, then. Let's look closer at this dressed-up nightmare.
Sitcom References
As we listen to "Twilight Time" by the Platters, we see Wanda Maximoff and Vision in a black-and-white setting in what appears to be any given 1950s sitcom. The two are newlyweds, which – as they'll get to in a bit – is a bit of a headscratcher since Vision was last seen getting the Mind Stone getting torn from his skull in Avengers: Infinity War.
I'm not sure if it's creepier and more alarming that this Vision has what looks like the Mind Stone on his forehead than if he showed up fine without it.
Due to Wanda having metahuman powers and Vision being an android, the two have to hide their true natures to fit in. This goes with classic sitcom concepts like Bewitched, I Dream of Genie, Small Wonder, and even parodies like The Coneheads.
We wrote more about the sitcom references in WandaVision here.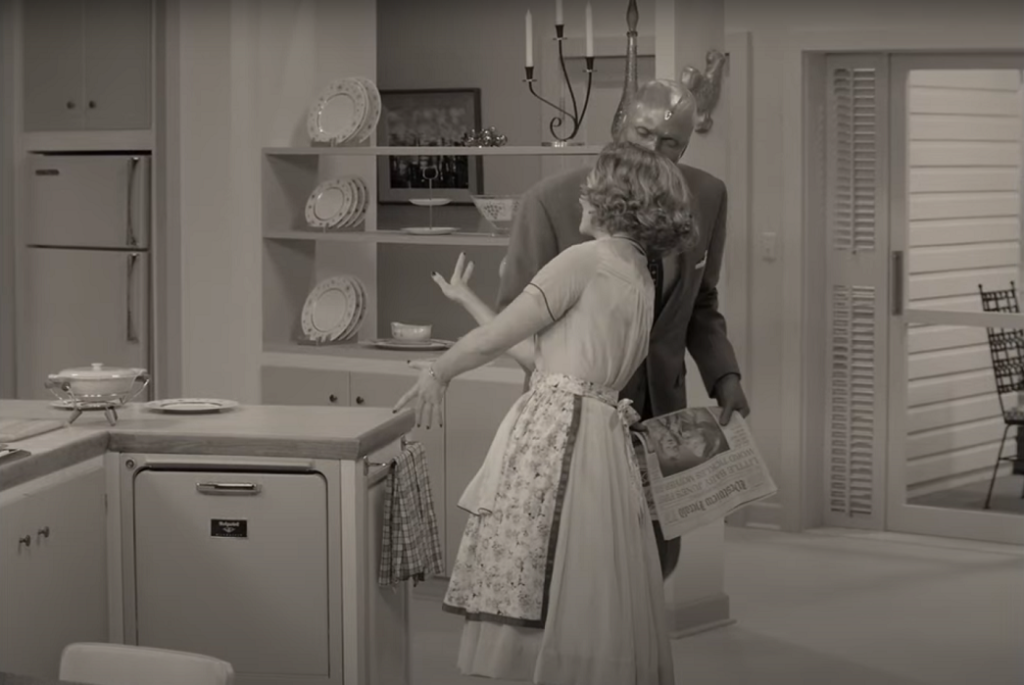 Do Vision and Scarlet Witch Have Children?
About 13 seconds in, Vision is holding a newspaper. It's the Westview Herald and the headline appears to be, "LITTLE BABY JUNE'S FIRST WORD TICKLES MOTHER—" something. It's probably a throwaway image, but as we already know from the first trailer and the history of our protagonists, babies play into their story in a big way.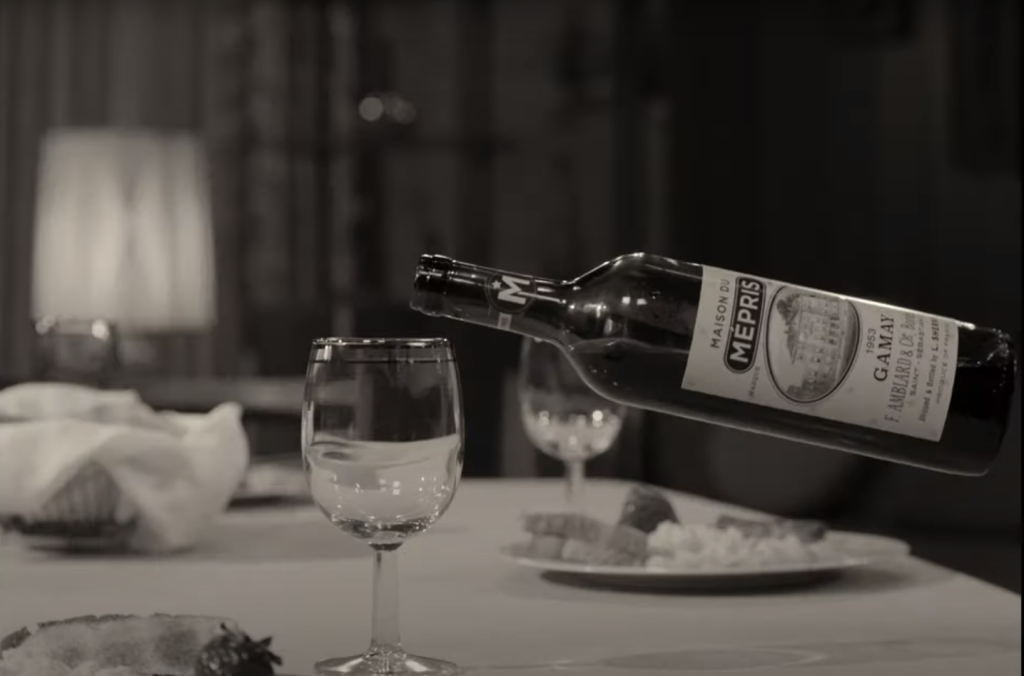 House of M
During dinner, Wanda uses her powers to pour out wine without manually holding the bottle. The wine is called "Maison Du Mepris," which translates to "House of Contempt." More interestingly, it you just start with "House of" and leave the last word untranslated, you pretty much get "House of M." There's even that big M on the neck of the bottle, giving it a subtle touch.
House of M is the big Marvel storyline where Wanda lost her mind and lost control of her powers, thereby transforming the entire world into a reality where she and her family ruled and mutants were the dominant species. It would appear that there are elements of that story in play for WandaVision.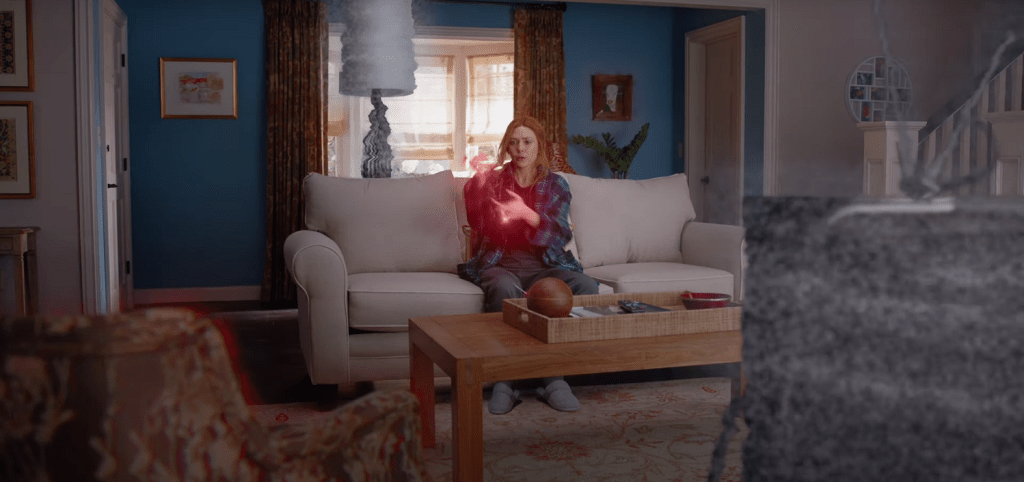 This goes along with a shot later in the trailer where Wanda is straight-up altering the living room on a stressed whim. Unlike the black-and-white section, she doesn't appear to have a handle on things at all.
Is Debra Jo Rupp the Villain of WandaVision?
Debra Jo Rupp (That '70s Show) plays a neighbor visiting for dinner with her husband. As she notably brings up them having babies, the big thing here is that she asks general questions about their background and neither has an answer to give.
The visiting husband appears to violently reject reality itself due to their lack of answers. Even throwing an impure "damn it!" into the '50s setting.
As things appear to no longer make sense, reality seems to begin to unravel.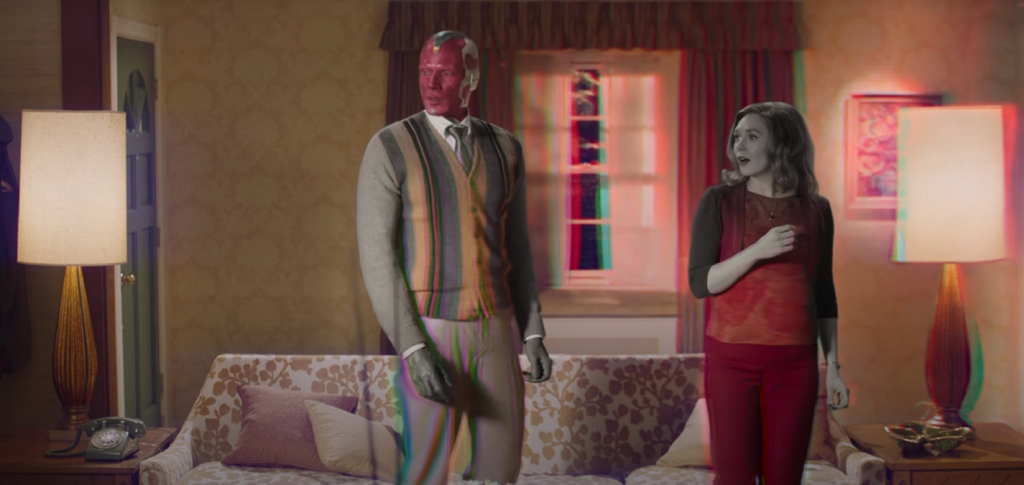 "Is This Really Happening?"
Wanda wonders, "Is this really happening?" This is when the images start to flash quickly.
Now we're in a setting that's somewhere in between Brady Bunch and Family Ties. At 45 seconds, we see the two of them playing with their babies. In the comics, Wanda gave birth to Vision's children with the explanation being that Vision was so advanced as an android that he even had workable sperm.
Over time, this was disproven and it was shown that these babies didn't fully exist. They were created by Wanda's powers mixed with that of demons. This revelation ultimately broke Wanda and we're destined to see that kind of damage in the MCU. We wrote more about this possibility here.
Kathryn Hahn very briefly appears at 45 seconds, decked out in some seriously 80s exercise threads. Look at her sitting on the counter! What a free spirit!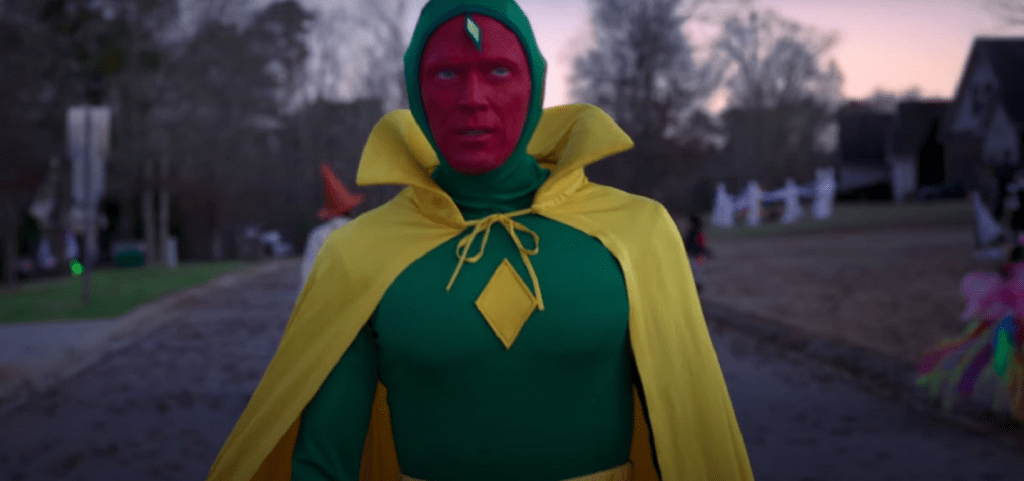 Comics Accurate Costumes
Eventually, the cinematography returns to the regular Marvel Cinematic Universe house style. Vision looks like his MCU self (that is, until he shows up in a comics accurate version of his costume). There are people around trick or treating, but nobody appears to be too active. He flies around to give this neighborhood a closer look, and this is likely where he ends up testing the limits of whatever is going in with reality.
The presence of a comics accurate costume might hint at other story possibilities, too.
This goes nicely with Wanda's comics accurate Scarlet Witch Halloween costume (something she's certainly never worn in the movies), too.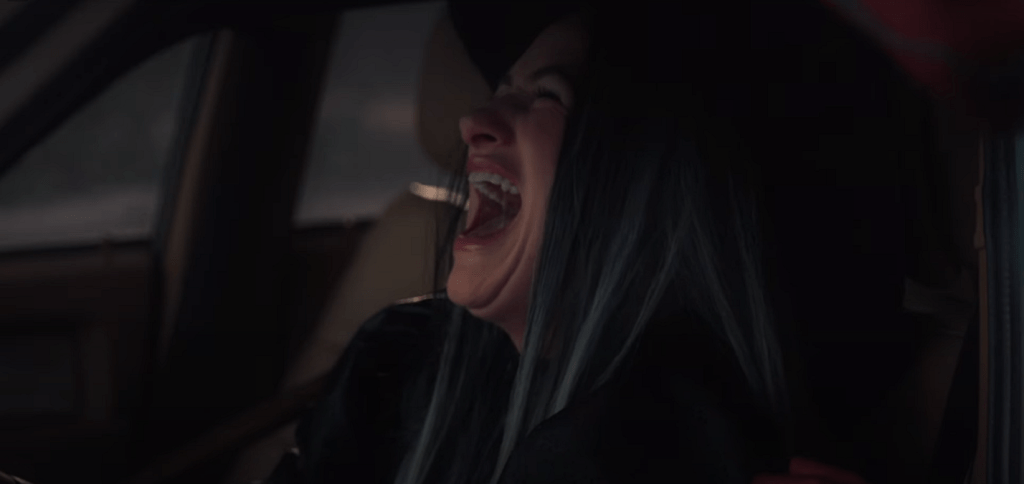 Who is Kathryn Hahn Playing?
Kathyrn Hahn makes several appearances in the trailer. Early on, she seems like the fun neighbor during the 1950s sitcom sequences. Later, she's a wacky neighbor in '80s exercise gear.
But during the "MCU" segment, she appears on Halloween, when Vision taps her on the head. She is, fittingly, dressed as the Wicked Witch of the West from Wizard of Oz. Confused, she points out what we know and Vision doesn't: he's supposed to be dead.
Jump cut to her not only laughing, but laughing like the Wicked Witch of the West. Not only is the witch connection neat, but it's another story that goes from black-and-white to color over time.
Could she be the MCU version of Agatha Harkness, a Salem witch who helped out Marvel heroes on occasion? We wrote more about this idea here.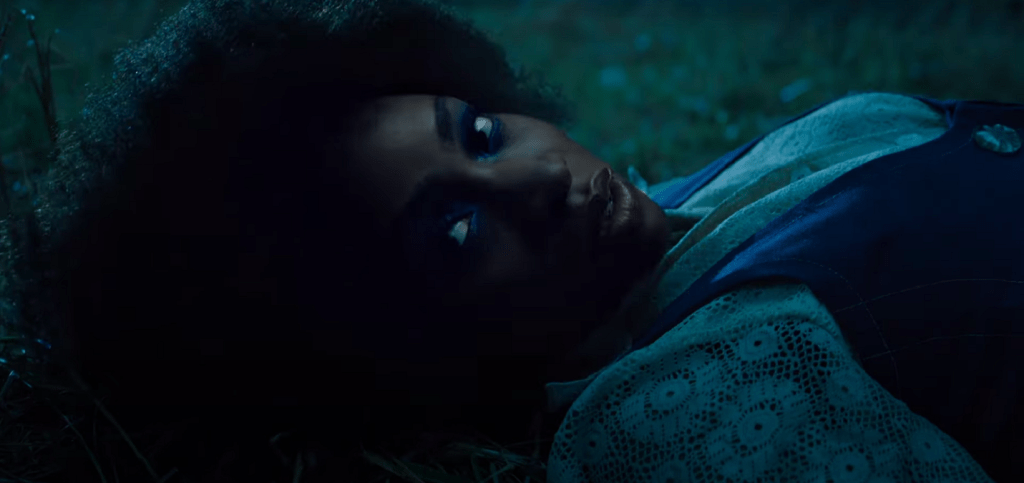 Monica Rambeau
A body flies through the sky in daytime, only to land in nighttime in front of government agents. This is Monica Rambeau from Captain Marvel, now grown up and portrayed by Teyonah Parris. Rambeau has a significant Marvel history (and a claim on the Captain Marvel name), so if she's here, expect potential ties to Captain Marvel 2, as well.
The presence of government agents (SHIELD agents?) paints how serious the situation is. Wanda didn't just bring Vision back to life with her powers. She's taken over an entire town to mold into her own reality. Of course the outside world is going to notice.
The question is: what can they do about it? Can they stop her? Can Vision stop her? Can Wanda even stop herself if she wanted to?
We'll get our answers when WandaVision arrives on Disney+ in December.