Features
Warrior Season 2: What to Expect From the Return of the Martial Arts Drama
As Warrior launches Season 2, the critically acclaimed Cinemax original series enters the fight for its life.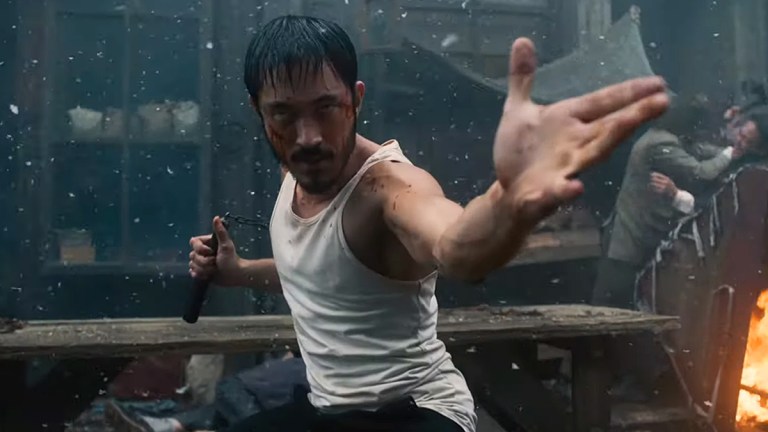 When Warrior premiered in April of last year, Cinemax knew they had a hit right away. Helmed by Fast & Furious director Justin Lin and Banshee co-creator Jonathan Tropper, Warrior was renewed for a second season after just three episodes.
"Warrior comes from the pitch Bruce Lee brought to Warner Brothers," Tropper says, the writer of the show. "It was an eight page treatment Bruce Lee had written that Shannon [Lee] held onto, and that was where the initial ideas for this show come from."
The show exists largely through the efforts of Shannon Lee (Bruce Lee's daughter and the executive producer of the show) to bring one of her father's many visions to fruition. It's a true testament that Warrior carries on Bruce Lee's legacy nearly 50 years since he's passed.
The gritty action-packed drama is set during the brutal late 19th century Tong Wars of San Francisco's Chinatown and showcases a largely Asian cast. Loosely based on historical events, Warrior explores the tumultuous Wild West period leading up to the Chinese Exclusion Act, the only law that the United States ever implemented to block immigration of a specific racial profile.
"My father had the main character Ah Sahm (Andrew Koji) coming over from China, getting indoctrinated into the Tongs as a hatchet man, while he was really looking for his sister. It had Bill (Kieran Bew), the police officer, as a character. It had the Tong wars as a backdrop to the show and it had the Chinese Exclusion Act and the political immigration issues of the time as a backdrop to the show."
With trending immigration issues under the present political regime, Warrior is uncannily topical.
"This has always been an immigrant story," says Tropper, who started writing the show under the Obama administration and didn't foresee how relevant it would become in 2020. "For me, it's not that we were aiming at this topic. It's just that this topic is never not there. It just happens that people are much more conscious of it right now because of this administration. But America is a country built by immigrants that has never developed a comfortable relationship with immigrants. So it's a generational problem and it's a cyclical problem, and it's one that we have not solved. I feel like thematically, this show would be relevant no matter when it was coming out. Now it just happens to speak really loudly to what's going on."
Enter the Dragon – Rising Star Andrew Koji
Politics aside, Warrior has one of today's hottest actors in the lead role, Andrew Koji. Beyond Warrior, Koji plays the pivotal role of Storm Shadow in the upcoming Snake Eyes: G.I.Joe Origins alongside Henry Goulding (Crazy Rich Asians), Ursula Corbero (Money Heist), Iko Uwais (The Raid), and Samara Weaving (Bill & Ted Face the Music). The film was slated for release this October but was pushed back to 2021 as another COVID-19 casualty.
"If it's best for the film, for the audience, for people," says Koji, "I don't think many people want to go to the cinema right now."
While the postponement of his first major film was disappointing, it was overshadowed by the announcement that Koji has been cast in Bullet Train starring Brad Pitt and directed by David Leitch.
"I saw the article the other day," recounts Koji with glee. "I was like, "What's my face doing next to Brad Pitt's? Nah. Nah. What's going on?"
Koji's character Ah Sahm is the role that Bruce Lee intended for himself. However, Ah Sahm is his own man, only echoing Lee with Easter Egg nods to classic film fight scenes, but the nods are kept low key.
"When he beats up the first two guys at the brothel in the pilot, that is literally the choreography from Way of the Dragon," Tropper explains. "And then he sits down on the chest of the guy, we're just totally paying homage there. And then, having done that, we do almost nothing else the rest of the season except the occasional tweak of the nose or the gesture with the hand." 
Brucesploitation is a genre of its own, another surreal testament to Bruce Lee's legacy. If Koji had just done an impersonation of Bruce, Ah Sahm would have degenerated into yet another Bruce Lee clone. Despite the temptation, and having the blessing of Bruce Lee Entertainment, Warrior would not have succeeded like it has if it were just derivative.
"Of all people, Shannon Lee was really insistent that we don't go overboard with the Bruce Lee stuff," continues Tropper. "She really tempered it. We were welcomed to use it, but she really wanted the show stand on its own. She had a sort of 'less is more' approach. And I think that turned out to be the wise way to go."
Despite Koji's rising star, he's quick to deflect the credit for the success of Warrior to his cast mates.
"When I see Warrior Season 2 and I see these great actors; Kieran, Tom [Weston-Jones], Hoon [Lee], Joe [Taslim], et cetera, I'm more honored that I'm amongst this cast. When I see their performances I'm like, 'Whoa, these guys are good, because they're nothing like this in real life.' It's more that it's an honor to be able to work alongside these people who are just so good at what they're doing."
Fist of Fury – Warrior Season 2 Comes Out Fighting
When Ah Sahm was last seen in Season 1, he had lost a brutal duel to Li Yong (Taslim). He falls from grace at Hop Wei Tong to become a coolie. 'Coolie' is a Chinese word. 'Ku' means 'bitter' and 'li' means 'work' and the coolie world is a hopeless grimy place to be. It sets the stage for Season 2 to blow up.
"The fun of any Season 2, and certainly in this show, is in Season 1 you have to do all the heavy lifting of building the world," Tropper says. "Season 2, the world's already built, and now you get to really go deeper into all the characters because you don't have to spend as much time placing them."
Season 1 established the three distinct worlds of Warrior: the upper crust world of San Francisco politics, the working class world of the cops, and the lower class, the Irish ghetto and Chinatown.
"These three forces have been put into this pressure cooker where something is going to either give or explode," continues Tropper, "So in Season 2, it was time to let that pressure cooker explode."
Lee feels that her father would be pleased with how Warrior has turned out so far. She finds it crazy how relevant the show is today and is excited to see how the next episodes play out.
"Fans can expect, for Season 2, to really up the stakes and up the conflict," she says. "We're really going to see things reach a bit of a fever pitch in Chinatown… So it's very complicated and the weaving of the story is really brilliant and the stakes are really high. And you'll see what happens."
Warrior Season 2 introduces several new characters and story arcs. The costumes of Ah Toy (Olivia Cheng) get more lavish and opulent. The fights escalate, getting bigger and bloodier as the season progresses and even includes a face-off between Ah Sahm and Dolph, played by UFC Champion Michael Bisping.
"I don't think many people would be able to say they kicked a UFC champion in the face and lived," jokes Koji. Warrior Season 2 would be a sure win if it weren't for Cinemax's programming cuts and the fact that it's 2020, the year of the pandemic.
The ongoing COVID-19 pandemic brings an unexpected challenge for a show about Chinatown. Racist attacks against Chinese have been on the rise, so much so that the House or Representatives just passed a resolution condemning "all forms of anti-Asian sentiment as related to COVID-19." Will this affect the reception of Warrior?
"Gosh, I don't know," says Lee. "I certainly hope not. But given the ability of people to be reasonable in this moment that we find ourselves in, I wish I could say, 'Oh, that would be silly,' but I feel like the anti-China, anti-Asian sentiment in the country around the coronavirus is silly. There's a lot that's gone on that is kind of blowing my mind left and right, so I wish I could say for certain that it wouldn't. But what I hope happens is that people tune in to the show… because it's entertaining and they fall in love with it; and maybe it shifts their perspective in some way."
For Tropper, the relevance of Warrior reflects the pervasiveness of racism.
"I think that just proves the point that whether it is overt or covert, it's never gone," he says. "There's the version of xenophobia towards the Asians. There's a version of racism towards the Black population. Our country has these fault lines that are always there whether they're shaking or not. Obviously there are tremendous echoes from our show of what was going on when they started referring to coronavirus as the 'Chinese flu.' But if you speak to any Chinese American, I don't think they'll tell you it's ever really been gone. It just goes through periods of quiet and periods of noise. So I think we just happened to be coming out at a kind of noisier time, which is deeply unfortunate. Believe me I'd much rather we were just a fun martial art show that was a lot less relevant today."
The Road to Warrior Season 3
Unfortunately last January, Cinemax announced that it would no longer be commissioning original shows in preparation for the launch of HBO Max. "Right now, Season 3 is a little uncertain," says Lee. Warrior Season 2 is an attempt to level the show up to prove it deserves another round.
"We're in these uncertain times," says Lee, "but I'm hoping that when the show, once Season 2 completes on Cinemax, they are going to release it to the HBO platforms and I do hope that the show will just catch a much bigger audience and that there will be demands for a third season."
Why invest in a second season when the future is uncertain? There's always a chance that the fans may save it. Shows like Star Wars: The Clone Wars, The Expanse, Money Heist, and Cobra Kai found new life and more fans on other networks.
"I've got a gut feeling that this show, or at least the legacy of this show, will last a lot longer than most shows," adds Koji. "I think what it means – the energy, the feeling, the story and the characters – there's so many elements that just were magic. The writing's sharper, the action is crisper and embraces its style more. I think the actors are all on point. Season 2 was one of the highlights of my career so far, shooting, and I think it was for a lot of people. We all felt that magic, so we hope that it comes across on-screen, which I believe it will. I think they're going to see something special on all fronts."
Koji holds out a lot of hope that Warrior Season 3 will happen.
"Well, obviously, with the current climate it's a lot less certain. All we know is if the fans make enough noise and help us by making that noise it is in so many of our intentions to wrap this show up as I think it should. Not only for the show, the story, for the fans, but for that legend Bruce Lee. I think it deserves a conclusive ending."
Regardless of what the future may hold for Warrior, Season 2 is worth the watch.
Warrior begins its ten-episode second season on Oct. 2, exclusively on CINEMAX.