Features
How Wira Star Hairul Azreen Became Malaysia's Rising Action Hero
Hairul Azreen, the star of Paskal and Wira, tells us of his martial arts training and rise to stardom.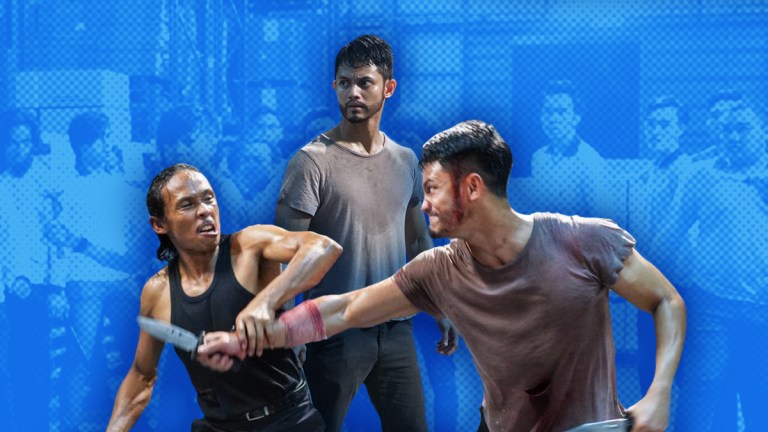 Netflix is bringing to light fresh blocs of world cinema, streaming straight into our living rooms, and lately Malaysian filmmaking has been on the rise. Today's world-renowned Malaysian stars include distinguished actress Michelle Yeoh and the Malaysian-born British actor Henry Golding. Netflix already offers a dozen recent movies, as well as over three times as many TV dramas, including two from the next up-and-coming Malaysian leading man, Hairul Azreen.
A national Taekwondo champion, Azreen is tall, dashing, and seriously shredded with a body built for action. Now 32, he started acting in 2008, starring in well over a dozen Malaysia TV series over the first decade of his career. He broke into movies in 2011 with a comedy feature titled Senario The Movie Ops Pocot. However, it's action where Azreen really shines.
Azreen garnered worldwide attention when his last two films, Paskal and Wira, were picked up by Netflix. Paskal is an abbreviation of Pasukan Khas Laut, the special ops branch of the Royal Malaysian Navy, which supported this project. It was the most expensive Malaysian film made to date—a bombastic gun show of naval hardware, spectacle, and brimming patriotism— that stands among Malaysia's top grossing films. Based on actual events, the film depicts Operation Dawn 8: Gulf of Aden, the rescue of the ship MV Bunga Laurel from Somalian pirates. It also co-stars Kung Fu choreographer Tiger Chen (The Matrix, Kill Bill). Azreen is particularly proud of the project, not only because he was the lead but also because as he says, "We were highlighting our national unsung heroes."
Wira is an underdog, underground fight film, also set in contemporary Malaysia, with some overlapping characters from Paskal. Azreen plays a completely different character but gets to showcase his martial prowess far more, pitting him against the veteran master of movie mayhem, Yayan Ruhian (The Raid, John Wick: Chapter 3 – Parabellum). Beyond facing off against Ruhian, Azreen delivers several intense fight scenes, including a complex single take sequence fending off a horde of gangsters in a warehouse.
Azreen spoke with Den of Geek to introduce himself to his newfound international audience.
Den of Geek: You got your start in the martial arts. Tell us about that.
Hairul Azreen: I picked up Taekwondo when I was just 8 years old. Taekwondo eventually drove me to my Black Belt through hard work and, ultimately, representing Selangor at the 2004 SUKMA games.
I loved the action and training that I went through practicing Taekwondo, which instilled my spirit of never giving up and improved my confidence for the long run. Martial arts bring me tremendous joy with the exhilaration from a competitive sparring session conducted in the right spirit. It gets my blood pumping and filled with adrenaline. That buzz is what I crave as it keeps me physically fit and mentally on the ball as well.
Have you studied other martial arts beyond Taekwondo?
I did study our very own and unique Malay martial art that is Silat.
How did you go from martial arts champion to acting?
I eventually landed my first jobs as a stuntman in local tele-movies and films. It was certainly tough work, but I really enjoyed it by getting in the rough and tumble action! After being involved in several smaller productions, I managed to land my first supporting role in a drama series – Rona Roni Macaroni. From there, things started looking up for me with 10 other drama and tele-movie roles in that year alone. Since then, I've continued to work on my craft by brushing up on my acting skills whilst continuing to maintain my physical condition at its peak. Ultimately, it brought me the leading roles that I am fortunate to have today.
Beyond Wira and Paskal, which other of your movies do you recommend for Western audiences and why?
Among others are Polis Evo2, firstly because I am in it [laughs]. This is where our filmmakers took it to the next level.
Malaysian cinema is relatively new to the U.S. What should U.S. audiences look for in Malaysian film?
Culture. We are unique in our own way. For example, which I believe you have seen in Wira, is the manners in our culture which shows Hassan's respect to his father, even though he is going against Hassan's will.
Tell us about what went into shooting the single take warehouse fight scene in Wira.
It's tough. We were shooting during the month of Ramadan. After training for two weeks, we had to complete the scene within three days. I tore three of my ankle ligaments during the 30-foot free fall. My doctor advised me to rest for at least two weeks. I decided to go against the advice. It's a miracle that we complete the scene the very next day.
How was it to work with Yayan Ruhian in Wira?
Awesome! It was an honor to be working with him. He has great ideas and techniques. Given the status, he is humble and very pleasant to work with. I had never dreamed to be in a single frame with him.
Who among today's martial arts stars would you like to work with in the future?
Tony Jaa, Iko Uwais, Scott Adkins.
What new projects do you have coming up?
There are few offers. I was supposed to join one huge local war movie in June, but due to the pandemic it was postponed to next January. In October, I will be in a local action thriller.
What would you like newcomers to Malaysian cinema to know?
Thank you for supporting our local film. I hope you will keep on watching. There will be more from us.
Paskal and Wira are available on Netflix.