Features
Best Martial Arts Movies on Amazon Prime Right Now
We've compiled some of the top picks from Amazon Prime's extensive library of Martial Arts films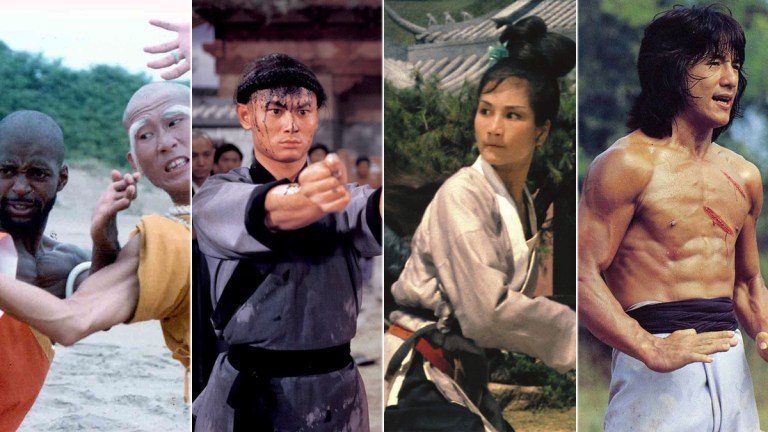 Search 'Martial Arts Movies' on Amazon Prime and you'll get over a thousand results ranging from the classics to the campy, to the critically acclaimed. It's an overwhelming library for the uninitiated and the mother lode for stalwart fans of the genre. There are so many gems buried in Amazon Prime that digging out the favorites is dirty challenging work but extremely rewarding.
When it comes to martial arts, Amazon Prime has a killer Kung Fu collection. The '80s were the 'Golden Era' of Kung Fu films when Hong Kong film studios cranked out films faster than any grindhouse ever. Many Hong Kong filmmakers put out up to half a dozen films a year, and most have hundreds of credits on IMDb. This glut of Kung Fu films spread to every Chinatown ghetto theater on the planet. And like with horror, American networks broadcasted late night Kung Fu Theater shows because there was so much cheap content available.
Consequently, Amazon Prime's Kung Fu film selection leans heavily that way, but we'd be remiss if we didn't include some non-Chinese favorites too. Martial Arts movies cross over to all other genres and nations. There are comedies, romances, horror, fantasy, sci-fi, and art house films. From countless cheesy low-budget exploitations, many so funky that they're totally awesome, to the brilliant ground-breaking works that are staggeringly sensational, here's some classic jewels and hidden treasures currently included with Amazon Prime membership.
Fist of Fury (1972)
Despite his fame, Bruce Lee only lived to see three of his martial arts movies premiere because Enter the Dragon and Game of Death were released posthumously. His impersonators are innumerable, so many that Bruceploitation is its own genre.
But Fist of Fury is the real Bruce in all his nunchuck spinning glory. It's loosely based on the history of the Chin Woo Athletic Association, which remains one of the largest international martial arts organizations to this day. When Bruce shattered the 'No Dogs and Chinese Allowed' sign with a soaring flying kick, it became a battle cry for the racially oppressed worldwide, firmly cementing Bruce as the world's first Asian global superstar.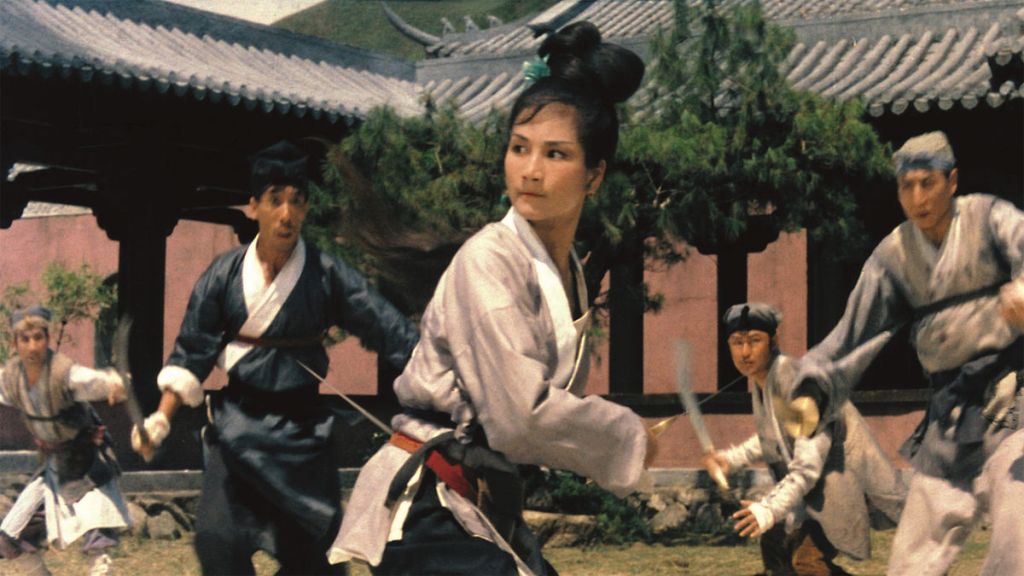 Come Drink with Me (1966)
Long before Charlize Theron went Atomic Blonde, Cheng Pei Pei blazed a path as Golden Swallow, the mysterious invincible swordswoman, and all female action heroines are in her wake. Fiercely independent and savagely lethal, Cheng delivers several sophisticated long-take fight scenes, the hallmark of real Kung Fu skill, with the poise and precision built upon her foundation in ballet. Cheng is remembered in Hollywood as Jade Fox from Crouching Tiger Hidden Dragon and played the matchmaker in Disney's live-action Mulan. Note that Amazon Prime also has the sequel, Golden Swallow, but it's not nearly as good.
Watch Come Drink with Me on Amazon.
Once Upon a Time in China (1991)
This tour de force from director Tsui Hark and Jet Li launched a six-film franchise and a TV series. Jet plays Wong Fei-hung, a real-life folk hero and Kung Fu master who has been depicted in well over a hundred films and TV shows. Set during the late 19th century, the film examines themes of Western colonization and Chinese cults, and while blatantly nationalistic, it captures Jet in his martial prime and contains some of his finest fights.
Amazon Prime also has Once Upon a Time in China II, which is an excellent sequel, however the third installment (not on Amazon Prime) falls apart, allegedly due to disputes between Jet and Hark.
Watch Once Upon a Time in China on Amazon.
Ashes of Time Redux (2008)
This was internationally acclaimed director Wong Kar-wai's first stab at the martial arts genre. It's sumptuously artsy and laboriously dystopic, not one to see for the action but the art. Based on a classic wuxia (wuxia is Chinese for martial arts genre books and film) titled The Eagle Shooting Heroes, Wong simultaneously filmed a parody titled after the book with the same cast. Wong did the Redux after the original print was lost, salvaging what was left, reediting and re-scoring it.
Watch Ashes of Time Redux on Amazon. (Prime US only)
The Assassin (2015)
Director Hou Hsiao-hsien won Best Director at Cannes for this magnificent epic, which was also submitted as Taiwan's Foreign Language entry at the Academy Awards. Starring the ever-glamorous Shu Qi, who made an early Hollywood crossover attempt with The Transporter, The Assassin is based on another wuxia tale that's parallel to The Manchurian Candidate but instead of Korean brainwashing, it's 9th century Chinese sorcery.
The exquisite filmmaking makes this spectacular–panoramic landscapes, lavish costumes, intricately detailed sets, all gorgeous. Every shot is a stunning composition of light and shadow, and the camera lingers on each frame with ponderous and quiet respect, the kind that film students will gush over for years.
Watch The Assassin on Amazon. (Prime Video in the US, rent only in the UK)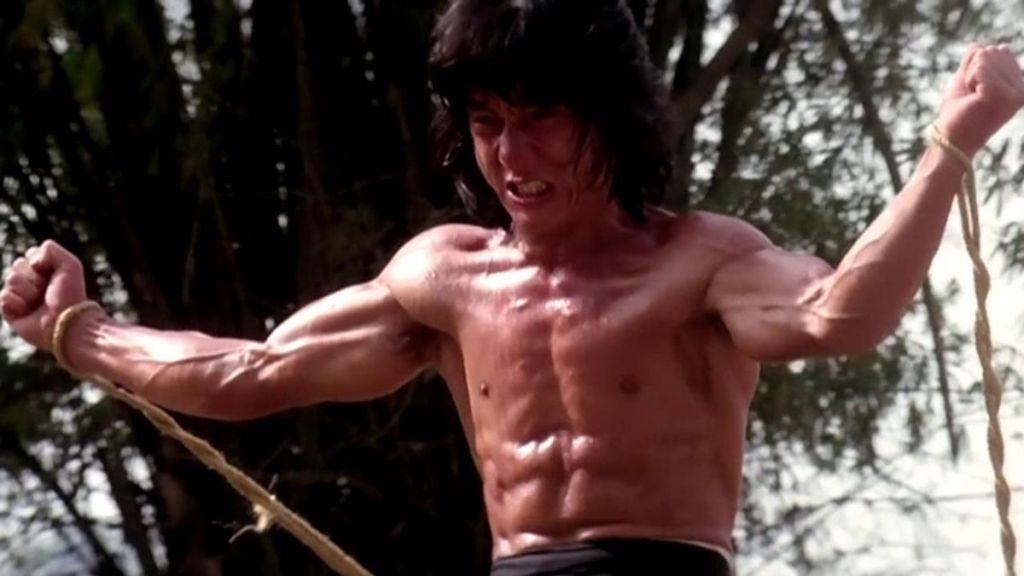 Fearless Hyena (1979)
When people cite Rush Hour to reference Jackie Chan, it just goes to show they don't know Jackie at all. Long before Jackie crossed over to Hollywood, he made dozens of films that truly captured his astounding Kung Fu skills, unrestricted by U.S. insurance liability. His late '70s period was particularly ripe because he was in peak physical shape and first creating his unique acrobatic comedies. Remember that chopstick dumpling training scene between Po and Shifu in Kung Fu Panda? In Fearless Hyena, Jackie and his shifu (James Tien) do it in live-action, no wires, no CGI, and the choreography is absolutely mind-blowing.
Watch Fearless Hyena on Amazon. (Prime US only)
Wheels on Meals (1984)
Jackie Chan earned his Kung Fu prowess from being trained from childhood in traditional Chinese Opera. Many of his classmates also became stars in martial arts film. This is one of two collaborations between him and his two martial brothers, Sammo Hung and Yuen Biao (the other is Dragons Forever).
A modern comedy shot in Barcelona, the chemistry between Jackie, Sammo and Yuen is magical as they bring the fastest three-person sparring scenes ever captured. On top of that, Jackie faces off against real-life kickboxing champion Benny 'The Jet' Urquidez in what is considered by many as the greatest fight scene ever filmed. 
Watch Wheels on Meals on Amazon.
Knockabout (1979)
Knockabout is Yuen Biao's first lead role after dozens of supporting roles. His acrobatic skills are unparalleled, stronger than Jackie's because his body frame is built like a gymnast. Sammo Hung's girth has typecast him as villains and buffoons. Nevertheless, he's a leading director and choreographer and serves as both in this film, on top of playing a comic beggar who trains Yuen in jump rope monkey Kung Fu (that's right–jump rop –you have to see it to understand).
It's a slow build past some goofy comic hijinks, because Yuen's skills improve over the course of the film. In a fight against Hoi Sang Lee, Yuen pummels so many goose-egg bruises into his noggin that he looks like the coronavirus. But once the training begins through to the final fight, Yuen and Sammo show why they are legends in the industry.
Watch Knockabout on Amazon. (Prime US only)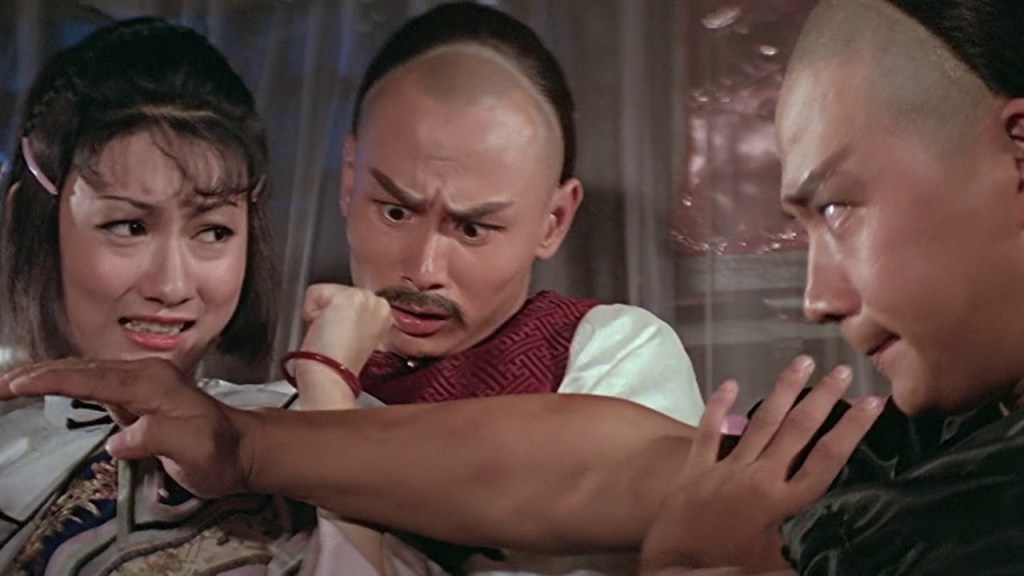 Dirty Ho (1979)
When this film came out, the title wasn't as funny as it is now. But it still works in a way because this is one of the best Kung Fu slapstick comedies. Starring some of top talent from Shaw Brother studios, including Gordon Liu, Wang Yue, and Lo Lieh, it's full of the stylish long-take choreography and blazing stunts using real fire long before CGI.
It's a classic tale of hidden master, a punk student, and notorious villains, including hilarious absurdities like sex change tea, and wheelchair and crutch fighting. The discreet Kung Fu challenge while sampling rare wines out of crazy cups is ludicrous fun; the sort that only master fight choreographer Lau Kar-leung can deliver.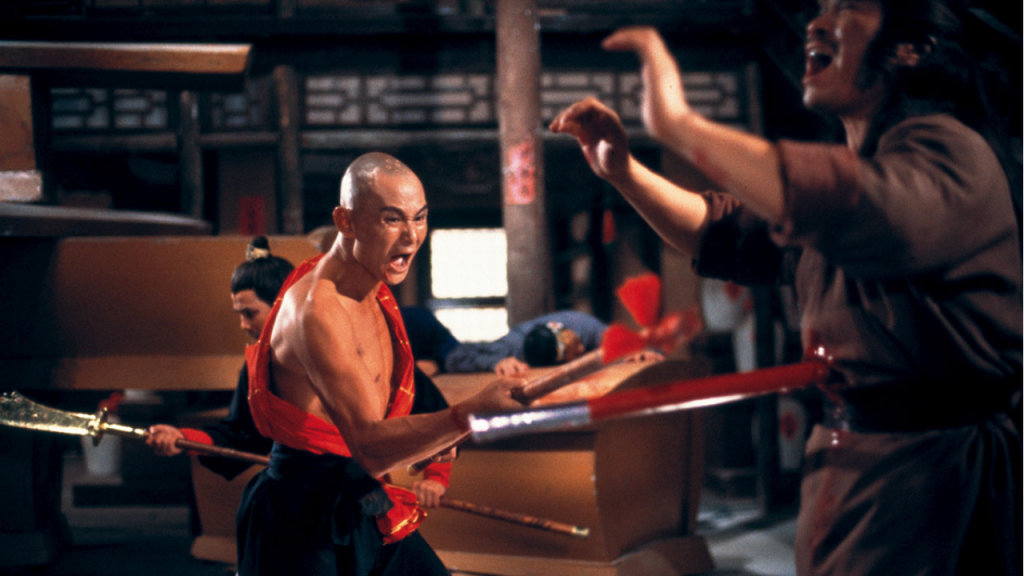 The Eight Diagram Pole Fighter (1984)
Here is another classic from Gordon Liu and Lau Kar-leung, but serious and somber. Alexander Fu Sheng, a prominent leading man, died in a tragic car crash during production, making this his final film. His character suffers PTSD after losing his family in a horrific opening ambush, but his storyline dangles unfinished.
The film was rewritten to focus Gordon and Lau, as well as the always brilliant Kara Hui. The cast goes all out to honor their fallen comrade's legacy, showcasing some of the finest weapon choreography ever shot. Based on the legend of the Yang family generals, the untimely death tugs hard on the heartstrings for anyone in the know. 
Watch The Eight Diagram Pole Fighter on Amazon.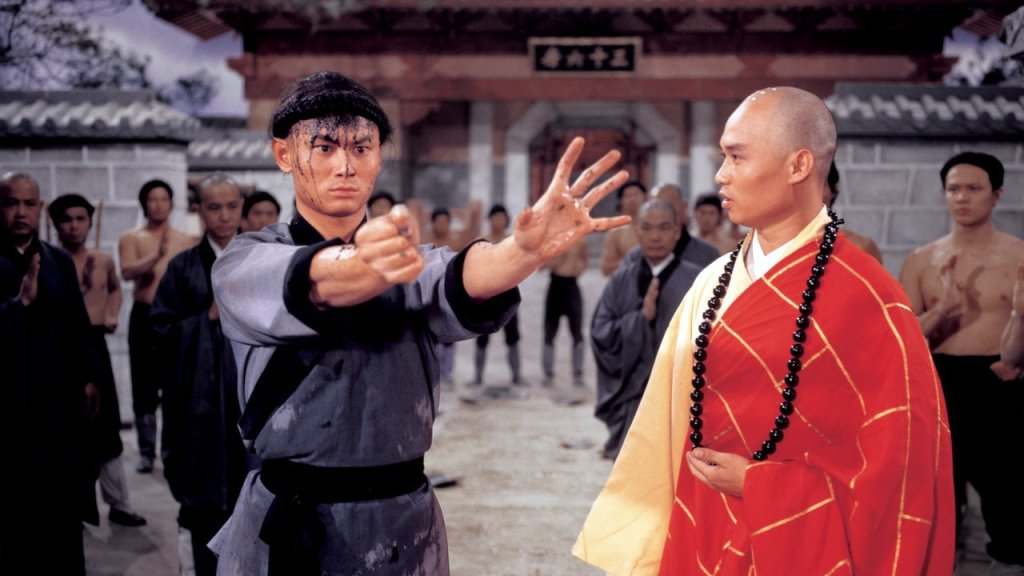 Return to the 36th Chamber (1980)
Just one more Gordon Liu and Lau Kar-leung project, this is the sequel to The 36th Chamber of Shaolin, which is also amazing and available on Amazon Prime. However, Return to the 36th Chamber has such an odd concept for a sequel that warrants special attention.
Liu plays a swindler impersonating the Shaolin monk San Te, the character he played in the first film. When his clan is oppressed by the Manchus gang, Liu sneaks into Shaolin, only to be deceptively trained by the real San Te, then returns for vengeance. His clan are cloth dyers, which makes for colorful pools for villains to plunge.
Liu's uproarious rooftop Kung Fu and his battle with Wang Lung-Wei's bench-fighter gang are outstanding. Kara Hui has the best retort after Gordon tries to play off his lack of Kung Fu, claiming it's only for "universal peace," and not revenge. She claps back "Huh! That's a stupid Kung Fu."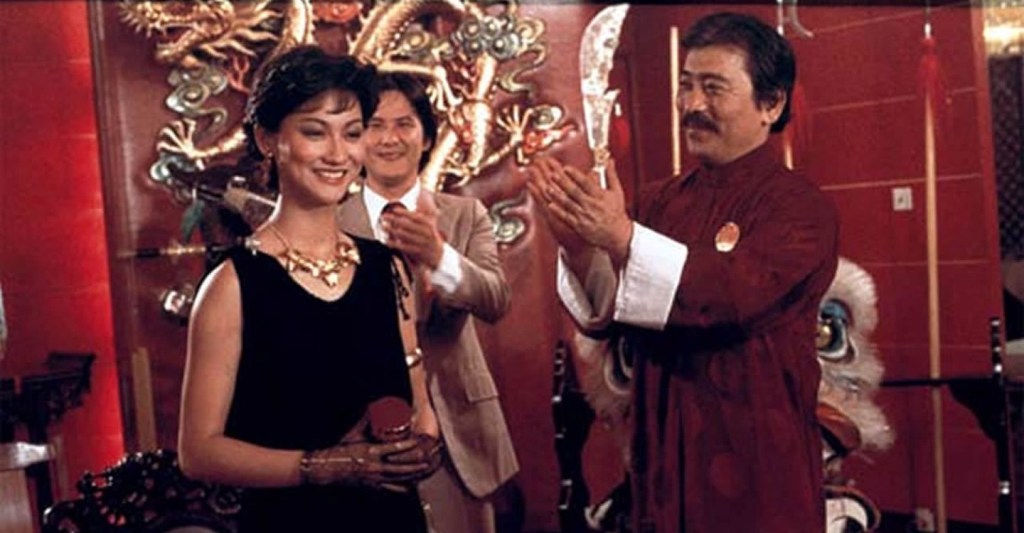 The Lady is the Boss (1983)
Kara Hui (aka Kara Wai) is one of the greatest Kung Fu divas of all, yet she's only known by true devotees of the genre. If you've never heard of her, here is one of her finest comedy vehicles. Set in modern-day Hong Kong, Hui plays an American master returning to save her father's Kung Fu school after his passing. Lau Kar-leung is the eldest student in charge (also the choreographer) and he resists her attempts to modernize.
Long take fights are staged in a topless club, a disco, and finally, a gymnastic gym replete with rings, parallel bars, and a beam, perfect for the choreographic shenanigans only Lau can bring. Gordon Liu appears with hair, which feels wrong because he built his reputation on playing bald monks. 
Watch The Lady is the Boss on Amazon.

Crippled Avengers (1978)
From director Chang Cheh, the "Godfather of Kung Fu Films," Crippled Avengers stars four members of the Venoms crew, from Chang's classic The Five Venoms (also available on Amazon Prime).
It was repackaged as The Return of the Five Venoms (and also Mortal Combat), however it is its own standalone masterpiece and has nothing to do with the original beyond the cast.
Lu Feng (Centipede from the Venoms crew) gets his arms chopped off and replaced by iron arms (a plot device that RZA echoed The Man with the Iron Fists). Lu and his father, played by the rough and tumble Chan Kuan Tai, cripple the heroes, who must then walk the road of vengeance while handicapped. The portrayal of the disabilities is dated (arm tied behind the back for the amputee, eyes closed for the blinded) but the choreography is ingenious. 
Watch Crippled Avengers on Amazon.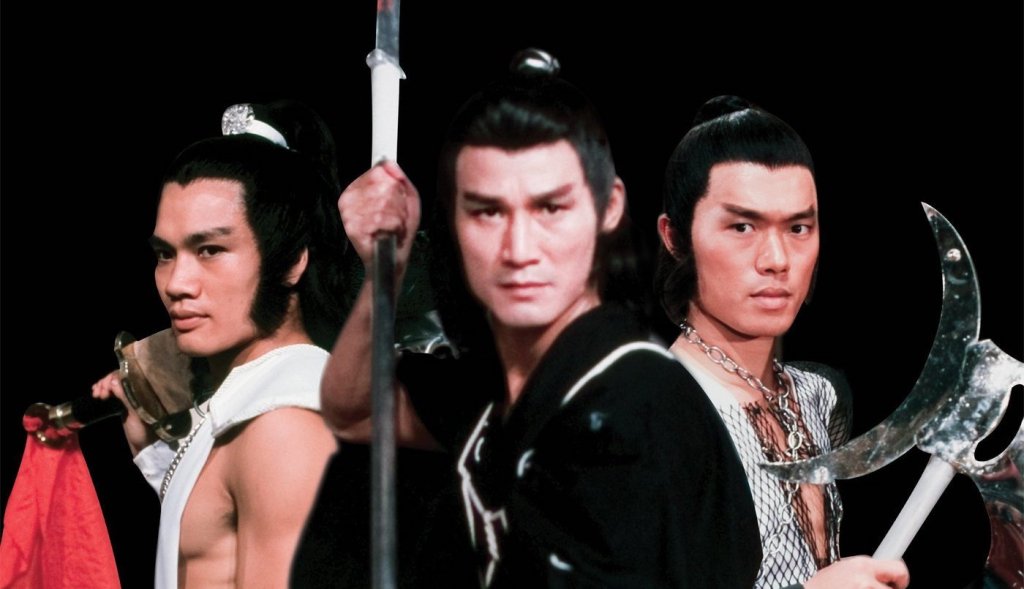 Five Elements Ninjas (1982)
Another echo of The Five Venoms from the sanguineous Chang Cheh, Five Elements Ninjas showcases the director's unique eye for fantasy. It's an orgy of weird fantasy weapons and ultraviolence, bloody fight scene after bloody fight scene, a cult film of truly epic proportions. As the title says, the ninjas are based on the five elements.
The gold ninjas don gold lame suits and switchblade shield hats. The wood ninjas look like rejected apple trees in The Wizard of Oz. If you turn this film into a drinking game where you take a shot whenever blood is spilled, you won't make it past the first half hour. 
Watch Five Elements Ninjas on Amazon.
The Web of Death (1976)
What is the ultimate Kung Fu WMD? It's a tarantula that roars like an elephant and shoots acidic webs, sparks, and death rays, and it decimates the wuxia world. The Web of Death has everything a cult film requires: crazy weapons, cross dressing, romance, complex set-pieces, halls of traps, including acid pits, spiked poles and dragon-headed sparkler cannons, silly superheroes and villains in costumes that would make MCU heroes blush. Filled with jaw dropping WTF moments, it's a real treat for anyone into cheesy over-the-top Kung Fu cinema.
The Bride with White Hair (1993)
Based on a wuxia novel, The Bride with White Hair is a surreal plunge into the Kung Fu subgenre of Fant-Asia which blossomed in the '90s. It's a doomed romance between rival cult members set in a world of swords and sorcery that stars Brigette Lin in the spurned titular role and the dreamy heartthrob Leslie Cheung.
What makes this stand out was the visionary direction of Ronny Yu. His pre-CGI special effects hold up surprisingly well. Lin's characterization of the bride was so compelling that it spawned an homage in The Forbidden Kingdom and a remake in The White Haired Witch. The Bride with White Hair II is also available on Amazon Prime which reunites Lin and Cheung, but without Yu's direction it's not nearly as special.
Watch The Bride with White Hair on Amazon. (Prime US only)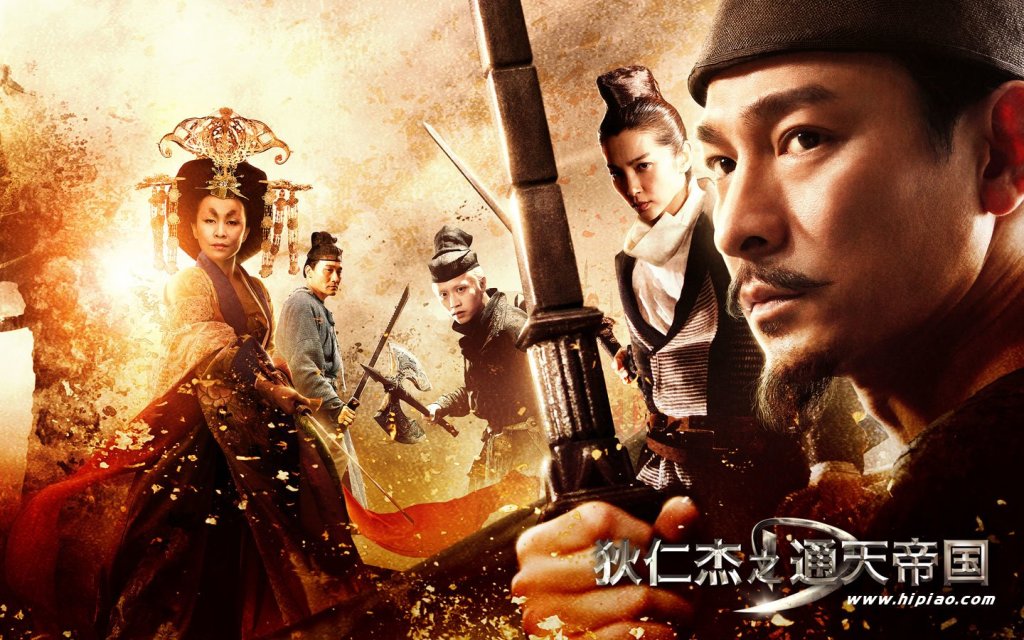 Detective Dee and the Mystery of the Phantom Flame (2010)
Fant-Asia has been revitalized with the advent of CGI. Detective Dee and the Mystery of the Phantom Flame marked a triumphant return to form for director Tsui Hark. Armed with quixotic special effects, Hark casts Andy Lau as the legendary detective Di Renjie, who is like a Tang Dynasty Sherlock Holmes. Wuxia films are akin to comic book movies, filled with glaringly overdone heroes and villains, super saturated color schemes, and a lot of flying about.
It's high fantasy wirework in front of CG backgrounds with physics-defying fight choreography by Sammo Hung (Kung Fu physics are not subject to the laws of gravity). Most of all, it takes unexpected turns like the old Fant-Asia story arcs have always done.
Watch Detective Dee on Amazon. (Prime US only)
Tai Chi Zero (2012)
Director Stephen Fung took Fant-Asia another step into an emergent subgenre of Shanghai Steampunk (Legend of Korra is another example). It's an action comedy about the legendary forefather of Tai Chi, Yang Luchan, in what was meant to be the launch of a trilogy. However, it was filmed back-to-back with the second installment, Tai Chi Hero (not free on Amazon Prime), which was released only a month later and that proximity depleted their box office returns.
Nevertheless, Tai Chi Zero was an Official Selection at several notable international film festivals because it was so stylish and funny. Both films end on cliffhangers in anticipation of the next chapter, but Tai Chi Hero loses the momentum of its predecessor, except for the final cliffhanging tease. There's been no further development on the final chapter Tai Chi Summit since Tai Chi Hero flopped.
Watch Tai Chi Zero on Amazon. (Prime US only)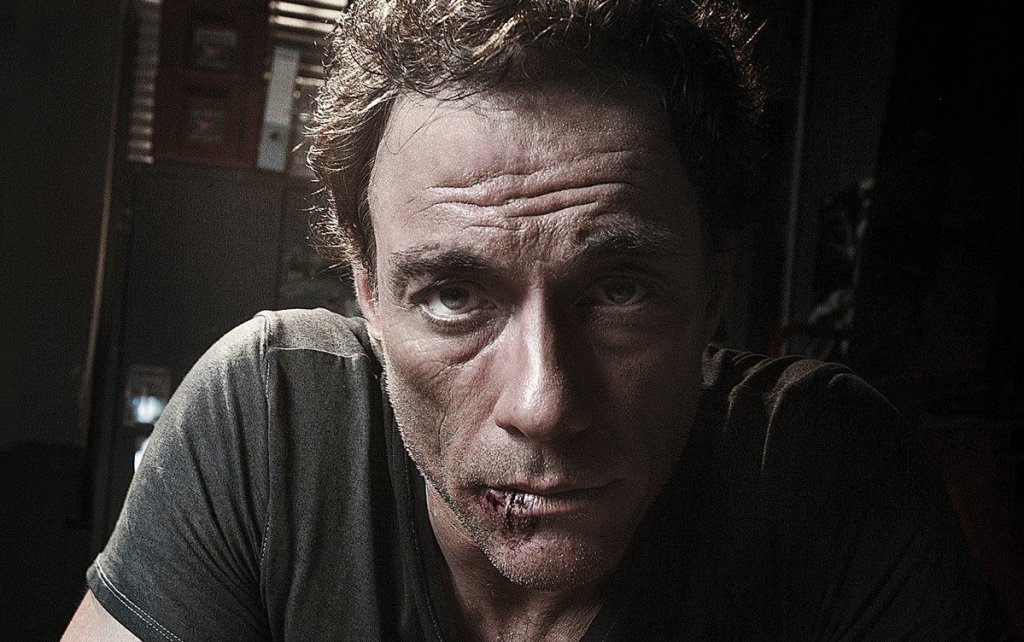 JCVD (2012)
Jean-Claude Van Damme opens this French film with a remarkable long take fight, showing he still had it on the brink of turning 50, but it's not really a martial arts film. He plays a self-deprecating caricature of himself, although not as comedic as his lampooning self-portrayal in the Amazon Original Series Jean-Claude Van Johnson.
There's some top-notch cinematography including more complex long takes, remarkable displays of technical skill, and directorial timing. But it's all about Van Damme's confession scene when he breaks the fourth wall and discusses his filmmaking process in that weird recursive, artsy French film way. It's a long-take monologue, and Van Damme nails it emotionally with a heartfelt confession that's not so much amazing acting as it is brutally honest. He lays it out, bares his soul, and surprisingly, it's a sympathetic soul. It's a truly captivating scene, a dramatic triumph that no one ever saw coming, completely redefining Van Damme as an actor.
Watch JCVD on Amazon. (Prime US only)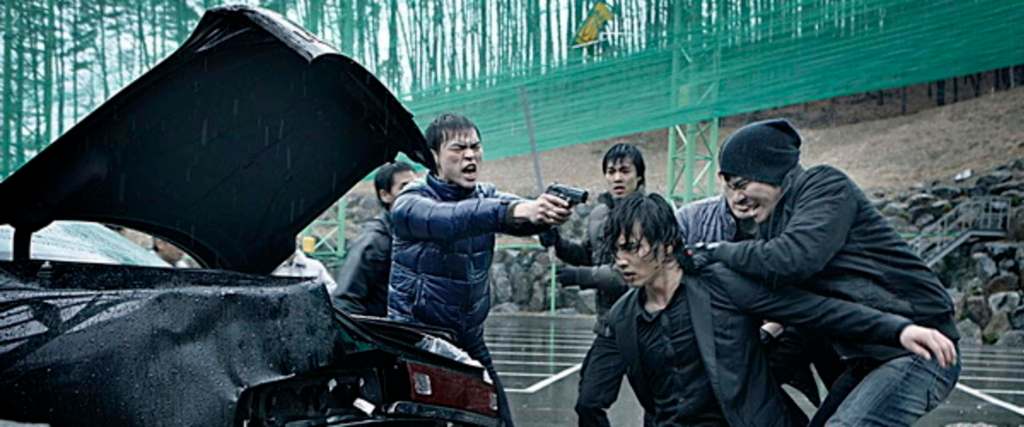 The Man from Nowhere (2010)
This was Korea's highest grossing film that year. It's a gritty and brutally bloody tale of a pawnshop owner, played by Won Bin, who unwittingly receives a camera bag filled with stolen heroin, attracting the attention of the drug ring gangsters.
However, he's a retired special agent with fierce combat skills, tossed into a ghetto tale with exotic dancers, organ harvesting, an innocent child who needs protection, and gang wars. Won Bin won many dramatic accolades with the five films he made, including Taegukgi and Mother. This was his final one to date and he sells the ultraviolence with remarkable panache.
Watch The Man from Nowhere on Amazon. (Prime Video in the US, rent only in UK)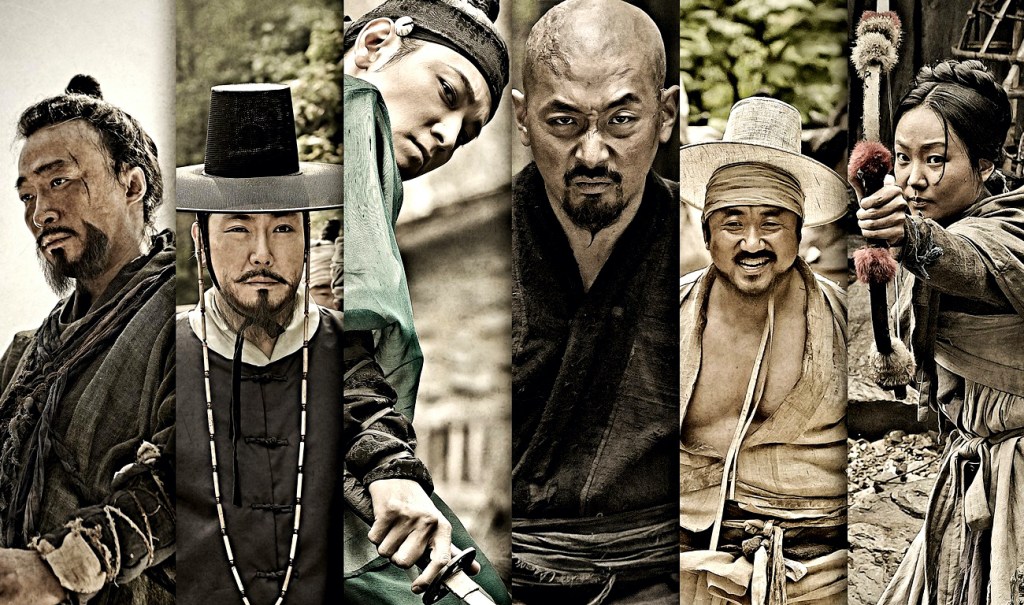 Kundo: Age of the Rampant (2014)
This is another outstanding Korean martial arts film, set in the Joseon period. It echoes Robin Hood, complete with a fighting monk like Friar Tuck, a Maid Marian type, only she's a keen archer, and a Little John character wielding a shot-put ball on a rope for brutal ultra violence. Ha Jung-woo stars as the lead, a butcher who wields butcher knives, which just adds to the bloodiness. The fight choreography is fun and sanguineous, and the characters were well fleshed out, even the villain. Like a lot of Korean cinema, it takes some surprising turns in the details, little scenes that feel fresh in their presentation. And the panoramic shots are visually epic.
Watch Kundo: Age of the Rampant on Amazon. (Prime US only)
Redeemer (2015)
Marko Zaror brings an exotic Chilean actioner full of fight choreography that's merciless, witty, and precise. Zaror is cut and yoked like a beast. He can catch great flying kicks air, roll well for nods to MMA, and handle complex continuous fights. Redeemer includes several long take scenes with the camera aggressively circling around battle, showcasing a masterful command of action and cinematography.
Set in Chile's cool seascapes and weather worn graffiti-covered ghettos, Redeemer has a strong Catholic theme, lots of crucifixes and pondering about divine justice, which totally works as atmosphere for this fascinating fight flick.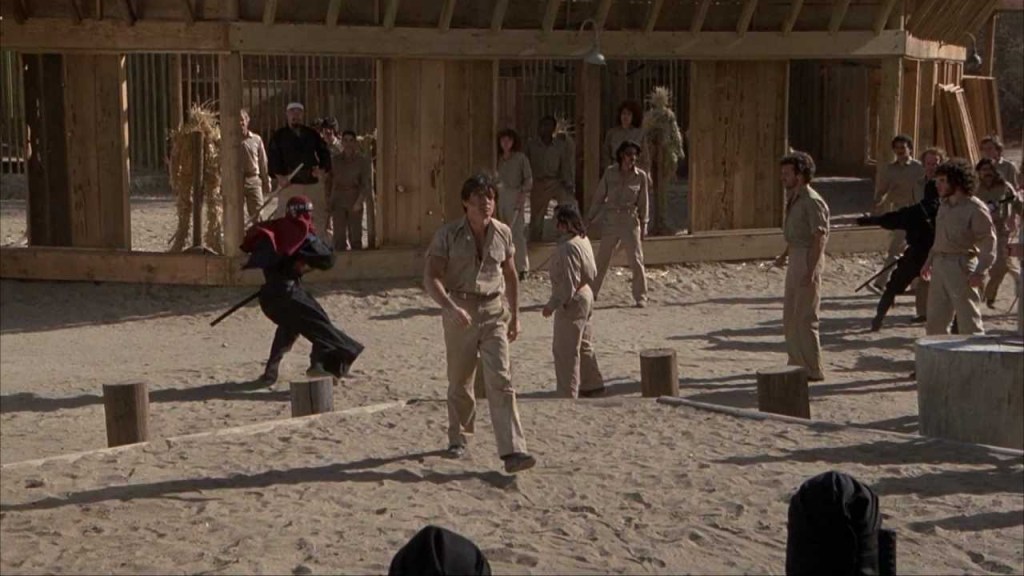 The Octagon (1980)
Before Chuck Norris became an invincible meme, he churned out a handful of Hollywood martial arts feature films. His third effort, The Octagon, co-starring Lee Van Cleef, is one of his best. It's a ninja tale, pitting Chuck against noted masters like Richard Norton, Tadashi Yamashita, and his brother Aaron Norris, fighting his way into a ninja terrorist camp where the central ring is "the Octagon." It was this film that inspired Jason Cusson to design the trademarked Octagon used in the Ultimate Fighting Championships.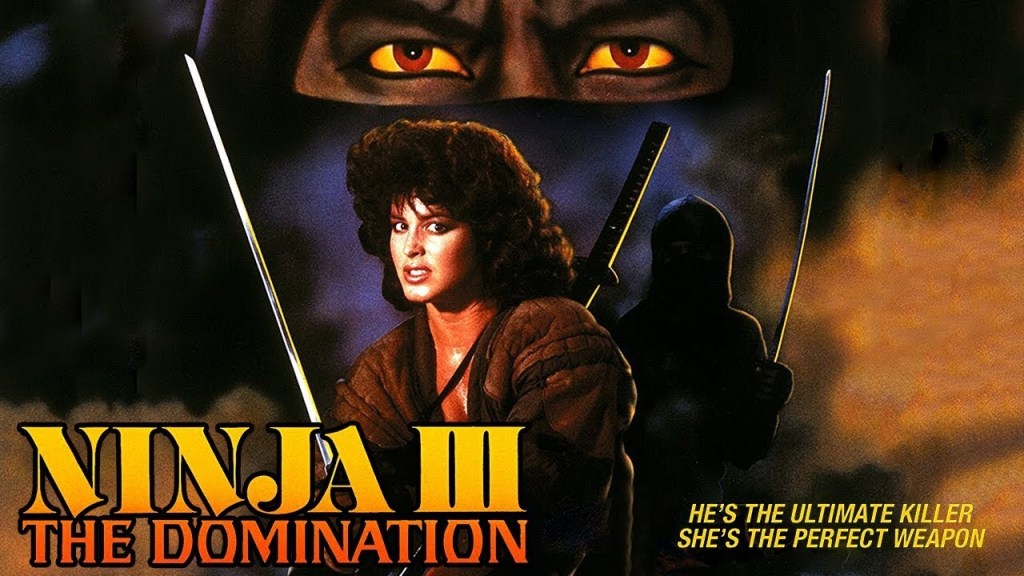 Ninja III: The Domination (1984)
In the '80s, there was a proliferation of cheesy Ninja films and Sho Kosugi dominated the trend. This is one of those movies that is so horrible, it's awesome. And it's Sho's masterpiece. Lucinda Dickey was a Solid Gold Dancer, who starred in the breakdancing films Breakin' and Breakin' 2: Electric Boogaloo, which bookended Ninja III. While she wasn't a martial artist in real life, she has the moves, adding to the huge stable of martial actors who started as dancers (even Bruce Lee was a cha cha champion).
It's incredibly dated with references to video games, aerobics, and the most gawdawful soundtrack ever. The choreography is horrible; Sho overacts whenever it comes to selling a punch; it's all about Lucinda who tries–really tries–to act her way through a ridiculously dumb story about being possessed by a ninja. But the final sword fight has a ninja zombie and it's the funniest example of what we had to endure during the '80s ninja craze.
Watch Ninja III on Amazon. (Prime US only)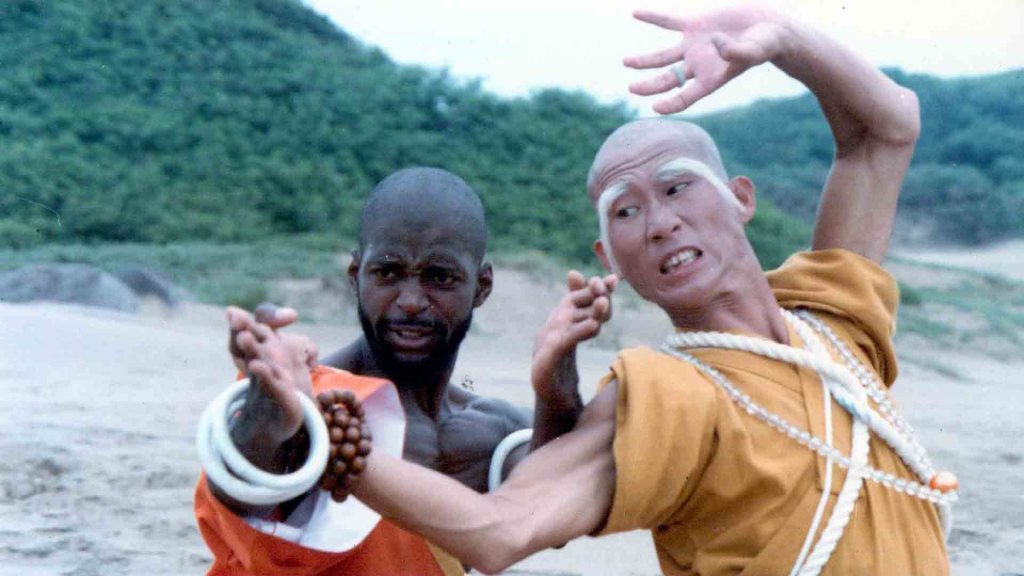 Shaolin Dolemite (1999)
There was Oscar buzz about Eddie Murphy's depiction of Rudy Ray Moore in the biopic Dolemite Is My Name, but if you haven't seen a Dolemite film, you really don't know. Moore played Dolemite half a dozen times, but ironically in this film, he plays Monk Ru-Dee instead, and this is the only one with any real martial arts in it.
Moore took the cuttings from a 1986 Taiwanese film titled Ninja: The Final Duel, and spliced himself in to create his own story, and it's just so cray. Beyond Moore, there are bizarre characters like the drunken Sam the Spliff, the topless Ninja Ho, and the coonskin cap wearing Davy Crockett. The story barely makes a lick of sense, but who cares? It's mother-effin Dolemite.