News
WandaVision: Release Date, Trailer, Cast, Story Details, and News
Marvel has brought Paul Bettany as Vision and Elizabeth Olsen as Scarlet Witch to Disney+ with TV series WandaVision, which launches Phase Four of the MCU.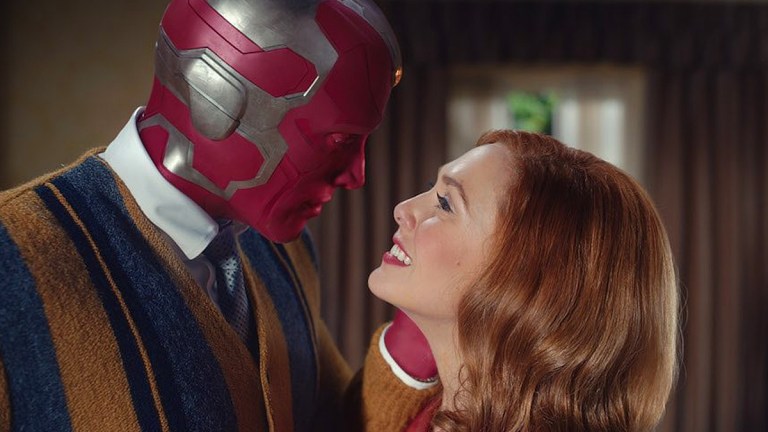 Phase Four of the Marvel Cinematic Universe launches not at any theater with a blockbuster, but rather—in a sign-of-the-times development—in the realm of streaming television. Disney+ series WandaVision, brings back Avengers members Vision (Paul Bettany) and Scarlet Witch (Elizabeth Olsen) for a madcap serial spinoff; one that will require A LOT of explanation, given their respective fates in Avengers: Infinity War and Avengers: Endgame.
WandaVision, which operates under the creative purview of Captain Marvel writer Jac Schaeffer, now takes point for Phase Four in January, representing a canonical tie-in that's more solid than contemporary MCU-adjacent small-screen predecessors like ABC's Agents of SHIELD and Agent Carter, along with unceremoniously abandoned Netflix "Street Level" shows Daredevil, Jessica Jones, Luke Cage, Iron Fist, The Punisher, and The Defenders.
With that set, here's everything else we know so far about WandaVision.
WandaVision Release Date
WandaVision premieres on Disney+ on Friday, January 15.
The series will release new episodes weekly every Friday.
How Many Episodes is WandaVision?
WandaVision will run for nine episodes between January 15 and March 12.
Interestingly, the notion of the reality-altering WandaVision serving as the introduction to Phase Four of the MCU was far from the original plan—that honor was originally designated for big screen solo offering Black Widow, which would have been nearly a year old by now had it not been for the worldwide dilatory effect of COVID-19 on anything and everything. Indeed, WandaVision—itself delayed from a December 2020 window—wasn't even supposed to be the first Marvel series to hit Disney+, since The Falcon and the Winter Soldier was originally planned as the MCU's inaugural Disney+ original, initially set for an August 2020 premiere (it is now scheduled for March 19).
WandaVision Trailer
The era-hopping nature of WandaVision continues to be on full display in the latest trailer, which arrives less than two weeks ahead of the show's Disney+ debut. Check it out just below!
The second trailer for the series hit back in December, utilizing The Monkees' "Daydream Believer" in a manner that seems prophetic. Check it out just below.
The first footage from WandaVision, which can be seen just below, arrived back in September during the Emmys.
We did a full breakdown of all the MCU secrets in the first WandaVision trailer right here.
WandaVision Cast
Of course, Paul Bettany and Elizabeth Olsen are back as Vision and Wanda Maximoff/Scarlet Witch, respectively.
Yet, the series will also see the return of some unlikely role-reprising MCU alumni, with Kat Dennings as Darcy Lewis (MIA since 2013's Thor: The Dark World) and Randall Park as Agent Jimmy Woo (seen in 2018's Ant-Man and the Wasp) making their continuity returns.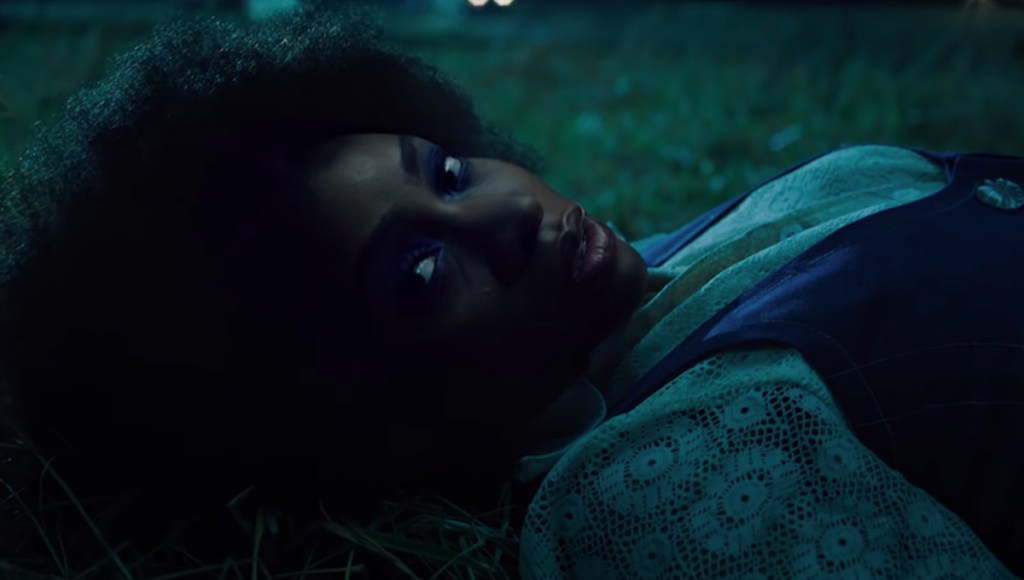 Teyonah Parris will debut as Monica Rambeau (as previewed above), specifically the adult version of the character we saw in Captain Marvel as a child (played there by Akira Akbar), who was the daughter of Lashana Lynch's Maria Rambeau. Monica's inclusion will directly connect the series to the 2022-scheduled Captain Marvel 2, in which Parris is already set to reprise the role. Moreover, given the character's history in the pages of Marvel Comics, the inclusion could prove consequential to the MCU as a whole, since Monica—introduced in 1982—inherited the mantle of Captain Marvel (albeit from Mar-Vell, not Carol Danvers, who was still Ms. Marvel at the time). Indeed, Monica was the Captain Marvel who fought for the side of the heroes in the original Secret Wars saga.
Kathryn Hahn plays Agnes, a "nosey neighbor" (although we have our own suspicions about who she's actually supposed to be). Additionally, Debra Jo Rupp, Holene Purdy, Asif Ali, Brain Brightman, and Fred Melamed will fill roles on the series.
WandaVision Poster
The eponymous couple of WandaVision embody this '50s-esque poster, one of a series of stylistically-similar posters unveiled on New Year's Day.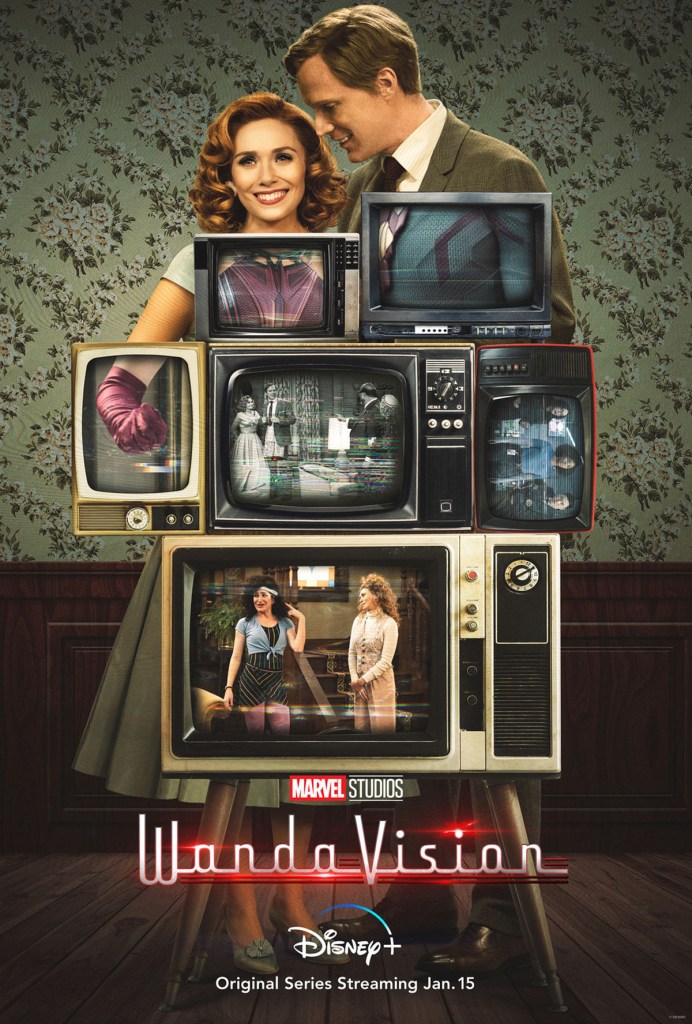 Kathryn Hahn's Agnes and Teyonah Parris's Monica Rambeau are notably featured in the two posters below.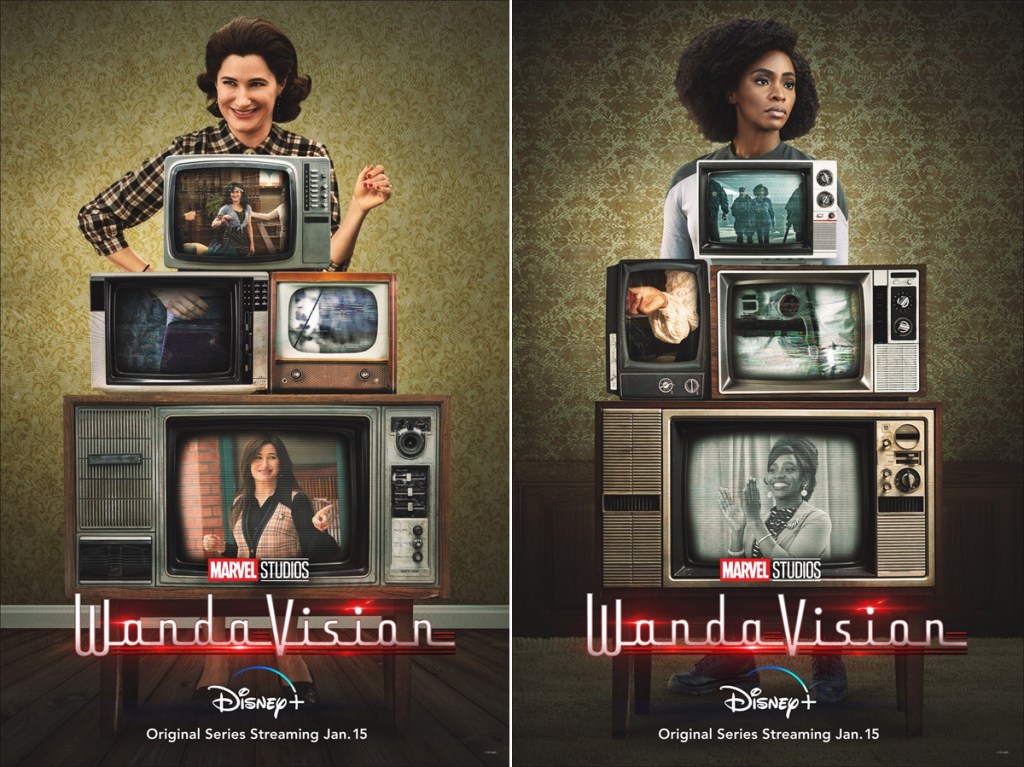 We've heard of American Gothic, but American Matrix? Is the debut poster below disturbing enough for you?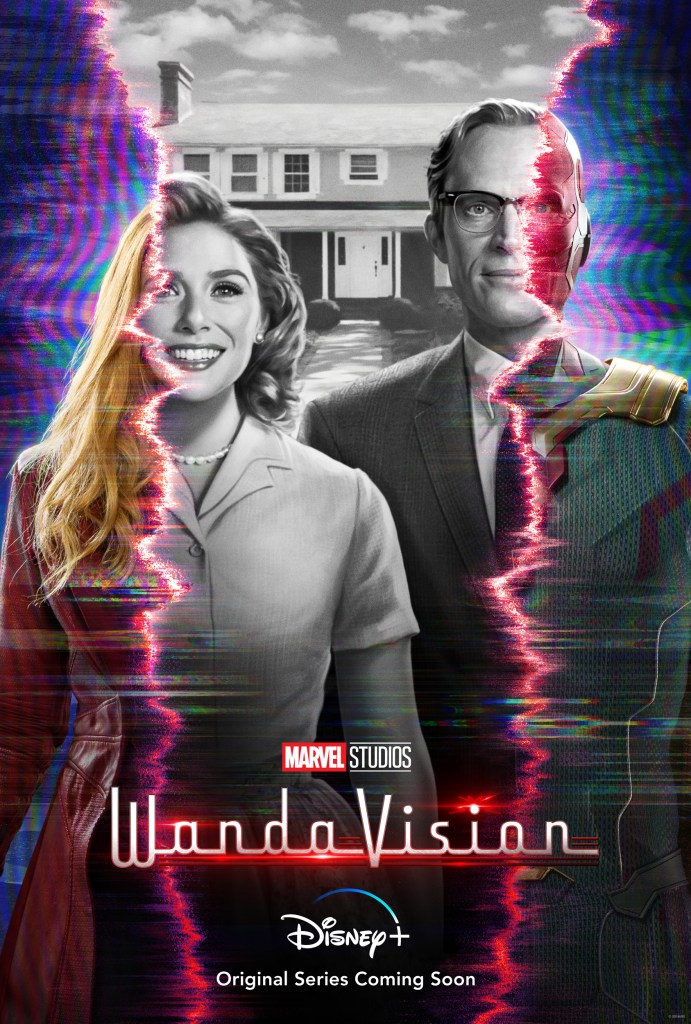 WandaVision Story
As Disney's official synopsis explains:
"Marvel Studios' WandaVision blends the style of classic sitcoms with the Marvel Cinematic Universe in which Wanda Maximoff (Elizabeth Olsen) and Vision (Paul Bettany)—two super-powered beings living their ideal suburban lives—begin to suspect that everything is not as it seems…The series is a blend of classic television and the Marvel Cinematic Universe in which Wanda Maximoff and Vision—two super-powered beings living idealized suburban lives—begin to suspect that everything is not as it seems."
WandaVision will also apparently tie into Doctor Strange in the Multiverse of Madness, which, itself seems to be intrinsically connected to what we've been hearing about the franchise-crossover casting of Sony's untitled Spider-Man 3. Thus, it sounds like that could be the show's solution to the whole "Vision is dead" problem; an issue that didn't seem to be corrected after Tony Stark's sacrificial Infinity Gauntlet snap in Avengers: Endgame. Indeed, the quasi-1950s setting of the D23 teaser poster appears to hint an explanation attributed to Wanda's reality-based powers, which were central element to Marvel Comics' House of M storyline, in which her mental breakdown created an entirely new history that temporarily displaced the traditional Earth-616 timeline.
Vision and Scarlet Witch were, of course, a staple of Avengers comics for many years—albeit paired together through very different circumstances in the comics. Their pairing even supported two limited series from Marvel titled The Vision and the Scarlet Witch—launched in 1982 and 1985, respectively—that detailed their domestic bliss, as envisioned by writer Steve Englehart.
"There's quite a few other comic books that we're pulling from and it's going to be Wanda and the Vision, and I think at the Disney+ launch chat, they showed a photo of us in the '50s," Olsen told Variety. Could this be an example of Wanda's occasional mental health issues rearing its head, where she is coping with the traumatic death of Vision in Infinity War and Avengers: Endgame by creating a fantasy world/domestic life where he still lives? Could WandaVision be the Marvel Studios equivalent of the completely bonkers and surreal Legion? Time will tell.