News
Upload Season 2 Confirmed at Amazon
Heaven is indeed a place on Earth. Amazon Prime has ordered sci-fi comedy Upload for a second season.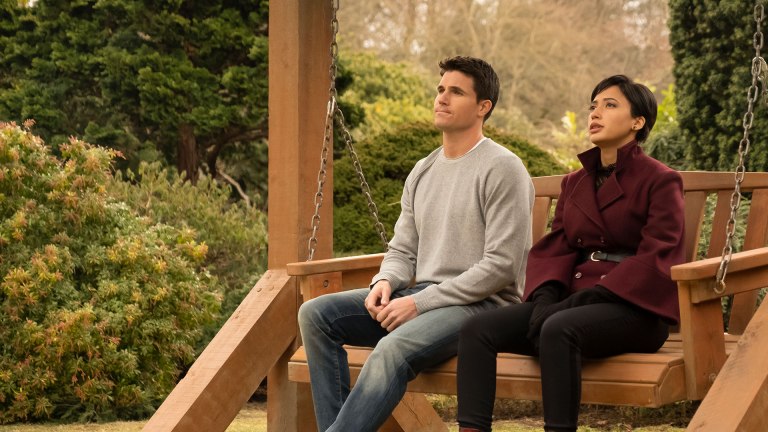 Robbie Amell stars as young app developer Nathan Brown who, after a deadly self-driving car accident, is uploaded into his girlfriend's family's plush afterlife neighborhood. There Nathan develops relationships with his fellow dead people and his office worker "angel," Nora (Andy Allo). Of course, there is a mystery aspect as well, making Upload the rare romance-comedy-sci-fi-mystery hybrid.
"I am thrilled to continue a great relationship with Amazon Studios and this wonderful cast and find out what happens next to Nora and Nathan and Ingrid and their 2033 world," Daniels said in a statement. "With this news I can stop drawing my season 2 flip book."
Like most streaming services, Amazon Prime doesn't make its viewership data available to the public. Clearly they see something they liked in Upload's numbers though. Even if they didn't, though, this is a high-concept idea with enough talent behind it to really have some legs. The season one finale also ends in a pretty fascinating place, setting up a funny and highly-contentious second season. Amazon's statement to the press confirms as much.
"In Upload, Greg Daniels delivered a smart, cinematic comedy crackling with intrigue and it has clearly delighted our customers who have spent a lot of time in Lakeview this past week," Head of Amazon Studios Jennifer Salke said. "We know our global fans want to see the next chapter with Nathan and Nora so we are greenlighting season two and are excited that Greg's passion project has found such a devoted audience."
Upload is produced by Daniels and Howard Klein. In addition to Amell and Allo, the show also stars Kevin Bigley, Allegra Edwards, and Zainab Johnson. There is no announced date for Upload season 2 yet but when it arrives it will continue to stream on Amazon Prime and be available in more than 200 countries and territories worldwide.