Features
The Uncanny Parallels Between The Beatles: Get Back and A Hard Day's Night
Ringo quit the Beatles in their first film, George quits in Peter Jackson's The Beatles Get Back, they still make the show.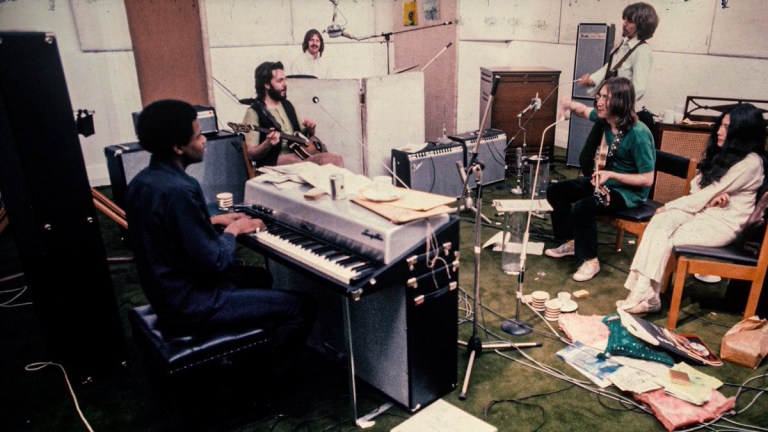 During the period of Peter Jackson's The Beatles: Get Back, John Lennon and Yoko Ono made many experimental films. One of the techniques they pioneered was film speed. They showed the erection of a building, from scratch, fit into a few minutes of screentime by shooting a few frames per day. Jackson does the opposite in his new documentary, creating a slow-mo cinema verité version of director Richard Lester's A Hard Day's Night.
In the greatest jukebox musical ever made, the band has to retrieve an errant band member in time to make a show, and when they make that show, it's a success. The crowds go wild. Beatlemania is encapsulated for all time. They play all their songs during the long and winding road to the TV station, and during rehearsals. They actually have to escape from prying eyes during rehearsals. We get snippets of old songs, and a full performance of excerpted musical numbers.
Plot Similarities
Coincidentally, The Beatles: Get Back hits every one of these points, and could very easily be cut into an 88-minute madcap adventure which ends in a show. It has enough good lines for two comedies, and it even overtly nods to their first film when Lennon asks "Who's that little old man," about a Hare Krishna devotee friend of George who is very quiet, but Paul notices is "very clean, though." Apple Film's Denis O'Dell comes across as though the stuffed shirt businessman on the train was playing Victor Spinetti's TV director character, although he sounds more like the mad scientist in Help!.
Jackson's film shows the real Beatles, not musicians acting out versions of themselves, having to get back a member who has quit. In A Hard Day's Night, Ringo went off parading after snapping a photo of John and Paul, and telling George to stop looking so scornful. George does it with the simple words, "see you 'round the clubs." The band brings up the fact that Ringo did indeed quit the band for a short period before the filming began, but this time George's scorn is on parade.
A Hard Day's Night was shot in a documentary style, and Jackson takes it a step further by setting up a calendar, and breaking up each chapter into the Beatles' work days. This includes one Saturday. Lester's film caught the wrong sides of cameras and falling amplifiers, Jackson's captures the very sweeping of the soundstage the Beatles will rehearse on. The premise is the same as Let It Be, Help! and their first film: They have an album to make, this time with a live performance at the end, and only a short time to do it. They have to clear out of the space in Twickenham film studio, where Ringo will film The Magic Christian with Peter Sellers, and Denis O'Dell is standing there like a ticking clock.
Casting Alternatives
O'Dell really does capture Spinetti's entire ambiance. He exerts the same condescension, impatience, and under-estimation of the Beatles. He comes in to check the space one day, hears a couple run-throughs of early numbers, and reminds Let It Be director Michael Lindsay-Hogg about his incoming film, and hears "It's only gonna last two weeks." The combination of the scorn Harrison brings into both films has nothing on the way O'Dell sneers, "Well, we don't know that, do we."
Lindsay-Hogg is actually playing the part of the TV studio's sound technician in Lester's comedy. The one who wants to play Ringo's drums and is told "I don't mess about with your headphones, do I?" When it looks like George isn't coming back, Lindsay-Hogg makes a point of telling people he used to act in college. He is almost veering into Roy Kinnear's character Algernon in Help!, who lets the other Beatles know he's "no mean hand at the old sticks" himself, in the event Ringo can't keep time with a missing finger. The mad scientist from that film is actually phoned in by the mad inventor and longtime Beatles' hanger-onner, Magic Alex. He can never find the right plug.
Even Mal Evans puts in one of his mythic performances, and it's not just a cameo, like he did in Help! or his small part in Magical Mystery Tour. Not only does he get in a great comic line – he's on a new diet, no food, but is integral as a supporting character. Mal interrupts McCartney during the composition of "Long and Winding Road," and we see the beginnings of real annoyance on McCartney's face. But then, he looks up and sees it's good old Mal, who was so big in the Beatles development it took two actors to play him in A Hard Day's Night, Norm and Shake.
Yoko Ono sublimely captures the essence of Pattie Boyd Harrison's character in A Hard Day's Night. She not only gets the most private performance of anyone outside of the band members' themselves, but the looks she gives John are absolutely adoring. Boyd didn't know Harrison when they met on the set, and went on to be married. Lennon gets news of Yoko's divorce, freeing them to do the same on some rock off Gibraltar. There's a scene in Night when Pattie tries to touch the hair of a Beatle. Get Back captures Yoko trying to bring John's attention to a stick of gum she broke in half for him.
Spontaneous Humor Is as Good As Scripted Dialog
Cut right, there are gags in Get Back which rival Harrison's dislike of "dead grotty" mod style, and the woman who looks more like Lennon than John does. When Glyn Johns tells him to take some bass off his guitar settings, John looks positively stricken. 
Later, Lennon has a great moment realizing, thank god, one of the songs on the playlist is just misnamed and not a song they "all learned and I forgot." The running gags of the newspaper reports about fisticuffs when George quit the band, and some non-existent brawl-with-a-fan story which has a life of its own, match the throwaways of Lester's film, and we get to hear "laugh a line with Lennon" quips like "if Beethoven were alive today, he'd have a deaf-aid and an electric piano," and the "40 years in the desert and he couldn't find his balls" singalong.
The Beatles' first project after the death of Brian Epstein was the film Magical Mystery Tour. They did everything themselves, and broke cinematic rules to do it. It was the only film which didn't have some kind of deadline performance hanging over it. In Help!, the band was saving Ringo's finger so they could get their new album in on time. Critics didn't like Magical Mystery Tour, but the accompanying music was among their most intricately produced. The "Get Back" project aimed to reverse this. It was a back-to-basics concept, where the band works out the perfect take of each song. When the Beatles were touring regularly, Lennon said all they had to rehearse was "smiling." They'd done them a billion times getting them right.
No, actually, we're just good friends
This return-to-live performance is one of many subplots, just like A Hard Day's Night had Paul's grandfather hawking autographs, or a growing gripe between Norm and Shake. But Jackson trades the intimate exchange between George and Ringo discussing rejections and frustration for one of the great dramatic scenes in documentary art.
We get every side of the story behind Harrison's departure in a candid conversation between John and Paul. Every single Beatle knows precisely their version of what George is feeling, and they pour this empathy out. John puts it best by saying George has a wound "and we haven't given him a bandage." They are also open and honest about their own self interests. There will come a day when actors, both students and veterans, will audition for schools, plays, and films with this scene.
Jackson is as textured a director as Lester in comedy, and recreates the scene where the Beatles sneak out an emergency stairwell exit to have some fun twice. It is obviously at least unconsciously drawn upon when the set for The Magic Christian is wheeled onto the soundstage, and Ringo and Paul star in their own not-so-silent film to pass the time.
But it is much more intimately captured in an almost still frame of an empty building in The Beatles: Get Back. The band escapes all the pressures, kicks out the camera crew, and rehearses one day all on their own. It's the best day they have until Preston joins the film, saving the day like Eleanor Bron as Ahme in Help!, whose gun matched her ensemble. She "was a dead-eye shot, shooting," and Preston matches her in both accuracy, and style.
When it comes to group unity, "community, majority vote, up the workers and all that stuff," Jackson matches A Hard Day's Night, and ups the ante. We not only get an us-against-them vibe, but a them-against-them and an us-against-us feel from Get Back. But in the end, not only does the band pull together for a great show, which has almost as many cops at the door as the Beatles were running to and from in A Hard Day's Night, but it passes the audition.
The Beatles: Get Back was touted as a six-hour doc series but really runs almost eight hours. If you split the difference to the running time of A Hard Day's Night's one hour and 27 minutes, using only the footage we've seen, just this, we'd have a musical comedy classic. I'll take the slow-motion version.