Features
Did The Beatles Really Sue Sesame Street?
Sesame Street learned a valuable lesson when The Beatles tried to take back the Letter B but it barely cost a thing.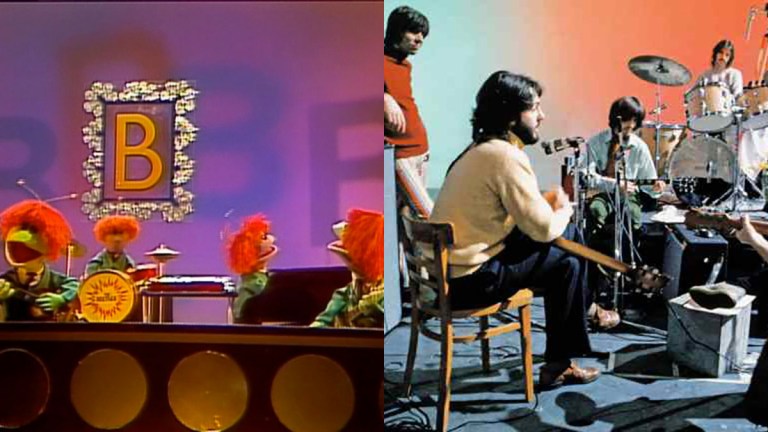 Let It Be—the 1970 film, album, and song—celebrates its 50th anniversary this year, and it will be accompanied by a frenzy of new and remastered material. Not only will the original film be presented in a new pristine cut, but Peter Jackson will use the same restorative magic he used on the film They Shall Not Grow Old on 55 hours of never-released Beatles footage for a new take on their cinematic swan song. The band who taught the world about group unity presented a cautionary tale on the way out. The Beatles were always educational, expanding the music theory of rock and roll, and Let It Be was a lesson on how a rock group said goodbye. Such lessons were never lost on the upstart educational series Sesame Street. Chris Cerf, who produced the show's music and wrote the parody "Letter B," remembers the impact the song had on him, and its distinction in the history of the educational series.
"I remember the first time I heard it, I was sitting in a car and I went wild," Cerf tells Den of Geek. But it brings immediate memories of another Beatles parody he wrote. They are indelibly linked in the recollection. "It's been a long time now, but I remember thinking the first time I heard 'Hey Jude' that not only was it incredibly original but that the ending would be fun to make fun of. And so the songs 'Hey Food' and 'Letter B' kind of happened on Sesame Street at the same time."
The educational series decided to get back to musical roots by correcting the band's spelling. They took out the "beat music" pun John Lennon put in the "crawly things" he celebrated when he named the band in tribute to Buddy Holly's Crickets. "It happened because Tony Geiss, one of the writers here, had the idea that we could have little bugs that played guitars and they would be the Sesame Street Beetles, with a double E, and the Muppets actually built them," Cert tells us.
You can't spell the Beatles without the letter B, and you can't launch a group without the right song. The Beatles passed on the first song George Martin offered them which went on to be a hit for Gerry and the Pacemakers. "Tony wrote a song, I think it was called 'Thinking of You,' that the Beetles play. I said, 'Oh boy, we could do something else with them.' I remembered I had to write a song about B one time as an assignment, and 'Let It Be'/'Letter B' was just too good a pun to pass up."
Cerf, who was a contributing editor at National Lampoon from its first issue, wrote song parodies for National Lampoon Radio Hour. For Sesame Street, he scholastically spoofed Billy Idol with the song "The Rebel L," and the Rolling Stones with "(I Can't Get No) Cooperation." Cerf also jammed with broken heroes when Sesame Street's "Bruce Stringbean and the S. Street Band" performed his "Born to Add," a parody of Bruce Springsteen's "Born to Run." But two of his songs were not like the others.
"Letter B" and "Hey Food" were the "one time in the whole history of all the years we did parodies that anyone tried to sue over it," Cerf says. "It was not the Beatles that sued us, but rather Northern Songs."
The story of the Beatles' song ownership is legendary in rock music deals on par with Colonel Parker's usurious contractual hold over Elvis Presley. Suffice it to say those "funny papers" Paul McCartney sang about on Abbey Road were problematic. The Beatles only owned a percentage of the songs they wrote, the majority went to their publishing company Northern Songs, founded by the band, their manager and music publisher Dick James in 1963.
In 1983, when the song was performed on Sesame Street, Northern Songs was run by entrepreneur Robert Holmes à Court, Australia's first billionaire. "They were worried that if we could do what we did on Sesame, then advertisers could use Beatle-like songs without paying for them," Cerf explains. "That was the main reason they went after us."
The $5.5 million suit against the nonprofit group Children's Television Workshop would have made Sesame Street a dead end. But copyright laws are a two-way street. "It's fair use to do a parody, so the suit didn't have a great chance," Cerf says. Two years before "Letter B" aired, Paul McCartney and Yoko Ono tried to buy the rights to the Beatles songbook. The attempt suffered the same fate as similar attempts in 1967, after Brian Epstein died, and 1969 when James and his partner sold their shares to Britain's Associated Television, without warning the songwriters. "I'm sick to death of being fucked about by men in suits sitting on their fat arses in the city," Lennon complained in the middle of negotiations, according to Solid State: The Story of "Abbey Road" and the End of the Beatles by Kenneth Womack.
After the deal fell through, McCartney passed on the lessons he learned to a collaborator who would prove to be an education to the legal minds on Sesame Street. "We were winning the lawsuit as it was," Cerf remembers. "But luckily for us, Michael Jackson bought the entire catalog and he thought the lawsuit was ridiculous." Before he was the King of Pop, Jackson performed with Oscar the Grouch on the Oct. 24, 1978, Sesame Street Christmas special, and came back bearing gifts. "He settled the entire suit for $50."
Cerf personally paid the settlement, thinking he might get something out of the investment. "The humor for me was that I had to write out a check to Michael Jackson for $50 and I figured I would come out ahead because he would endorse the check and then I could sell the autograph for more than $50," Cerf admits. "But unfortunately he used a rubber stamp, so that didn't work out."
If Cerf truly was an autograph hound, he would have had plenty of opportunities. From their first guests Pete Seeger and Don McLean, the series attracted big stars and crossed musical boundaries. Over the years they've hosted Gwen Stefani, Ray Charles, Beyoncé, Tony Bennett, Janelle Monáe, Katy Perry, Bruno Mars, and Smokey Robinson. Stevie Wonder performed a frighteningly inspired rendition of "Superstition" in 1973. Lena Horne sang "Bein' Green" to Kermit in 1976.
"It's staggering if you're a music freak like I am," Cerf says. "I got to meet people that I just idolized. What I began to learn over time, some of those people were just as excited to be on Sesame Street as I was that they were there. When R.E.M came on the show, they stayed all day. They wanted to keep working on the piece to make it better and better. They wanted to be in other pieces. It turned out that Michael Stipe loved Sesame Street. When Melissa Etheridge came on, she wanted to sit in Big Bird's nest just so she could."
Warner Music Group's Arts Music has a deep catalog of Sesame Street recordings across digital streaming and download platforms. They also have brand-new compilation titles on CD and vinyl formats. Let that be a lesson to you.