Features
Ugly Betty Isn't the Only Version of Betty You Need to Know
ABC series Ugly Betty, starring Barbie's America Ferrera, is one of TV's most well-traveled properties.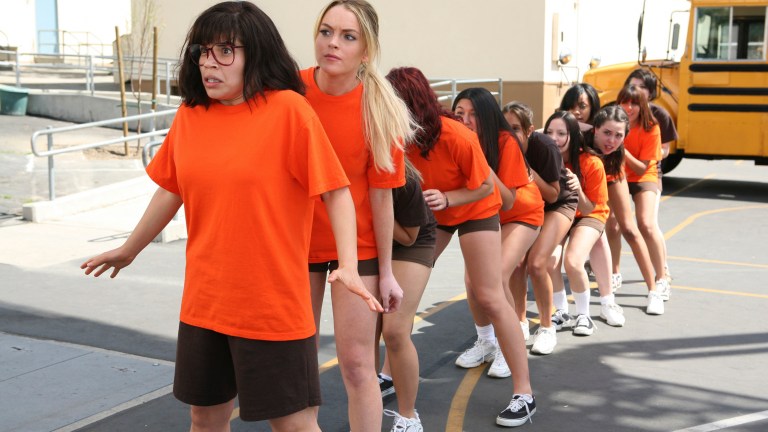 Barbie star America Ferrera is no stranger to big franchises. Before appearing in Greta Gerwig's ode to womanhood and in NBC's beloved sitcom Superstore, Ferrera got her start on a very relatable ABC primetime soap Ugly Betty.
First premiering in 2006, Ugly Betty ran for four season on network television and built up a devoted fanbase. The series, which is now streaming on Netflix, starred Ferrera as the titular "Ugly" Betty Suarez, a braces-wearing 22-year-old fashion neophyte from Queens. The show follows the awkward Betty as she lands a job at high fashion magazine Mode in Manhattan wear she works as a personal assistant under failson editor-in-chief Daniel Meade (Eric Mabius).
Ugly Betty was a lovely little series chock full of both drama and thoughtful commentary on how young women are expected to navigate their personal and professional lives. If that sounds like the kind of thing that would appeal to diverse audiences of women across the world, then congrats: you've worked out the premise of this article already!
Despite struggling with ratings and occasionally being on the bubble of ABC's primetime schedule, Ugly Betty is one of TV's most unexpectedly global endeavors. Not only was Ugly Betty a big international hit, having been sold to broadcast in at least 130 other countries, but it itself is just one of many other spinoffs of an original concept. Allow us to explain.
Yo Soy Betty, La Fea
The very first iteration of what would come to be known as Ugly Betty in the U.S. began with Colombian telenovela Yo Soy Betty, La Fea (roughly translated to "I Am Betty, The Ugly One"). Often referred to as just Betty, La Fea, the series was created by Fernando Gaitán and starred Ana María Orozco as the titular Beatriz "Betty" Aurora Pinzón Solano.
Instead of working at a fashion magazine in New York, this Betty works as a secretary at a clothing manufacturing company in Bogotá. Over the span of 156 episodes, Betty, La Fea operates as a heightened comedic fairy tale in which Betty learns to shed her "ugly" label and use her keen skill in economics to overcome her poor beginnings. Or as the hilariously blunt description on NBC.com reads: "Beatriz Pinzón is intelligent, but not deemed attractive and is despised for that reason."
The show was enormously successful, so much so that it's believed to have inspired worldwide interest in the Latin American telenovela storytelling format. After its initial run from 1999 through 2001, Betty, La Fea was aired again on Spanish-language U.S. network TeleFutura in January 2009. It won numerous awards and received an animated spinoff called Betty Toons in 2002. Like Ugly Betty after it, Betty, La Fea would also be dubbed or subbed to air in numerous other worldwide markets including Greece, India, Japan, Turkey, China, and more. The show is even set to receive a sequel of sorts, more than 20 years later. Original stars Ana María Orozco and Jorge Enrique Abello are set to reprise their roles in a continuing series called simply Betty, La Fea for Prime Video in 2024.
If the story of Yo Soy Betty, La Fea were contained to only the original Colombian version, it would still be considered the most successful telenovela of all time. But as the existence of Ugly Betty suggests, there was a whole second life for the show in the form of its many, many unique international versions.
Other International Versions of Ugly Betty
Sometimes merely dubbing or subbing a show for a different global market just doesn't quite scratch that content itch. In those cases, broadcasters and studios are happy to order local adaptations of popular international content. The Office is an infamous example. First created by Ricky Gervais in 2001 to air on British television, the relatable concept ("work is a never-ending nightmare") was reworked into many different versions across the globe, including the tremendously successful American version.
When it comes to Yo Soy Betty, La Fea, quite literally no other telenovela has been adapted into more local language series. Seriously – it's in the Guinness Book of World Records and everything. Per Guinness, Yo Soy Betty, La Fea gave way to 19 other adaptations around the world, including Ugly Betty.
Many of these have achieved a near-Ugly Betty level of success as well. The Mexican version of the show La Fea Más Bella ("The Most Beautiful Ugly Girl") ran for 300 episodes and its star Angélica Vale made a cameo appearance in the Ugly Betty season 1 finale. Over in India, Jassi Jaissi Koi Nahin ("There Is No One Like Jassi") chugged through over 500 episodes and took home some Indian Telly and Indian Television Academy awards. One of the adaptations, Georgia's Gogona Gareubnidan ("Suburban Girl") even took its inspiration directly from Ugly Betty and not Yo Soy Betty, La Fea.
Oftentimes, it can be difficult to determine what "success" means in the world of television. Nielsen Ratings aren't the be-all, end-all and many countryies' media landscapes don't have reliable metrics to lean on. One thing's for sure though: when a concept has been adapted more than a dozen times and translating for more than 130 markets, it's definitely on to something.
Ugly Betty is available to stream on Netflix in the U.S. and U.K., Hulu in the U.S., and Disney+ in the U.K. Yo Soy Betty, La Fea is available to stream on Fubo and Peacock in the U.S.