News
The Office Star Picks Funniest Moment from the Sitcom
The Office has been making audiences laugh for nearly 20 years. But for star John Krasinski, one particular Steve Carrell ad-lib was the show at its funniest.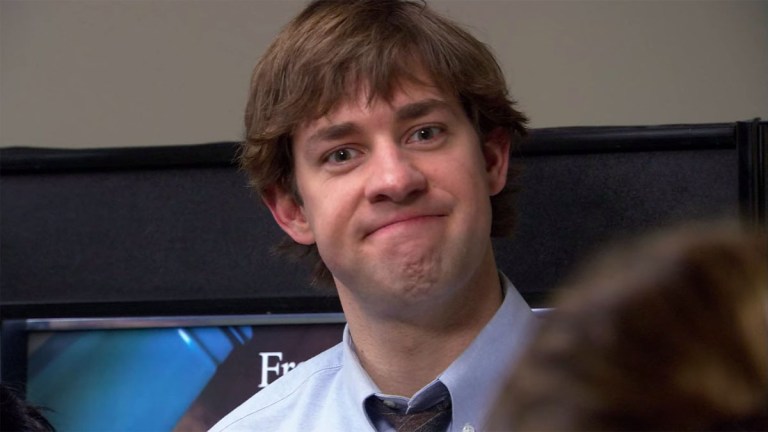 After a rocky start in the U.S., the American version of The Office has remained a cultural juggernaut. Not only did the series continue to improve the model for the mockumentary format that is still popular in series such as Abbott Elementary, but it also continues to find new fans, who catch up with the show on streaming services long after the end of its nine-season run. Much of the success of The Office can be attributed to its signature visual cue, when a character gives a befuddled look to the camera.
Most often, those looks came from John Krasinski, who played Jim Halpert, the unwilling company man at Dunder Mifflin. But on one occasion, Krasinski couldn't give his famed glance to punctuate a joke, not because he didn't think it was funny, but because he was laughing too hard.
In an interview with WIRED (via CBR), Krasinski recalled shooting a scene for the season six episode "Secret Santa," involving incompetent manager Michael Scott (Steve Carrell) and lovable dunce Kevin (Brian Bumgaurtner). Posing as Santa for the office Christmas party, Michael invites the much-larger Kevin to sit on his lap, forcing Krasinski to lose his cool.
"As soon as Steve said, 'What would you like for Christmas little boy,' he lost all the air in his body when Brian sat on him," Krasinski remembered. "I've never laughed harder in my life," he admitted, so much that he had to break the show's usual format. "And if you're a fan of the show, you know they used to just swing pan to Jim for a reaction, and I looked over to the camera man and said, 'Don't even try it. I will not be here,' and so every time he swings, it's to an empty room; I just wasn't there."
Obviously, Krasinski's faux pas didn't diminish the show's popularity or continuing legacy. But since the show ended in 2014, the actor has been working to break the public's image of him. After losing the role of Captain America to Chris Evans when internet commenters balked at the idea of Jim punching Nazis in World War II, Krasinski has shored up his action bona fides. In addition to starring in the Michael Bay movie 13 Hours: The Secret Soldiers of Benghazi, Krasinski has lead the Amazon series Jack Ryan, in which he plays a more two-fisted version of the titular CIA analyst created by author Tom Clancy.
Additionally, Krasinski has been making his mark behind the camera. After directing Brief Interviews With Hideous Men (2009) and The Hollars (2016), both of which released to middling reviews and low-box office numbers, Krasinski socred a hit with horror movie A Quiet Place and A Quiet Place Part II, both of which star his wife Emily Blunt.
Are these efforts enough to convince audiences that there's more to Krasinski than Jim Halpert? The mixed reception to his MCU debut as Reed Richards of the Fantastic Four in Doctor Strange in the Multiverse of Madness suggests that he's still got a way to go. But in the meantime, he can still console himself with fond memories from The Office.