News
Tiger King to Get New Episode at Netflix Per Jeff Lowe
One of the subjects of Netflix's buzzy docuseries Tiger King says the streamer is adding another episode next week.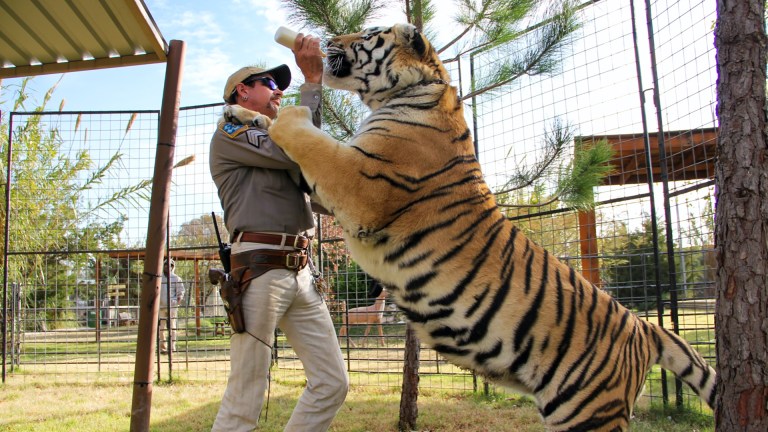 Netflix's Tiger King was already among the most eventful and insane docuseries ever produced. Its seven episodes covered everything from tiger sex cults to murder-for-hire plots to some incredible music videos. According to one source, however, there is still more story to come.
Exotic zoo owner Jeff Lowe, who is one of many colorful characters covered in Tiger King, reports that Netflix will be adding a new episode to the seven-episode series to its servers as early as next week. The news comes from (try to follow us on this one) Los Angeles Dodgers baseball player Justin Turner's Twitter account posting a video that Twitter user @christie_dish received from Jeff Lowe via the celebrity messaging service Cameo. Phew! Check it out below.
"Netflix is adding one episode. It will be on next week. They're filming here tomorrow," Lowe says in the video.
Lowe filming his interview tomorrow for a whole new episode coming next week would appear to be a tight turnaround time. But it's possible that an eighth episode could be a light update on where all parties from the documentary find themselves now with little editing required. Netflix has done something similar recently with a reunion special for reality series Love is Blind. Netflix also caught up with imprisoned Tiger King star Joe Exotic and posted the interview to its Twitter account on April 3.
There are also plenty of updates that a new episode of Tiger King could include. As evidenced by Netflix's tweet, the legend himself, Joe Exotic, is always available for a followup interview. News also broke last week that the Hillsborough County Sheriff's office was seeking new leads in the case of Carole Baskin's missing second husband Don Lewis. A representative from that same sheriff's office told CNN that Netflix had approached them about doing an entirely new docuseries on Don Lewis's disappearance. Truly, the amount of story that Tiger King can produce is inexhaustible.
Tiger King first premiered on Netflix on March 20, 2020, and likely would have been a hit regardless of when it arrived. But the fact that it just happened to debut right when large swaths of the world were forced into quarantine meant that its popularity spread like wildfire. The docuseries follows the story of eccentric private zoo owner and "Tiger King" Joe Exotic and his personal war against conservationist Carole Baskin. Along the way in this shockingly sprawling real life story, equally eccentric individuals are introduced like Joe's two husbands, borderline cult leader Bhagavan "Doc" Antle, and a contract killer or two. Also, Carole probably killed her husband.
Unsurprisingly, Tiger King has proven to be a big success for Netflix with the streamer reporting it's still the most watched series on its platform, two weeks after its release. One more episode should increase that memeable lifespan even longer.