News
Tiger King's Joe Exotic Wants to Be Played by Brad Pitt or David Spade
Joe Exotic, the Tiger King himself, thinks he could be played by either Brad Pitt or David Spade in a movie or scripted series.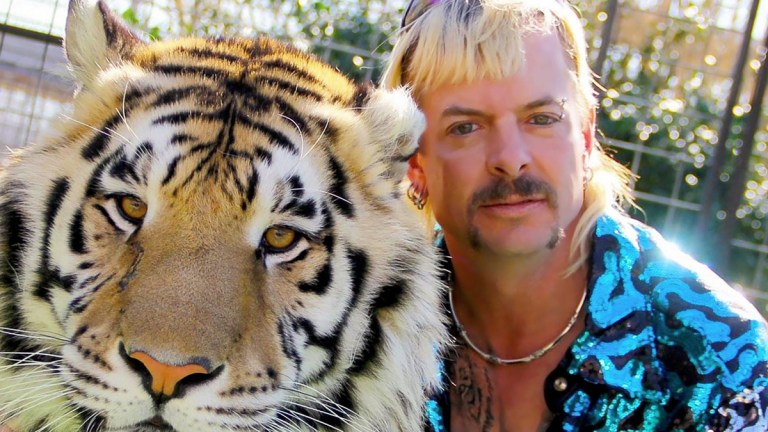 Tiger King: Murder, Mayhem and Madness has managed to wrangle the proverbial big cats of a quarantine-caged Netflix audience. As the documentary series continues its pop culture dominance, discussions have shifted to prospective actors to play the enthrallingly eccentric cast of characters on the big screen— at least, for an idyllic time when the coronavirus has mostly dissipated, and we can go back to watching stuff on the big screen. Well, the titular Tiger King, Joe Exotic, apparently has his own ideas.
Co-directors of the Netflix phenomenon, Rebecca Chaiklin and Eric Goode, recently sat down—via phone—for a THR interview in which it is revealed that the show's central figure, Joseph Schreibvogel, a.k.a. Joseph Maldonado-Passage, a.k.a. Joe Exotic, is apparently doing a bit of dream-casting from his prison cell. While his incarceration (he's currently in isolation for COVID-19,) has mostly insulated him from the impact of the series, which he has yet to watch, he is aware of a current scramble by big-name actors to play him in a prospective movie or scripted series. Yet, Chaiklin reveals that, in true Joe Exotic fashion, the choices represent quite a leap on the spectrum, picking Brad Pitt and David Spade! As Chaiklin elaborates, "He doesn't refer to David Spade as David Spade — he refers to him as 'Joe Dirt.'"
While the notion that the iconic leading man countenance of Brad Pitt is a passable facsimile for himself can be easily dismissed as a manifestation of Exotic's now-famous unbridled ego, his other selection of David Spade is the clearly more feasible one. The former standup comedian and SNL star-turned film actor, who currently hosts Comedy Central talk show Lights Out with David Spade, famously donned a Joe Exotic-evocative mullet wig as the star of 2001 comedy Joe Dirt (and its mostly ignored Crackle-streaming 2015 sequel), and certainly has the look and necessary comedic chops to pull off playing a giant-cat-keeping, country-music-crooning gay polygamist convicted felon. The mock-up directly above certainly drives home that notion.
Interestingly enough, there seems to be a mad scramble among actors for the Joe Exotic role, albeit for a film project that has yet to exist in either scripting or pre-production phases. As Tiger King-related hashtags continue to blow up, actors like Edward Norton, Dax Shepard and even Jared Leto have expressed apparent interest on social media about playing Joe. Indeed, the comedically-inclined Shepard has been vocal—in a semi-serious way that could lead to a real opportunity—about playing the part, even vowing a Christian Bale in The Machinist-level onscreen metamorphosis. However, three-time Oscar nominee Edward Norton slid himself into the conversation to make his case in a reply. Additionally, the eccentric-in-his-own-right Jared Leto might have made his own intentions known with a provocative tweet referencing his Oscar-winning Dallas Buyers Club role, in which he—akin to Exotic in his music videos—wore a cowboy hat.
However, while A-listers (and descending members of the taxonomic alphabet,) vie for the prized role in a hypothetical project, SNL's Kate McKinnon is locked-in to her own (quite real) Tiger King role, having been cast by studio UCP back in November—in what turned out to be a prescient move—to star as Exotic's big-cat-keeping nemesis, Carole Baskin, in a developing limited series. Of course, Baskin is a key component to the events chronicled in Tiger King, having been the target of the alleged murder-for-hire plot for which Exotic was convicted. Indeed, a good portion of the Netflix documentary series centers on the checkered past of Baskin, whose husband, Don Lewis, disappeared back in 1997 under mysterious circumstances, making her a wealthy dowager. Consequently, the claim—mostly proliferated by Joe Exotic—that Baskin fed her husband to the tigers has blown up as a meme.
In the meantime, if you're interested or just suffering from rampant FOMO, you can watch Tiger King: Murder, Mayhem and Madness on Netflix right now.