Features
Netflix's Tiger King: What Happened Next?
Here's the latest on Tiger King Joe Exotic, including updates from The Tiger King and I aftershow on Netflix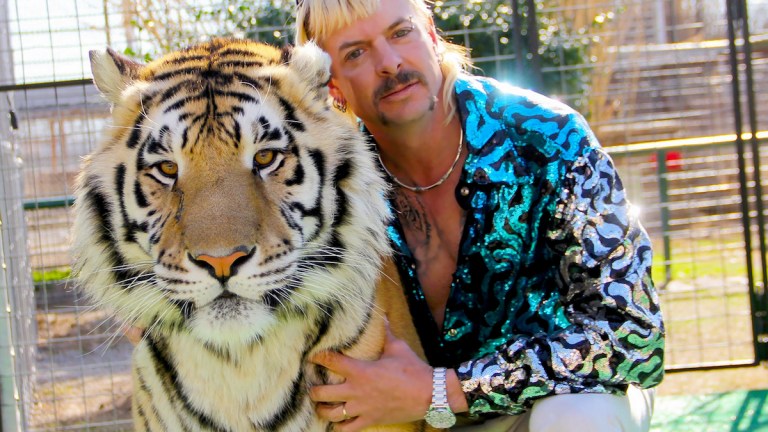 The world's latest obsession is Netflix documentary series Tiger King: Murder, Mayhem and Madness, the story of private zoo owner Joe Exotic and his long running feud with Big Cat Rescue founder Carole Baskin which ends in a murder-for-hire plot and a 22 year prison sentence for Joe.
It's genuinely one of the strangest, most fascinating stories to land on the streaming service – if you haven't caught it yet, you really must.
At the end of the doc Joe was in prison, Jeff Lowe owned the zoo and was planning to transport the animals to a new location in Oklahoma and Carole was happily running Big Cat Rescue and campaigning to prevent cub petting, no longer at immediate risk of being assassinated.
Now an additional episode, entitled The Tiger King and I, has landed on Netflix. It's hosted by Community's Joel McHale and is billed as an 'aftershow', featuring new interviews, done remotely during lockdown, with various key people from the doc including zoo owner Jeff and Lauren Lowe, Joe's ex-husband John Finlay and Joe's TV show producer Rick Kirkham.
So what happened next and what did The Tiger King and I reveal? Here's the latest news on the main players from Tiger King: Murder, Mayhem and Madness.
Carole has seen Tiger King and she isn't happy
Carole has watched the doc and accuses it of being "salacious and sensational" with "lies and innuendos from people who are not credible." She's specifically referring to accusations that she killed her husband Don Lewis and fed him to tigers. The whole response is very much worth a read whatever your standpoint and addresses issues about Don's money, the restraining order, Don's assistant Anne McQueen, the money that went to Don's daughters and former wife, and more. Whether you think she was responsible for Don's death or not she still comes across as one of the most sympathetic characters in the story. It's notable that Carole does not appear in the bonus The Tiger King and I episode of the show.
Jeff Lowe isn't happy either
In The Tiger King and I Jeff says he's watched the documentary and feels like he was made into the villain. He says Joe was his own worst enemy and executed healthy tigers. He says the antenna on top of the gift shop that the doc implied was a bug was actually for the two-way radio they use.
He also implies that James Garretson, who was instrumental in Joe's conviction for murder-for-hire has more skeletons in his closet than Tiger King lets on.
"I know the truth, I know why he cooperated with the feds and it wasn't over a lemur," he says, cryptically.
Nonetheless he still overtly pervs over the hot nanny he hired to look after his and Lauren's child and calls Allen Glover "the sweetest hitman you could hire".
Joe has filed a lawsuit against several government departments as well as Jeff Lowe and James Garretson
Joe filed a suit from jail to the tune of $78.84 million from the US Department of Interior and the US Federal Wildlife Service and $15 million from Lowe and Garretson. He posted the documents on his Facebook page with a message reading:
"This lawsuit has been filed in the name of Justice, The Trump Administration must be made aware of the Overreach, perjury, abuse of power and the failure to uphold the Oath of their position which is truth and Justice for all. The Agencies and its counter parts have abused the system for a private agenda. The Director Dan Ashe used his Government position to creat an illegal monopoly with the AZA and shut down hard working American businesses for self gain. I have been illegally charged with these crimes and the Trump Administration, the United States Department of Interior along witht the Federal Wildlife service must be held accountable for what they have done to me, my parents and my family, along with my animals. Thank you and please share."
[Spelling mistakes and typos all Joe.]
The AZA is the Association of Zoos & Aquariums; a not for profit organisation which accredits zoos and aquariums. Joe's zoo was not accredited, and since Tiger King aired the Oklahoma City Zoo actually issued a statement about unaccredited roadside zoos obviously trying to distance itself from the GW Zoo.
Joe's is a 'pro se' suit which means he's representing himself and doesn't have an attorney. The documents he shared on Facebook say that he's suing the defendants for, among other things (there's a list of 14) misleading a grand jury, perjury, the loss of personal property, pain and suffering and the death of Shirley Schreibvogel (Joe's mother). The statement is long and dense and occasionally slightly crazy but the main gist is that the murder-for-hire plot was a set up, the various government agencies adding "generic Tiger" to the endangered species act list was a conspiracy, and that the death of his mother was a direct result of him being imprisoned (and might even have been a murder at the hands of Lowe). He also takes time to trash talk Carole and mention her husband Don even though that doesn't seem to be part of his case.
The GW Zoo, rebranded as the Greater Wynnewood Zoo, now owned by Jeff Lowe, is no longer open.
In Tiger King Lowe talked about moving the Greater Wynnewood Zoo to a new location and renaming it The Oklahoma Zoo (not to be confused with The Oklahoma City Zoo, which issued the statement above).
According to the zoo's Instagram page it's due to open this Summer – though whether the COVID-19 pandemic puts a stop to that remains to be seen. The Greater Wynnewood Zoo was still open in March (and still offers cub petting) but in the additional episode The Tiger King and I Jeff Lowe confirmed the zoo is now closed because of the lockdown.
Bhagavan 'Doc' Antle's park was raided, but he's not been charged
In December 2019 the South Carolina Law Enforcement Division came to Antle's Myrtle Beach safari. Talking to ABC News, Doc claims they just wanted to enquire about some of his lion cubs who were related to some lions that had come from another zoo that had been closed down for animal cruelty in August 2019.
John Finlay's got new teeth!
Joe's ex-husband John has a complete new set of gnashers. In The Tiger King and I we get to see them in their full glory – indeed in that doc John is looking noticeably healthier than in the series.
You can also see pictures he's posted on fan Facebook page The Truth About John Finlay. In the documentary many of his teeth were missing apparently due to meth abuse. But according to TMZ John claims that even though he had been a meth user in the past, his teeth were missing for genetic reasons and he hasn't touched meth for six years.
John got his teeth fixed in July 2019 and he says filmmakers Eric Goode and Rebecca Chaiklin had plenty of footage of his new smile but opted not to include it.
In The Tiger King and I John is also keen to point out that his tattoo cover-up shown in the main series wasn't finished – it is now, and he says he'll reveal it at some point.
Saff identifies as a man despite The Tiger King gendering him female
But he doesn't especially care… Saff is the guy who got his arm bitten off by a tiger and returned to work five days after the accident with no arm rather than spending years having reconstructive surgery to save the limb.
In The Tiger King and I Saff seems nervous but as in the main documentary episodes, remains remarkably loyal to Joe. He points out that Joe would cook an entire Thanksgiving dinner for everyone for free every year and is keen to point out that despite Joe's flaws he could be kind too.
When asked about whether he thinks Joe should be in prison he says, "I think justice was served but I don't want to see that man die in prison."
Rick Kirkham says Joe was actually afraid of big cats
Despite self-styling as 'The Tiger King', Rick Kirkham, the former journalist who was filming Joe for his reality TV show, says that Joe was actually very scared of big cats. In the scene where Joe is in a cage with two tigers, one was apparently blind and the other was on tranquillisers.
Josh is confident Travis had no intention of killing himself
Joe's campaign manager Josh Dial appears in the add on episode The Tiger King and I and talks about when he watched Joe's husband Travis kill himself. Though Travis pointed a gun at his own head and pull the trigger he's sure it was an accident, saying he saw in Travis eyes a look of fear and a sense he'd made a mistake moments before Travis died.
Josh has never had counselling after witnessing the act and very much wants some. Joe also didn't have counselling. According to Josh, Joe saw a Shaman who made things worse rather than better.
There's going to be a TV series about Joe Exotic
Announced back in November 2019, THR reports that Universal Content Productions will be teaming with podcast studio Wondery to make a series based on the Joe Exotic: Tiger King podcast (it was called Over My Dead Body: Joe Exotic at the time). Kate McKinnon is set to star as Carole Baskin, though no other cast members have yet been announced.
A film of the story is being widely discussed – by fans at the very least. Joe has said that he'd like Brad Pitt or David Spade to play him. Former manager John Reinke (the guy with two prosthetic legs), stated in The Tiger King and I that he'd liked to be played by Matthew McConaughey, while Rick Kirkam opted for Billy Bob Thornton to play him.