Reviews
Tiger King: Murder, Mayhem and Madness Review – The Wildest Ride on Netflix
Netflix documentary Tiger King: Murder, Mayhem and Madness tells the incredible story of Joe Exotic, and it's an absolute must watch.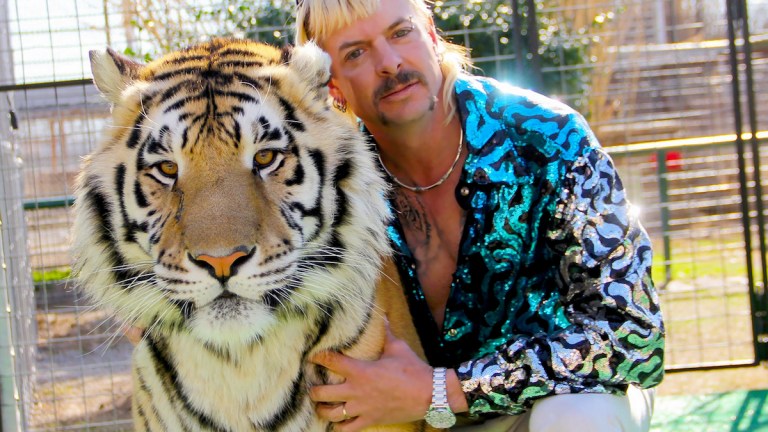 There are more tigers in captivity in America than there are in the wild in the whole world, we're told in this incredible seven part Netflix original documentary. But don't expect a solemn series about conservation. What starts out as the story of an escalating feud between an Oklahoma man and a Florida woman who both love big cats, becomes a more sordid and surprising expose of an industry that allows scummy men to use endangered species as commodities to wrangle sex, money, and power. Tiger King is absolutely one of the best documentaries that has landed on Netflix in a while, with each episode bringing incredible twists. The fact that the protagonist of the series insisted on filming so much of his life anyway is a massive bonus for filmmakers Eric Goode and Rebecca Chaiklin. A character piece focusing on several larger than life players, a story so unbelievable it would sound fake were it not true, and a portrait of capitalist America which resonates far wider than the world of big cat ownership, Tiger King is destined to be your new obsession.
Meet Joseph Schreibvogel, later Joseph Maldonado-Passage aka Joe Exotic, the gay, polygamous, bleach-blonde, bemulletted, country singing gun enthusiast who's the big cat monarch of the title. The owner of the Greater Wynnewood Exotic Animal Park in Oklahoma, Joe's a petulant dictator surrounded by unqualified misfits who makes the lion's share of his living through cub petting: allowing members of the public to handle baby tigers for a fee, either at his facility or via tours around malls. Problems arise though, when Joe comes to the attention of Carole Baskin, a woman equally enamored with wild animals who runs Big Cat Rescue, an animal sanctuary taking in (and exhibiting) rescued cats. Baskin is an active campaigner for legislation to end private ownership of big cats, and is particularly anti cub petting, which encourages owners like Joe to constantly breed tigers so there are always new cubs which are only suitable for petting when they're very young. In Joe's case it led to a massive over population of adult tigers in his park which he's unable to feed properly or accommodate.
Carole wants to shut Joe down and coolly and systematically crushes his livelihood. Joe obsessively hates Carole and makes reality TV videos where he shoots at effigies of her. In many ways they are two sides of the same coin, until things start to get out of hand – and Carole may have some skeletons in the closet of her own.
To say too much more about their trajectory would be a disservice to an incredible series that's packed with WTF moments, particularly for those who don't know the story. Even if you are familiar with the bones of the case – it was covered fairly extensively in the Wondery podcast Over My Dead Body: Joe Exotic – there's still more to learn here with our narrator given incredible access to the animal parks, archive footage (some of which is seriously shocking and disturbing), and extensive interview time with all the main players.
While Carole and Joe's rivalry might be at the heart of the conflict – she is the catalyst for his eventual undoing – there are several other individuals under the spotlight who are just as fascinating.
Fellow big cat owner Bhagavan "Doc" Antle is a smugly deplorable character who uses his menagerie to head up his own cult – Bhagavan means "Lord" and Doc has a harem of "wives" – mostly teenage apprentices at the zoo – who he forces to change their names. Lowlife scumbag Jeff Lowe who uses his tiger cubs to get sex ("pussies get pussy" he unashamedly declares) is an amoral profiteer who really should be in jail. While the story of two of Joe Exotic's husbands, John Finley and Travis Maldonado, is just utterly tragic.
With a massive chorus of supporting characters on either side of the feud – Joe's super-loyal animal lover employees on one side, Carole's voice of reason husband on the other, with the nefarious "businessman" James Garretson and ex-con Allen Glover lurking in the shadows ready to cash in on Joe's destructive hubris when things start to fall apart – the scale of Tiger King almost makes this feel like Greek tragedy. Though the true tragedy is not what happened to Joe as much as the people and animals he damaged on the way, through his absolute belief that it was his right as an American to do what the hell he wanted. It's a belief waved like a flag by Bhagavan who posits that it would be un-American to take away a person's right to own and breed tigers even though rumors suggest he's been euthanizing some of his pack when they grow too old to pet.
Tiger King is utterly compelling but it's also infuriating and astonishing in equal measure. It's a masterful piece of storytelling, doling out a little more each episode so the narrative continues to escalate, all the while challenging the audience's perceptions and sympathies. All the main players (who are still alive) get a voice but while the series does obviously have a slant it feels neither forced nor biased.
Up there with The Jinx in terms of quality documentary making, Tiger King is a must watch to be devoured like the spoiled Walmart meat fed to Joe's ever expanding zoo – deliciously unsavory, but you'll wolf down every bite.
Tiger King: Murder, Mayhem and Madness is available to stream now on Netflix.