News
The Tale of Tiger King's Joe Exotic and Carole Baskin to Continue at ID
Good news, Tiger King fans. ID has announced a de facto sequel called Investigating the Strange World of Joe Exotic.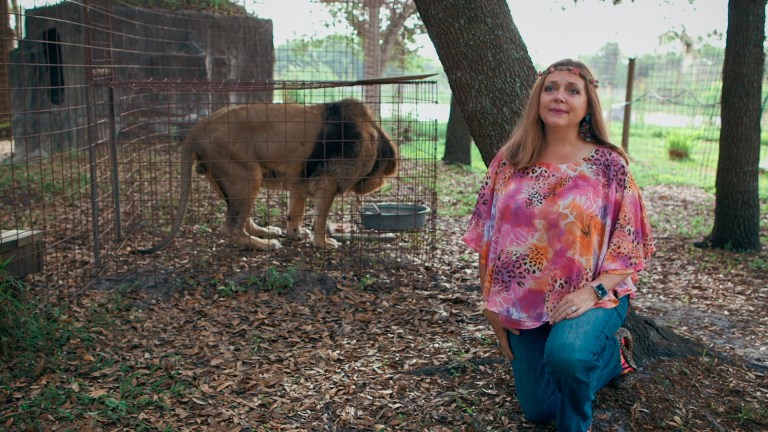 The strange world of Joe Exotic is too big for just Netflix's Tiger King: Murder, Mayhem and Madness to contain. That's why ID has announced a new project that will explore everyone's favorite tiger king called Investigating the Strange World of Joe Exotic. 
ID's new limited series will delve further into the world of both former G.W. Zoo owner Joe Exotic and his nemesis, Carole Baskin. ID reports that this sequel will feature never-before-seen footage from Joe himself (guess something must have survived that studio fire?) and will look into the question at the forefront of Tiger King viewers' minds: did Carole Baskin kill her husband, Don Lewis? 
Investigating the Strange World of Joe Exotic will also check into other secrets from Joe's past, as well as whatever other skeletons Jeff Lowe and Doc Antle most surely have in their respective closets. The series is being produced by Conveyor Media with Theresa McKeown & Colin Whelan as Executive Producers and Rebecca Sirmons as Co-Executive Producer.
"Viewers are understandably riveted by Netflix's Tiger King, but the millions of true crime fans around the world were left wanting more," Henry Schleiff, Group President ID, Travel Channel, American Heroes Channel and Destination America said via press release. "ID is the perfect place to find the inevitable sequel to this drama – featuring a missing husband, a hit man, and the illegal business of exotic animals. It's time to let the cat out of the bag and address the lingering questions that viewers demand be answered."
Schleiff has one thing right there – a sequel to Tiger King was certainly inevitable. While rumors swirl that Netflix could be adding another episode to its servers as early as this week, the demand for more Joe Exotic content continues to grow. When it first premiered on March 20, Netflix's Tiger King grabbed the cultural consciousness and refused to let go. The docuseries tells the true, and utterly absurd tale of exotic zoo owner Joe Exotic and the truly insane circumstances that lead to him ordering a murder-for-fire on his rival Carole Baskin. And that's just the tip of the iceberg of Tiger King's appeal. Along the way, Netflix's seven-part series also explores the exotic animal trade, a failed gubernatorial campaign, and of course a tiger sex cult here or there.
Joe Exotic is in prison now, but that hasn't stopped him from commenting on the Tiger King phenomenon. In fact, the story of the show continues to linger out in the real world, with an investigation into Carole Baskins' first husband's disappearance being reopened and many celebrity fans joining the meme party. 
No release date has yet been set for Investigating the Strange World of Joe Exotic but it is expected to arrive at some point this year.