Reviews
The Suspect Episode 5 Review: The Finale Reveals Who Killed Catherine
The final episode of ITV drama The Suspect starring Aidan Turner answers the question of who killed Catherine (and the rest). And it's a bit… suspect.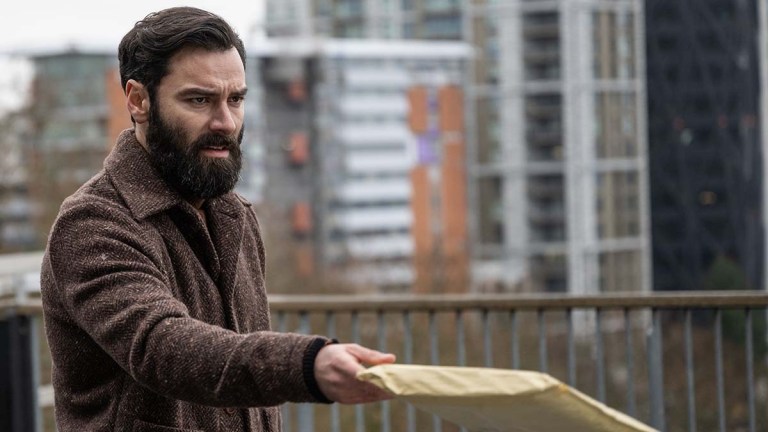 So it is over. The Suspect, ITV's glossy five-part crime drama has come to a close and as predicted it was filled with twists right up to the end. Twists some of us had vaguely guessed at, but more gloating on that later.
Anyway, at the start of the fifth final episode our 'hero' Dr Joe O'Loughlin (Aidan Turner) is on the run. He's now been fingered for two murders, Catherine, the nurse who accused Joe of sexual assault, and Cara, Joe's friend, who we are constantly reminded is a sex worker. They're not even the only victims. Erskine, the doctor who accused Bobby Morgan's father of abuse has also been found dead in his house. And as revealed in episode 4, it's looking more and more likely that a string of 'accidents' over the past 18 months, involving loved ones of the people involved in Bobby's case, were probably not accidental at all.
Finally in ep 5 the incredulous and ineffectual detectives Ruiz (Shaun Parkes) and Devi (Anjli Mohindra) open their minds to the possibility that there might be another culprit. By this point in the show any ambiguity for the audience over Joe's guilt is gone, and he has become full time investigator on his own case, identifying other potential victims of Bobby's vengeful plan, including the daughter of a co-worker and the wife of a judge, making the collateral damage very high (and the plausibility very low). You wouldn't want to be a woman in the world of The Suspect, where at least four completely innocent females have been murdered despite being nothing to do with Bobby or his father. 
This is crime drama fluff but it does leave a rather nasty taste. Joe is morally bankrupt,  lies, cheats and manipulates and doesn't seem to have any emotional response to the deaths of Catherine and Cara (who is meant to be his friend) other than how they relate to him. Jack is an absolute monster who just wants to seduce Joe's wife. Joe's wife has no agency and has no idea what's even going on half the time – oh, and why was she Jack's alibi (meaning he'd have had to have been with her, what, until Joe came home at 4am)? And while Detective Ruiz at least gets to change his mind and save the day, Detective Devi is shown to be bullish to the point of stupidity.
And what about DJ the lovely plumber? Yes, we called it from episode one. He's the murderer. In a very uninspiring final twist, we learn that DJ is Bobby's brother and abandoned him to be stuck with their terrible and abusive mum (The Suspect really does not like women) when the two were young. Our denouement comes with Bobby finally dropping his plummy Southern accent to become the Scousest Scouser in all of Liverpool. Why this was necessary is unclear since we have known Bobby is from Liverpool for several episodes. The lovely plumber also becomes Scouse, but not as Scouse as Bobby.
Anyway, the newly Scoused DJ reveals that his guilt at leaving his brother behind has driven him to become Bobby's avenging angel. Where the clearly mentally unwell Bobby gets to do the scheming, intimidating and puppet mastery, DJ has to do all the murders and then fix the pipes at the O'Loughlin's while gaining the trust of Joe's wife in the name of a finale that sees the brothers plan to blow up Joe's house, with Joe and his wife and daughter inside. A final bit of "Psychology" from Joe convinces DJ to let the family go and instead blow himself to smithereens while taking the rap for all the murders. A happy ending all round then, except for all the innocent dead people, and hopefully the reputation of the police who were presumably going to let multiple murders go unsolved. Oh and Joe still has Parkinson's which appears to have nothing to do with anything. 
What a silly show indeed. If you made it this far, well done. Please add further observations in the comments, like 'why is Sian Clifford in this?', 'why has DJ spent £500 on a rubbish picture of a whale?' and 'why is detective Devi wearing that same tabard-style top the whole time?'
The Suspect airs on ITV at 9pm on Monday. All episodes are available to stream on ITV Hub.