Features
The Skins Cast's Best Post-Skins Roles
Cult hit Skins changed the game for teen dramas and launched a new generation of Hollywood and TV stars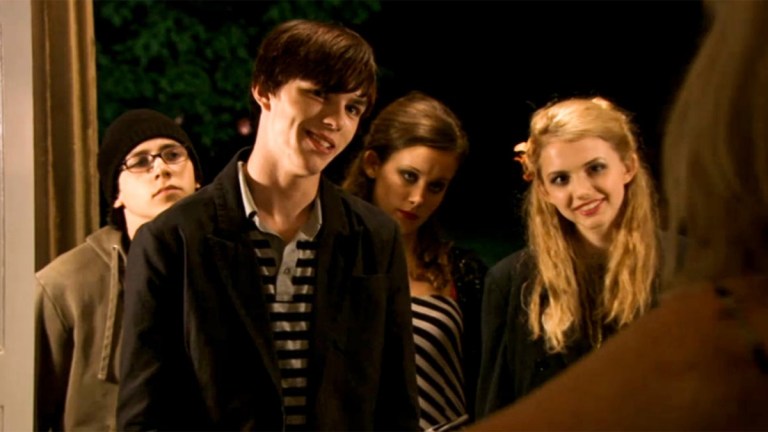 Where are the Skins cast now? Short answer: absolutely everywhere.
While the show did earn critical acclaim as well as a cult following over the course of its seven series, when this scrappy teen comedy drama launched on E4 in 2007 few could have predicted just how many household names it would spawn.
Among Skins' impressive alumni are actors who went on to win Oscars and Baftas, play lead roles in hit movies like Slumdog Millionaire and Get Out, not to mention star in hit shows like Game of Thrones and Peaky Blinders. 
Let's take a look at some of the Skins cast's best roles:
Joe Dempsie – Game of Thrones
Playing party animal Chris in Skins was in a way good preparation for Joe Dempsie's later role as Gendry in Game of Thrones, as both characters have some pretty serious daddy issues: Chris' dad (played by Green Wing's Mark Heap) was pretty useless at parenting, and Gendry's royal pa was the very definition of an absent father.
As well as boosting his profile, his role on Game of Thrones gave Dempsie a chance to really broaden and mature his acting range, going from the hedonism of teenager Chris to the heroism of thoroughly decent Gendry, a working-class blacksmith (and, it should be said, excellent runner) whose discovery of his royal connections thrusts him into the centre of the HBO fantasy's final season.
See also: John in much-missed 2011 BBC Three fantasy The Fades.
Nicholas Hoult – The Menu
Hoult was a movie star even before he joined the cast of Skins, having charmed audiences as young Marcus opposite Hugh Grant and Toni Collette in 2002 Nick Hornby comedy About a Boy. He's gone on to big things, with appearances in the X-Men franchise, Mad Max: Fury Road, biopic Tolkien, 2023's Renfield and many more. One of his finest movie roles though, was in 2022's The Menu. 
Joining a growing trend of fiction that takes great pleasure in elaborately punishing the super-rich, The Menu stars Ralph Fiennes as a bitter celebrity chef who executes a night of brutal culinary payback on his dinner guests. Hoult's character, foodie Tyler Ledford, is another chance for him to play the antihero after being the cruel and manipulative Tony in the early series of Skins. His character's fate stands out as particularly excruciating, making Tyler a perfect example of Hoult's strength at playing an unlikeable character who is humbled.
See also: The Favourite, and Russian emperor Peter the Great in The Great. Huzzah!
Daniel Kaluuya – Get Out
Daniel Kaluuya has come a long way from the humble beginnings of Posh Kenneth, Skins' comic relief character whose silver spoon RP was prone to outbursts of rapid-fire street talk. He's won a Best Actor Oscar, and been nominated for another, and had roles in Marvel's Black Panther movies, Black Mirror, Steve McQueen's Widows and many, many more. It was Jordan Peele's 2017 horror Get Out though, that confirmed Kaluuya's status as a Hollywood star. In it, he plays Chris, a young Black man who visits his white girlfriend's parents for the first time, and soon realises there's something seriously wrong with the whole set-up. To say any more would be a spoiler, but it's a must-watch.
See also: Fred Hampton in Shaka King's Oscar-winning true story race history feature Judas and the Black Messiah.
Hannah Murray – Game of Thrones
Since playing troubled, sweet Cassie on Skins, Hannah Murray has made her way in indie cinema with roles in bleak British suicide drama Bridgend, pregnancy horror The Expecting, charming flick God Help the Girl by Stuart "Belle and Sebastian" Murdoch, and many more. TV audiences though will know her as one half of Game of Thrones' sweetest love story – Gilly and Sam. Wildling Gilly had a tough start in life as one of the evil Craster's abused daughters, but learned that men could be honourable and kind when she met Night's Watch pledge Samwell Tarly. Her tenacity and his booksmarts carried those two all the way to the conclusion of the Game of Thrones story as one of its few happy endings.
See also: Eyewitness Julie in Kathryn Bigelow's 2017 true-story race feature Detroit.
Dev Patel – Slumdog Millionaire
Like Daniel Kaluuya, Dev Patel went from Skins to Oscar nominations and leading man status, but pretty much instantly. In 2008, right after he'd hung up Anwar's baseball caps and hoodies, he landed the role of Jamal, a game show contestant whose turbulent life story is told in flashback through the questions asked in the studio in Danny Boyle's mega-hit Slumdog Millionaire. After that, Patel went straight into The Air Bender live-action franchise and grey pound-magnet The Best Exotic Marigold Hotel, before starring in Oscar-nominated Lion and weird Arthurian fantasy The Green Knight.
See also: the title role in Armando Iannucci's The Personal History of David Copperfield.
Aimee Ffion-Edwards – Peaky Blinders
Sketch in Skins was an outsider whose obsession with Mitch Hewer's character Maxxie made her a bit of a sinister prospect, but Welsh actor Aimee Ffion-Edwards found the humanity in even that small part, and has gone on to do the same in the rest of her roles, from an alien invader in War of the Worlds to a schoolgirl babysitter in Inside No. 9's scariest episode, to new Lily Allen-starring drama Dreamland. 
It's as gypsy royalty Esme Shelby in Peaky Blinders though, that she really made her mark. Esme's a force of nature – wild and unable to be tamed, and suffocated by having to live inside four walls and a roof, however grand those four walls become as her husband John Shelby rises with the family fortunes thanks to the criminal actions of his brother Tommy. The character was missed for several seasons, which made her season six return (see above) all the sweeter.
See also: Sophie in Mackenzie Crook's wistful comedy drama Detectorists
SKINS: SECOND GENERATION
Kaya Scodelario – The Maze Runner films
Playing the troubled bad girl Effie Stonem actually earned Kaya Scodelario her spot in the Maze Runner franchise, as director Wes Ball made her his first choice for the role of Teresa after seeing her performance in Skins. As the only female Glader (i.e member of the group participating in the deadly maze trials), it's a tough role, but Scodelario thankfully doesn't end up with the same fate as so many "honorary females" in male-oriented films – instead of being the pretty damsel that needs rescuing, she's one of the films' true heroes.
See also: Hermia Easterbrook in sinister 60s-set Agatha Christie mystery The Pale Horse and Cathy in Andrea Arnold's beautifully raw Wuthering Heights.
Luke Pasqualino – The Musketeers
Currently forging weapons and the like on Netflix fantasy Shadow and Bone, adapted from the Grishaverse novels series by Leigh Bardugo, Luke Pasqualino has built a solid screen career since playing tragic heartthrob Freddie (we're still not over it) on Skins. Pasqualino played young French swordsman and romantic hero D'Artagnan in BBC Saturday teatime adventure series The Musketeers, opposite Tom Burke, with the perfect blend of youthful good looks and athleticism.
See also: The young Bill Adama in Battlestar Galactica: Blood and Chrome prequel.
Jack O'Connell – SAS Rogue Heroes
When Angelina Jolie chose the lead in her directorial debut Unbroken, it was Skins' chaotic Cook aka Jack O'Connell, that she went for. O'Connell had already impressed in Northern Ireland Troubles feature '71 and prison drama Starred Up before receiving Jolie's golden touch. Among many great parts, a stand-out role for O'Connell is that of real-life military man Paddy Mayne in BBC One's WWII action-drama SAS Rogue Heroes. As delved into here, Mayne is the subject of controversy surrounding his wartime actions and a campaign for him to be posthumously awarded the Victoria Cross. The perilous missions he contributed to made a real impact on the outcome of the Second World War, as portrayed in the exhilarating TV series – the second season of which arrives soon.
See also: Mellors in Netflix's recent adaptation of D.H. Lawrence's Lady Chatterley's Lover.
SKINS: THIRD GENERATION
Dakota Blue-Richards – Endeavour
Dakota Blue-Richards is one of the rare Skins cast members to have come from a major Hollywood picture before enrolling in Roundview College to play outsider-turns-party animal Franky. As a child, she played Lyra Belaqua, the young lead in the film adaptation of the first in Philip Pullman's His Dark Materials trilogy, The Northern Lights (released as The Golden Compass and starring Nicole Kidman and Daniel Craig). The actor's most memorable role since – at least to crime drama fans – was that of WPC Shirley Truelove in 1960s-set Inspector Morse prequel Endeavour. Clever, educated, with an inner steel that allowed her to thrive as a woman in a man's world, Truelove was very much a female counterpart to Sean Evans' Endeavour Morse. You might even think of her as a young Jane Tennison from Prime Suspect.
See also: Margaret in ITV's colonial Indian historical drama Beecham House.
Sebastian de Souza – The Great
Matty was the moody and mysterious corner of Generation Three's love triangle (love pentagon?!), whose romantic dealings with Liv and Franky cause trouble for everybody, including his younger brother Nick. Sebastian de Souza smouldered in the role, and went on to play another character in a very strange love triangle in brilliant historical comedy-drama The Great. De Souza plays the passionate, conflicted and sensitive Leo, the infertile lover provided by Russian Emperor Peter (played by another Skins alum Nicholas Hoult, see above) for his wife Catherine (Elle Fanning).
See also: Lucrezia's second husband Alfonso in The Borgias and legendary artist Botticelli in Medici.
Will Merrick – Dead Pixels
The face of farm boy Alo in Skins, a teenager dedicated in equal parts to pornography and his pet dog (though hopefully not at the same time), has popped up in all kinds of places of late, not least Greta Gerwig's Barbie. That face belongs, of course, to Will Merrick, who was terrific as online gaming obsessive Nicky in Channel 4 flatshare-videogame comedy Dead Pixels. Nicky and Meg are unhealthily obsessed with online role play gaming, to the detriment of every other aspect of their lives, and to the sheer consternation of their flatmate Alison, the sole "norm" of the group.
See also: computer expert Danny in Apple TV+ sci-fi Silo.
Alexander Arnold – Save Me
Uncompromising, long-haired, leather jacketed metalhead Rich was Alo's best friend in Skins, and later a love interest for Grace, before she met a tragic end. He's played by Alexander Arnold, who went on to star in Lennie James' London estate missing teen drama  Save Me, alongside an excellent cast including James himself, Stephen Graham, Suranne Jones, Jason Flemyng and many more. Like Will Merrick (who played Alo), Arnold also popped up in Poldark, had a role in The Office spin-off movie David Brent: Life on the Road, Danny Boyle's Sex Pistols miniseries Pistol, and more.
See Also: Gavin in Richard Curtis and Danny Boyle's Beatles-memory fantasy Yesterday
Freya Mavor – Industry
Scottish actor Freya Mavor played Queen Bee Mini, a highly strung teen whose troubled inner life isn't reflected by her beautiful, controlled exterior, and who was threatened by newcomer Franky's quiet strangeness. Mavor went on to roles in BBC Agatha Christie miniseries The ABC Murders and French time travel romance Twice Upon a Time. Hermost recent big role though, is in HBO/BBC finance drama Industry, in which she plays trader Daria Greenock, who in the first series wasn't afraid to throw newcomer Harper under the bus but came to represent a kind of role model and alternative side to the macho trading floor. 
See also: Princess Elizabeth in Starz historical drama The White Queen.