Reviews
The Simpsons Contemplates Life Without Bart
The Simpsons reimagine the family dynamic in a "Bartless" reality.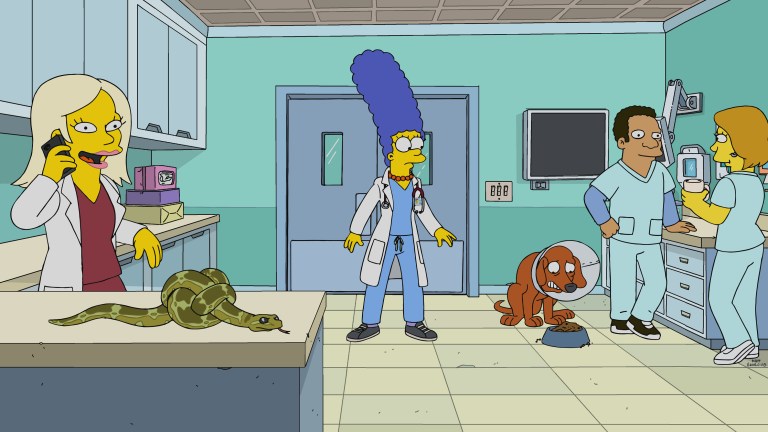 This The Simpsons review contains spoilers.
The Simpsons Season 34 Episode 15
Once again, cartoon violence and mental health go hand-in-hand in solving all dysfunction. The Simpsons proves it's never too late for a Christmas gift. "Bartless" merrily defaces It's a Wonderful Life with a purple crayon and drops a new perspective under the Simpson family tree. Bart, the self-proclaimed poster child for evil children, may serve an even lower purpose.
The central story takes place the night after Marge and Homer hear a prank Bart pulled in the elementary school library actually inspired an interest in books to kindergarteners. It forces them to reevaluate a lifelong relationship. The question over whether Marge and Homer like Bart, or only forced to love him, is as raw a nerve as you can poke in any family, and the Simpsons are every family.
Eschewing the couch gag entirely, "Bartless" presents the best opening act for many seasons. It is a fast-moving emotional journey which cranks up tension like the initial upward thrust of a rollercoaster. The opening harangue is a brutal classic, lingering just a few moments too long for any comfort. The Simpsons often push a joke an extra beat, and with all the priceless asides in the tag-team nag squad, it could be forgiven as a gag too far. But each criticism hit over the line, bounced off Bart's unambiguous opposition, widens an implacable schism, and carries a more dramatic difference. The kind Marge's new job becomes in the alternate reality of a world without El Barto.
The second sequence is set up to make us hope the Simpsons prefer a life without Bart: The family would be living the Hollywood lifestyle, and Lisa would have a unique Malibu Stacy for every occasion. Marge, as chief of medicine at a venerable animal hospital, is a super vet on a medical soap opera plating in its waiting room, only with a therapy chimp on hand. Homer is scorekeeper at Springfield's Isotopes arena. This is the "Baby Elephant Walk" of dream jobs.
Parenting has no formula, but the chemistry between Homer and Marge as they internalize their own reactions is measurable. The writing, animation, and vocal interpretations present a thorough journey through very disturbing terrain, and we, the audience, believe every second of the parental thought process. There aren't that many specific laugh lines during the epiphany, but the tone tickles the edge of giggles during certain phrasings. Almost every line spills acidic juice in the tirades, telling seasons worth of story and moving forward very quickly. Marge and Homer are saying what everyone else is thinking, and it blows their mind to think otherwise.
Bart's alternate self is enigmatic. He has no past, memory, or even any recollection of having memories. The Simpsons routinely assume the family would be better off without Bart, and Principal Skinner would never know the shakedowns of Nelson or Jimbo without the young skateboarding menace to Springfield society. Bart doesn't change, he is as frozen in time and attitude as Maggie, always a moment away from her next first words. He even wins his baby sister over with a prank he stole from Malcolm in the Middle.
Bart's reassortment into the family dynamic is entirely consistent with his character. He's even a little reluctant, and has reason to be when he finally realizes his likability was actually questioned. The DID meet ADHD segment effectively sums up Lisa and Bart's prognostic histories, but is most noteworthy because it introduces a brand new "Itchy and Scratchy" cartoon. These are like "Treehouse of Horror" episodes to me. They should be treasured. While I won't spoil it by taking it out of the oven too soon, I will say it is a delicious serving of sweetly layered ingenuity.
The library setting is not merely a set-up for the episode, it presents a small secondary arc. Ms. Peyton, guest voiced by the returning Kerry Washington, is a very encouraging book pusher, treating her job in the library like it is a gateway to wonder. Bart's anti-authoritarian boredom-killer turns out to be the most excitement the school library has seen since Matthew Perry's autobiography came out. This says a lot about kindergarten reading habits, but also why Bart would be such a positive influence on grades before first.
Ralph's adventure in the wall is brilliant surrealism, it feels like Harpo Marx graffitied his way into Harold and the Purple Crayon, and got lost. But it is not the passing gag it appears to be. The commitment to the surreal premise that follows in the tag takes an additional level, pushing the imagination to fill everything in, while the best parts drift off to sea. For a bonus, Chief Wiggum gets to live out the fantasy of mandated forced entries.
The installment isn't as heartwarming as it appears on the outside. Homer and Marge get the experience, but never hear what Bart's absence does to the world outside the house with the big SPRINGFIELD sign over it. "Bartless" takes as many dark turns as it avoids rough steady track. It affirms the family dynamic, but still questions why Bart dared to defend himself for himself, in a town where hospitals advertise free death to organ donors.