Reviews
The Simpsons Takes Lesson from Finding Your Roots
The Simpsons brings love, history, and saddle sores to Springfield in "Carl Carlson Rides Again."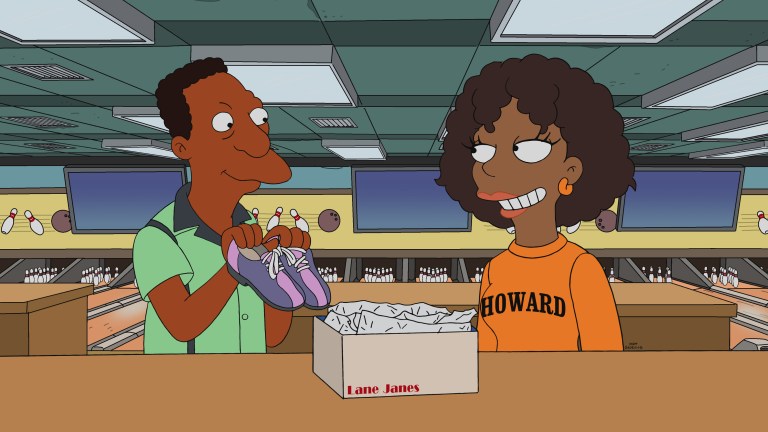 This The Simpsons review contains spoilers.
The Simpsons Season 34 Episode 14
The Simpsons presents an educational coming-of-middle-age story in "Carl Carlson Rides Again," with both the character and the series looking for love, and finding an identity. The opening sequence moves very fast, skipping the couch gag, to get to the love story. But the initial scam is a Homer special, and quite delicious in its benevolent malice of forethought. It should come with free hats. It is better, however, that it is dropped quickly, because a subplot would have overburdened the episode.
Homer's envisioning of a "breakfast meal train" is a classic aside, and Marge's attempts to make him stop stroking the chin harken back to the silliness of older episodes. But Carl's journey is a serious one, and Alex Désert finds his voice in the episode. This is the most lines he's gotten in his run on the series, or at least the longest string of funny ones.
Carl's introduction to Naima (Dawnn Lewis) is quite sweet, even if surrounded by the sweat of a dozen community bowling shoes. Carl's breakdown of his own footwear is a glorious minor triumphant exchange for romance on The Simpsons. It glides off the tongue with the perfect combination of nervous first steps, and self-effacing braggadocio, yet offers a wealth of witty details. It also acts as major foreshadowing, because so much identity is tied to fashion choices, and a Cosby sweater isn't a clothing option. Even Carl's representational haircut has a name: "The Identity Crisis No. 7."
Like any romcom, the episode is heavy on montages, opening with Carl getting in shape after the free-food-for-fake-injury con. It is very frightening that anyone might not be in bowling shape, as Homer embodies the vision non-players have of the sport. It also shows what Carl brings to the team. His quick absence, meeting Naima, means the Moe's Tavern bowlers lose to the worst players in the league. It is worth it just to hear Hans Moleman's victorious last words.
This is a good showcase for Carl because it also forces The Simpsons to look at itself. It is interesting that Springfield's "our side of town" has always been hidden, because the series' first real trip through it spans decades of shortcuts. From the unexpected ribbing in Black barbershops, Spike Lee's Joints, I Have a Dream Mattress stores, Michael Jordan cologne, and Michael B. Jordan aftershave, The Simpsons consciously plays catch-up. They address this themselves with the "avoidance sips" at Moe's Bar, and the details of the book Marge is reading, "Caucasian Brittleness," which only offers things not to do in racially tense situations.
This isn't Carl's first time at the rodeo. We first learned about his Icelandic heritage as a passing gag in "Scuse Me While I Miss the Sky," from season 14. Adopted and raised by white folks from Iceland, he says he was never "Icelandic enough or Black enough." "The Saga of Carl," from season 24, saw Carl redeem his Icelandic family's name from centuries-old blame for allowing barbarian invaders to destroy a village.
Carl has the most convoluted backstory of anyone in Springfield but Grampa. It's no wonder he identifies with his job at the nuclear plant and his bar, with his coworkers. The ones he can share Public Domain Karaoke Night with. The episode is rich with varied character interactions, and smart enough to let Carl work things out on his own. His line about this crisis being the only decision he can't make in a bar is stinging, but not enough to break his biggest support group. Lenny hasn't gotten a dedicated episode yet, and should have had more screen time in this episode, because he and Carl are almost a pair. Naima would affect their relationship, but Carl opens up to Homer, for all the good that's historically ever done.
The major guest of the evening is PBS' Finding Your Roots' host Dr. Henry Louis Gates Jr., who not only namedrops great lines, but spares America from the truth of Rainier Luftwaffe Wolfcastle's past, and saves Carl from a fate worse than death: Civil War-era field surgery, something Gates Jr. is probably familiar with from his biographical research. Carl's history is America's history, beginning on the first-ever Juneteenth, something his grandfather wasn't told until long past due, and includes many of the great Black Cowboys of history, including the real-life Lone Ranger. It is never explained, however, why a successful rodeo star gave up the son he was training to carry on the family name up for adoption.
The identity crisis is handled deftly, especially against the budding romance, although the literal "black cowboy" conclusion is very much cartoon logic. Though nothing contradicts Carl's backstory, it feels like another jump off Springfield Gorge. The payoff is evocative, and offers promise. Naima and Carl have the same blood type, and hopefully she will return in future episodes. Though this has not historically been the case.
While not heavy in belly laughs, there are a lot of good gags. I, personally, would love to hear the full song in the soul food restaurant ad, described as "the most sexually graphic song about collard greens ever written." It is also encouraging to see bullet ricochets have consequences. From the beginning of the episode, all Carl wants is for Naima to look at him the way Marge looks at Homer. That he succeeds should have him worried.
Written by Loni Steele Sosthand, and directed by Michael Polcino, "Carl Carlson Rides Again" is a tender episode, which pokes at a tender side of the series. The story is extremely well focused on Carl's character, and we know more about him than almost anyone in the town now. The romantic story is solid, but the episode is more of a learning curve with improbable but satisfying twists.