The Nest episode 1 review
Sophie Rundle and Martin Compston star in BBC One's new surrogacy thriller The Nest…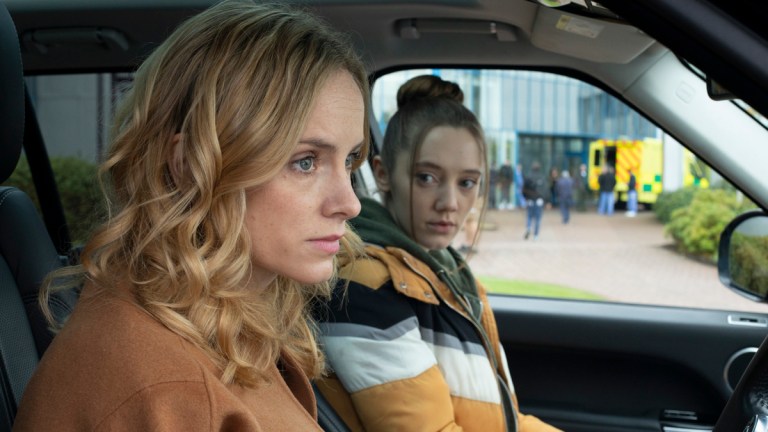 This the nest review contains spoilers.
The book world already has a term for Scotland-set detective novels – Tartan Noir. There's an increasing need for similar to describe the emerging genre of glossy BBC domestic thrillers set north of the border. Trust Me, The Replacement, The Victim, The Cry and now The Nest… all miniseries, all stories about women, all set against the dramatic backdrop of the highlands and the steel-glass shine of regenerated city centres and architect-designed residences.
Visit Scotland Noir, maybe? Minted-Lassie Thrillers?
The Nest's minted lassie is Emily (Sophie Rundle), a Glasgow music teacher married to local-boy-done-good Dan (Martin Compston). They live in a dream loch-side house and appear to have it all. Love, money, a devoted marriage and quite definitely, a place in the world. What they don't – and can't – have, is a child.
We meet Emily and Dan having exhausted their IVF options and midway through a surrogacy arrangement with his sister Hilary (Fiona Bell). Once that pregnancy fails and Hilary decides the toll on her own family is too great to try again, the couple are left with one remaining frozen embryo and in search of a womb.
Enter, Kaya. An 18-year-old who literally falls into Emily's path, Kaya (Mirren Mack) susses the situation and makes Emily an offer. If they need a lassie to carry their baby, that's her. It's not about the money, she says. This was meant to be.
Fate is one of several reasons Kaya gives for why she wants to do this. Others are: recently emerged from a children's home, she wants folk to care about her not as part of their job remit. Having spent her life required to be grateful, she wants someone to be grateful to her for once. Why would she go to college or work in "some other zero hour pish" when she could do something amazing. And, there's a wee voice in her head saying "Kaya, you can do this. Do this."
Whether the voice in Kaya's head is the one we all hear, or the other kind of 'voice in your head' is a delicately played ambiguity in episode one, helped by the intensity of Mirren Mack's performance. She's terrific casting here, compelling to watch and skirting the border between earnest and unhinged. The scene in which she and Compston go head to head like tennis pros as Dan and Kaya verbally battle out their positions is the episode highlight. Those two share chemistry as well as a dialect and background. Dangerous stuff.
The Nest's thriller side, the part that'll keep viewers coming back for the next four episodes, rests on how dangerous Kaya may or may not be, and what her real motivation is for doing this.
The rest of the drama is more cerebral and homework-y; it's staging an ethical debate about surrogacy and more universally, one about class and the entitlement of privilege. (Thematic territory also covered by this year's Best Picture winner, Parasite.) Emily's touchy-feely plan to support Kaya to "achieve whatever [she] wants to achieve" may be well-intentioned, but has more than a ring of Rich Lady Nonsense about it. Can money buy you anything, asks The Nest. And if it can, should it?
Kaya's unpredictability and naked ambition has much in common with Jessie Buckley's lead character in writer Nicole Taylor's recent feature film Wild Rose. Amplifying the little-heard voices of the socially powerless was the mission of Taylor's acclaimed BBC sex abuse drama Three Girls. In The Nest, Taylor's recent themes swim together, contained under cover of a slick thriller.
The thriller returns when it emerges too late for an unwitting Emily and Dan (who close episode one by having their last "roll of the dice" transferred to her womb courtesy of a private overseas clinic) that Kaya isn't a recent arrival from a care home, but on probation from a prison term. Her key workers aren't just there to settle her into her new life; she's out on licence.
Kaya's crime is undisclosed, but there's reason to believe she wasn't pulled up for nicking a loaf of bread. The episode's final shot of her irksome neighbour (Paul Brannigan, a regular of director Ken Loach whose Sweet Sixteen also gave Martin Compston his first feature role) sinking under the waters of the Clyde after he threatened to interfere with her scheme, is enough to suggest that Emily and Dan have just made a serious error.
In the same way, the shot of Emily appearing to sink under the waves of the loch earlier in the episode may have been a subsumed-by-grief metaphor from director Andy De Emmony, or it may have been foreshadowing. How much does Kaya covet Emily and Dan's lifestyle, and how much is she telling the truth?