Reviews
Parasite review: a riotously entertaining arthouse thriller
Bong Joon-ho's celebrated Palme d'Or winner – which cleverly tackles class division – is now an Oscar winner, too…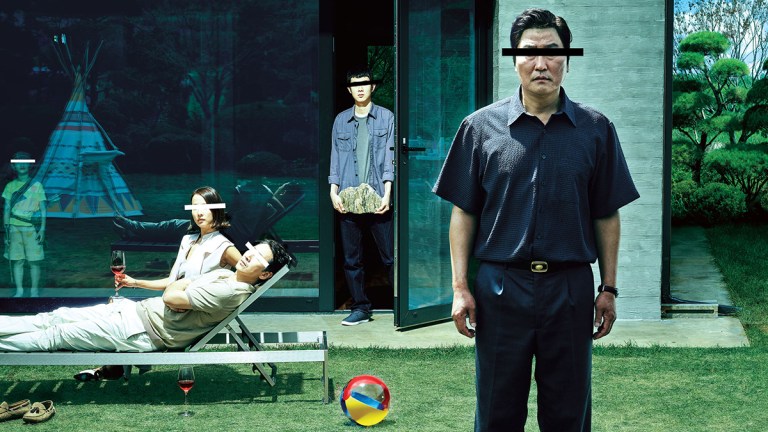 Unless you've been living in a secret subterranean bunker you'll have heard of Parasite. Bong Joon-ho's hilarious and horrifying Palme d'Or winner has dazzled audiences in the director's native South Korea and across the world, slaying the global box office as few foreign-language films do.
Bong's class-war banger created a perfect storm of box office success and critical acclaim in late 2019 and the tumult shows little sign of abating in 2020. A February UK theatrical release and home entertainment offerings elsewhere will doubtless put the feature in front of many more eager viewers.
Kim Ki-taek (key Bong collaborator Song Kang-ho) and his hard-up nuclear family live in a poky Seoul basement flat when his son Ki-woo (Choi Woo-sik) hears of a golden opportunity for a stellar grift. Ki-woo's pal Min-hyuk has been tutoring Da-hye (Jung Ji-so), the daughter of the affluent Park family, but has to give up the gig to study abroad. The two concoct a plan for Ki-woo to take over the tutoring job – despite Ki-woo being woefully under-qualified – and soon he's ensconced in the Park household and plotting ways to set up the rest of his family with sweet jobs.
Using the kind of diligence, planning and cunning that Blackadder's Baldrick could only dream of, Ki-woo's sister Ki-jeong (Park So-dam) is set up as an art teacher for young Park Da-song, Ki-taek usurps the Park's driver and housekeeper Moon-gwang is maneuvered aside for Kim matriarch Chung-sook (Jang Hye-jin).
In the telling of how all four Kims come to sit pretty in the Park residence without being recognised as a family of con-artist imposters, Bong and co-writer Han Jin-won show more wit and invention than many filmmakers manage for the duration of their running time but in Parasite, this is just the wild hors d'oeuvre ahead of the strangely captivating feast. The remainder of Bong's film is packed with surprises but Moon-gwang (excellent portayed by Lee Jung-eun) is not as easily disregarded as it may seem and neither is the ostensibly ordinary, if beautifully designed, structure of the Park household.
Parasite is one of those beautiful rarities in cinema, a clever art-house title with much to say that is riotously entertaining and easily accessible. It tackles aspiration and affluence, desperation and poverty in ways in which all viewers can understand and find recognisable truths in. Neither the Parks nor the Kims are broad-brush villians or heroes and for the most part it's easy to sympathise with both families.
Whether one has had the impossibly sad, grindingly tough experience of poverty or been lucky enough to live without financial pressure, it's clear the former is something to escape from and the latter is a life to hold on to, if possible. There are parallels with Shoplifters, Hirokazu Koreeda's 2018 Palme d'or winner – that's now two consecutive wins at Cannes for films about con-artist families living in poverty made by top-notch East Asian filmmakers.
Bong has tackled class division before, with sci-fi train romp Snowpiercer (2013) offering an intriguing but less subtle take on the friction between rich and poor. He's also gone more directly for the horror jugular with The Host (2006) and less successfully weirder with GM super-pig oddity Okja (2017). Yet Parasite is Bong's best work to date, a fine summation of his ideas and talent.
It shares much with Jordan Peele's Us, in that both films loosely exist in the horror space, both look at society's major ills directly and allegorically and both surely are influenced by Wes Craven's The People Under the Stairs (1991). Yet the Peele and Us comparisons are most apt on the issue of cinematic quality – for Parasite is another unmissable 2019 film, created by another director working at the top of his game who we can expect more fine work from in future.
Parasite is in UK cinemas now.