Features
The Last of Us Episode 8's Most Important Character Has Stumped Viewers
The Last of Us episode 8 turns one of the game's many nameless combat NPCs into a crucial character named Alec.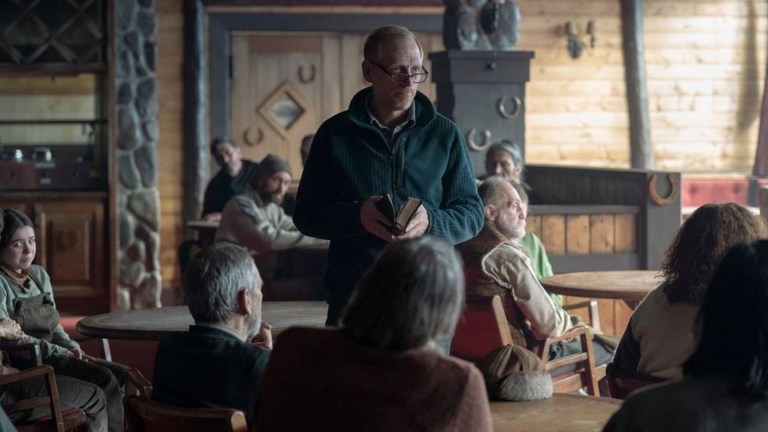 This article contains spoilers through The Last of Us episode 8.
The Last of Us episode 8 is intense as it focuses on Ellie (Bella Ramsey) trying to survive on her own while Joel (Pedro Pascal) recovers from his injury. But it's not just the cold weather, dwindling food supply, or Joel's infected wound that she has to worry about in this episode. It turns out that their hideout is close to a cannibalistic community led by teacher-turned-preacher David (Scott Shepherd).
David and his right-hand man James (played in the series by original Joel actor Troy Baker) are key characters in both the show and the first game as they serve as Ellie's primary interactions with this community. But in both the game and the show, it's revealed that Ellie's run-in with David and James in the woods isn't actually the first time she or Joel have come across this community – the raiders that caused Joel's injury at the University of Eastern Colorado were part of that group too.
While the game emphasizes that Joel killed a number of David's community members, all nameless NPCs to the player, the show makes the group's vendetta against Joel more personal. Rather than an undefined number of men lost to Joel in an ambush, Joel only kills one man in episode 6 of the series as he and Ellie try to flee the university. On the HBO series, that man is named Alec, which actually confused some viewers who didn't recognize this character from the PlayStation game.
We find out in episode 8 that Alec has left a wife and daughter behind. In the opening scene of "When We Are in Need," we see David and his group mourning this loss, with his daughter asking when they'll be able to bury the body. David tells her that they won't be able to bury him until the spring because the ground is too frozen to dig a hole, but unfortunately David actually has other plans for Alec's body.
Before David and James return with Ellie's deer, we see dinner being made by a few members of the community. A man brings a tray of meat to add to a stew being made by Alec's wife and another community member. When she asks what kind of meat it is, the man tells her it's venison before sharing a knowing glance with the other guy because the meat isn't actually venison…it's Alec. Even though James told David earlier that day that they had enough rations of more conventional meat sources to last a week, David ordered his men to serve up Alec that night anyway. David tells Ellie that this was a "last resort," but the three bodies that Joel comes across in the community's meat storage while looking for Ellie imply that they've been eating their dead for a while, whether everyone knows it or not.
This begs the question of whether the entire community would feel so strongly about going after Joel and Ellie if they realized how they've benefitted from Alec's death. Obviously this hasn't swayed the few in David's inner circle who know the truth, but Alec's wife and daughter may be a different story. Regardless, Alec has become a crucial member of this community's story and his role in the series is far greater than one of the many nameless NPCs that gamers have to fight against, even in death. David may be the creepiest member of this community in both the series and the game, but thanks to his posthumous contributions, Alec is now arguably one of the most important.
The Last of Us season 1 finale airs Sunday, May 12 at 9 p.m. ET on HBO and HBO Max.