News
The Last of Us May Have Already Introduced a Major Part II Character
The young girl that Ellie scares off in episode 6 of The Last of Us could have a larger role as the series goes on.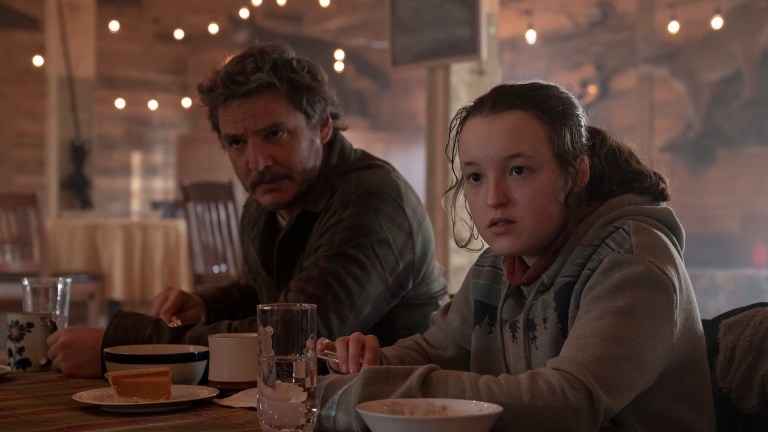 This article contains spoilers through episode 6 of The Last of Us.
Episode 6 of The Last of Us, "Kin," introduces us to the community of Jackson, Wyoming and the almost normal lives that people are able to live in this post-apocalyptic world. In the video games that this HBO series is based on, we don't get to see what Jackson looks like or how it works until The Last of Us Part II. When Joel reunites with Tommy in The Last of Us Part I, the community is still trying to get the hydroelectric dam to work, and therefore Tommy, Maria, and a few others are living there to focus on repairs.
This slight deviation from the games allows the creators to not only inject some hope into the show by showing us tangible proof that there are still safe places in this world, it also allows them to introduce other elements from the video game series that don't appear until Part II including characters that have an important role in Joel and Ellie's story.
One of those elements is Ellie's horse from Part II, Shimmer, whom Ellie (Bella Ramsey) meets for the first time in the series as a young foal in Jackson. But arguably one of the most important Part II seeds planted in this episode is the potential introduction of Dina, a young girl in the community that Ellie befriends and eventually develops feelings for in the video game.
Ellie and Dina's (Paolina van Kleef) introduction in "Kin" is kind of awkward. Ellie and Joel (Pedro Pascal) are eating good, home-cooked food for the first time in a while after arriving in Jackson, so naturally Ellie is shoving food into her face as fast as she can. Joel tries to get her to mind her manners while they're in front of his brother Tommy (Gabriel Luna) and his wife Maria (Rutina Wesley), but Ellie gets defensive when she notices a girl staring at her from across the mess hall. Clearly this girl isn't minding her manners by staring, so why should she? Even though Ellie scares her off before we catch her name, many fans (myself included) found themselves screaming "Was that Dina?!?" after that scene, with series and video game co-creator Neil Druckmann acknowledging the trending phrase on Twitter after the episode aired.
In the aftershow podcast released by HBO, series creators Druckmann and Craig Mazin are coy about whether or not that was actually Dina. Mazin says that the scene is "ambiguous," and that "somebody" is staring at Ellie. He then says "I wonder who that could be, theoretically or not. We'll find out maybe one day." Druckmann then says "Yeah, because in Part 2, there is a story about the first time Dina met Ellie that is very similar to what happens here." To which Mazin replies with the ever so vague "That doesn't mean that that's Dina, but it doesn't mean it's not."
No matter how ambiguous they were trying to make this moment, it's hard to deny that there is a very good chance that the young girl that Ellie scared off was Dina. Not only does the young girl look incredibly close to her potential video game counterpart, but as Druckmann pointed out in the podcast, there's a scene in Part II where Dina and Ellie talk about how they first met, and there are a lot of similarities between this story and the scene in episode 6.
Twitter user Naughty Dog Central is certain that the story from Part II that Druckmann references influenced the scene in the mess hall, sharing a clip of the video game scene next to a screenshot of the young girl from the episode. In the clip, an adult Ellie and Dina are riding on horseback through Seattle trying to track down a woman named Abby. It's hard to explain without giving away major game, and now potentially series, spoilers but basically Ellie is seeking revenge after Abby does something unforgivable at the beginning of the game (if you know, you know). Dina and Ellie's relationship is one of the few sources of joy and levity in Part II, and this conversation is such a cute moment as they look back on Ellie's first days in Jackson.

As Mazin and Druckmann prepare for the second season of The Last of Us, hopefully we'll get more insight into whether or not that was really Dina in episode 6. Mazin and Druckmann have already proven that there is intention behind what they adapt directly from the games versus what they expand upon or change, so it makes sense that they would use this moment to tie the two games together even more and introduce this important character. But even if she does turn out to just be some random girl from Jackson, the hope that it gave us for how well Dina and Ellie's story will be adapted in the series was well worth it.