News
The Last Kingdom Season 4 Trailer, Release Date, Cast, Plot, Books
Shield waaaaaaaall! Uhtred and co. will ride again on Netflix in The Last Kingdom season 4, arriving this April...
Bigger. Bloodier. Better. That's what to expect from The Last Kingdom season four according to its official Twitter account.
In season four, the TV adaptation (originally on the BBC, now on Netflix) reaches books seven and eight of Bernard Cornwell's Saxon Stories in ten new episodes due to arrive this April.
The new season will see another time jump and welcome aged-up versions of Uhtred's children who will have their own storylines this time around. Catch a glimpse of the action in the brand new trailer below.
See who's playing them, who's joining them and what happens in the source material in our handy season four round-up below.
The Last Kingdom season 4 – The Geek Lowdown
How many series are there? Three, with one on the way
Renewed or cancelled? Renewed for series four in December 2018
Next series air date confirmed? Sunday April 26th 2020
Where to watch? Netflix
Created by: Stephen Butchard based on Bernard Cornwell's Saxon Stories novels
What happened last time: here are our spoiler-filled series 2 and 3 episode reviews. And here's a recap of series two.
The Last Kingdom 4 trailer
'I am no longer Uhtred of Bebbanburg'
The first full trailer for The Last Kingdom season four sees Uhtred's thoughts turn to his his usurped title and land (and to Aethelflaed, by the looks of how cosy they are in this clip) while the Danish threat against King Edward's throne as represented by Cnut's army continues to grow.
Between recovering his birthright from his dastardly uncle Aelfric, or pursing Alfred's dream of a united England, where will destiny send Uhtred, son of Uhtred? We'll find out on April 26th.
The Last Kingdom 4 filming: wrapped in October 2019
After being officially renewed for a ten-episode run in December 2018, filming on The Last Kingdom season four took place from April to October 2019. Jamestown and Dickensian director Andy Hay was behind the camera for episodes five and six.
Now, it's been confirmed that the new run will arrive on Sunday the 26th of April, as per this Tweet:
The Last Kingdom 4 cast: a new rival for Uhtred
New cast members for series four include Stefanie Martini (Doctor Thorne, Prime Suspect 1973) playing Eadith, Aethelred's new love conquest, and her brother, Aethelred's new right-hand man and Uhtred's rival Eardwulf, played by Jamie Blackley (The Halcyon, If I Stay).
Uhtred and Gisela's grown-up daughter Stiorra will be played by Ruby Hartley, as per her online CV. Aelfwynn, the daughter of Aethelfled and Viking Erik is now around 10-12 years old, and will be played by newcomer Helena Albright.
Also on board are Máté Haumann playing new character Cenric (pronounced Cane-Rich) and Oscar Skagerberg in the role of Bjorgulf. Read more about them all, and see the first look pics, here.
Prepare for a flashback to Uhtred as a young man, played by 17-year-old Finn Elliot, who has taken over the role from series one's Tom Taylor.
Finally, cast-members confirmed to be returning are: Alexander Dreymon as Uhtred, Ian Hart as Father Beocca, Toby Regbo as Aethelred, Emily Cox as Brida, Timothy Innes as King Edward, Eliza Butterworth as Aelswith, Mark Rowley as Finan, Millie Brady as Aethelflaed and Magnus Bruun as Cnut.
Spoilers: In the grave for season four is David Dawson, who played King Alfred, the yin to Uhtred's yang and the man attempting to unite England under one crown in seasons one to three. Don't rule out a Leofric-style dream/vision cameo for him though. The same goes for the also-deceased Harry McEntire as Aethelwold, Tobias Santelmann as Ragnar Ragnarsson, Julia Bache-Wiig as Thyra, and Peri Baumeister as Gisela.
The Last Kingdom 4 first look: Uhtred, Beocca and a battle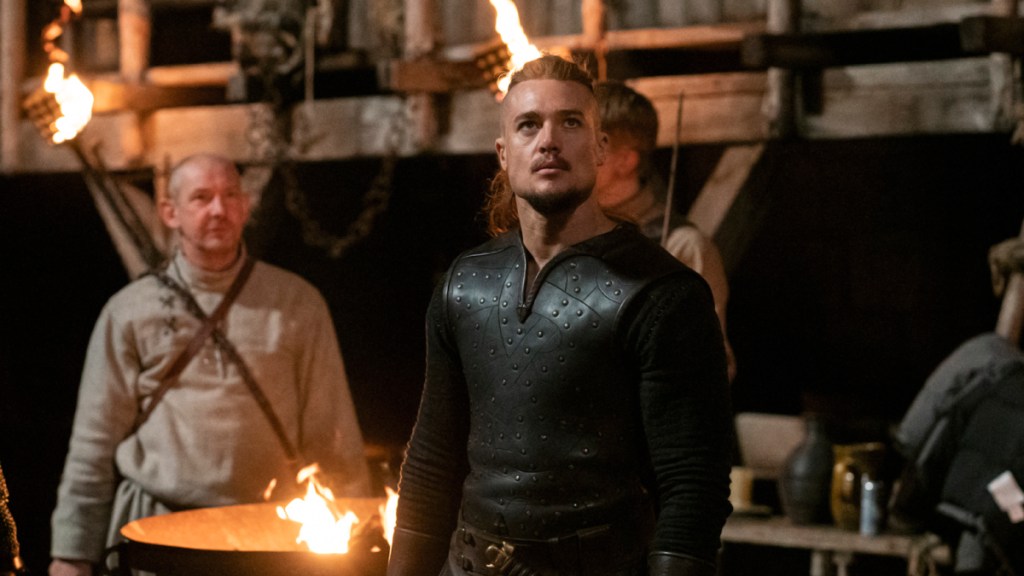 Something's caught the attention of Father Beocca and Uhtred in this first-look picture from Netflix. An approaching army? A bloodthirsty rival? A passing seagull? Time will tell.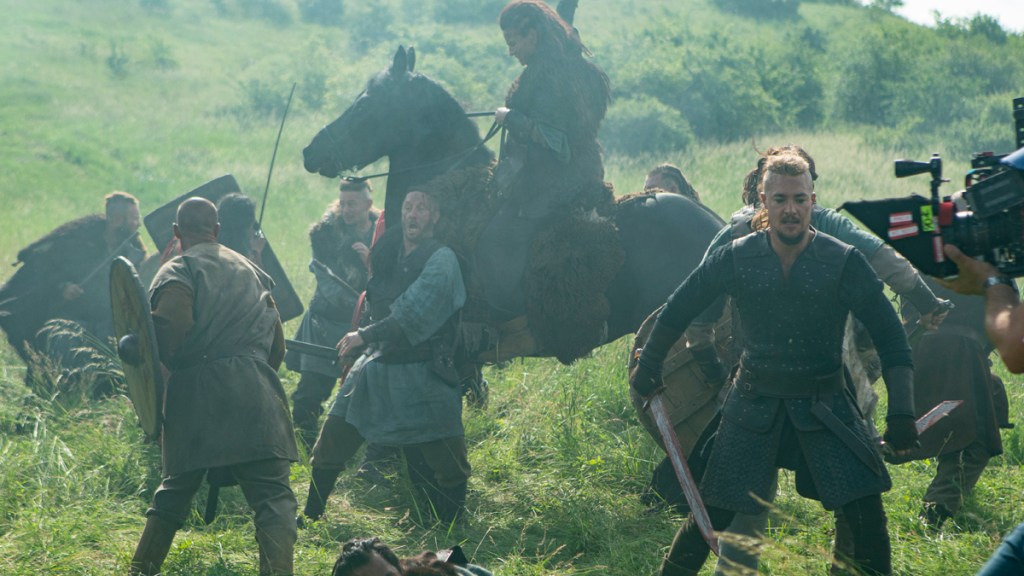 And here's a bit of battle action from the new episodes as Uhtred and the boys mete out some blade-based punishment to their foes.
The Last Kingdom 4 story: Uhtred to unite a fractured land?
The official press release provides this synopsis:
After the death of Alfred, the alliances between the kingdoms are fractured. Uhtred believes the timing is right to challenge his uncle Aelfric, played by Joseph Millson (Casino Royale, Banished), and take back his ancestral home, Bebbanburg. However fate shifts in a different direction, leading Uhtred to realise that his destiny is tied to Alfred's dream of a united land. This, and Uhtred's feelings for Aethelflaed, drive him back into the politics that threaten to break out into war.
Going by the books, a decade on since the events of season three would find Uhtred pushing fifty, and his children warriors in their own right. Being baptised as Christians during their father's banishment from Westminster will lead to a cultural rift between the Dane-Saxon and his Saxon-Dane progeny.
Edward will be the Aethling no more in season four, but the King. A decade on the throne of Wessex however, doesn't make his position any less vulnerable to threats from both inside his court and foreign invasion.
The Last Kingdom 4 source material: The Pagan Lord and The Empty Throne
The Last Kingdom currently gobbles its way through two of Bernard Cornwell's Saxon Stories instalments per season, so we can expect the next run to tackle The Pagan Lord (2013) and The Empty Throne (2014).
Here's story speculation in a bit more detail from our good selves on that front. You can also read our spoiler-filled series three and series two reviews while we wait to hear more.
The Last Kingdom 4 release date: arriving this April
Sunday the 26th of April is the date to fence off to binge watch all episodes of season four on Netflix.