Reviews
The Full Monty Review: Forget Strippers, This TV Sequel Is Warm, Funny and Mad as Hell
Warning: contains no nudity! This TV sequel is a politically enraged portrait of a community fighting back under siege.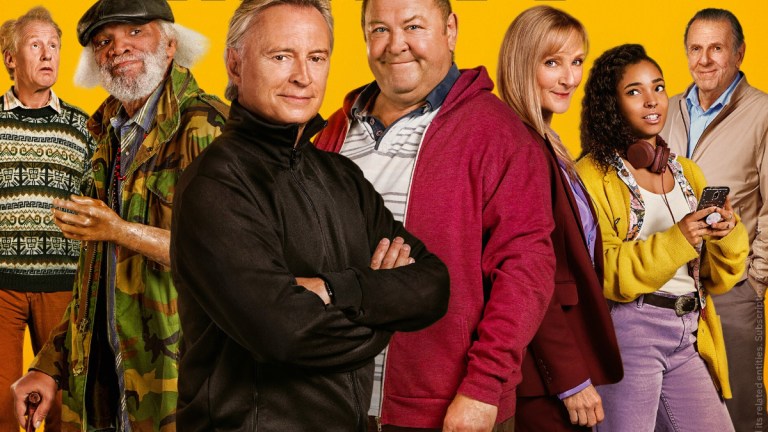 1997 film The Full Monty is remembered for two things: being an unexpectedly massive hit, and its final shot of six naked bums frozen mid-sway to Tom Jones' "You Can Leave Your Hat On". Over time, its story about a group of unemployed Sheffield men making themselves a bit of cash and even more notoriety by stripping on stage for one night only has been boiled down to box-office and bare bottoms. So much so that when this 26-years-later sequel was first announced, there was a lot of the same reaction: wouldn't that lot be in their sixties by now? Who'd want to see them in a thong?
You don't see anybody in a thong in The Full Monty TV series, which doesn't even call back to that infamous sold-out night at the Millthorpe Working Men's Club until episode six of eight. For want of a less troubling mental image, you're shown the men inside the thongs – their relationships, jobs, kids, grandkids and the 2023 Britain in which they're struggling to exist. It's a funny and warm-hearted series, with a steady undercurrent of anger that a quarter of a century on, not only hasn't this community's situation improved, in many ways it's worsened.
The original cast led by Robert Carlyle and Mark Addy, are back plus reinforcements played by Talitha Wang, Miles Jupp, Paul Clayton and Sophie Stanton. Characters Gaz, Dave, Lomper (Steve Huison), Horse (Paul Barber), Gerald (Tom Wilkinson) and Guy (Hugo Speer) are still in Sheffield and still mates. They're older but – as the series tagline goes – none the wiser.
Robert Carlyle's Gaz in particular, the mastermind behind the film's Chippendales-inspired money spinner, has a lot to learn. He's now a grandparent, an estranged dad to talented but troubled teen Destiny (Talitha Wing), and a hospital porter whose impulsiveness gets him into trouble. Not least with best friend Dave (Addy), now a caretaker at the academy school headed up by his wife Jean (Lesley Sharp).
Yomper and his long-term boyfriend (new character Dennis) run a local sandwich shop with delusions of grandeur, which provides a Sid's Cafe from Last of the Summer Wine-style base where the characters gather over comedic dialogue, slices of lemon drizzle cake and mugs of tea.
The men's brief local stardom was a blip, the series shows us, a momentary win in ordinary lives that went on as normal after the credits rolled. Well, not entirely as normal, these are comedy characters after all. The series has colourful storylines involving the accidental kidnap of a celebrity dog, a high-stakes racing pigeon deal, the creation of a choir specialising exclusively in revenge songs (the swearier the better), and a spot of well-meaning corpse-theft. Not everything works, but there's enough going on across the eight episodes for something to always be working.
Woven in with the heightened laughs, is righteous rage about the betrayal of Sheffield's working class community. Not at the post-Thatcher landscape of the film, but the post-Austerity landscape of now – a Britain in which academy schools are falling apart but abandoned by private operators, landlords cut corners to maximise profits, music classes are cut from squeezed budgets, child refugees are piled into overcrowded accommodation, PIP disability benefits assessments are cruel and discriminatory, children and pensioners with disabilities don't get the support they need, malnutrition kills, food banks are oversubscribed, and health services are run ragged. Think Ken Loach's I, Daniel Blake, but with more pigeon-based comedy.
This isn't a light-hearted romp, but clear-headed protest wrapped in a comedy blanket. Just like the film. It's easily forgotten, but that climactic hats-off-todgers moment in 1997 was preceded by stories dealing with suicide, unemployment, depression, impotence, custody battles, closeted homosexuality and masculine shame in a city whose livelihood had been ripped out along with its steel industry. However they were marketed, the film and this continuation by original screenwriter Simon Beaufoy joined by Alice Nutter, are less feel-good, and more feel-everything.
That becomes clear in the series finale, which – with its choir and music student storylines – you might expect to follow a formulaic Brit-flick pattern and end on a climactic live performance. It does, but not in any way you'd expect. The conclusion drawn here is all about a community pulling together not to sell tickets, but to honour itself and its loved ones.
Anyone who sneered at the idea of a Full Monty TV series might well remain uncharmed by this heart-on-sleeve sequel and its undisguised politics, but for anyone who welcomed the idea of returning to these characters and this world, it's hard to imagine a better reunion.
The Full Monty is available now on Disney+ in the UK and on Hulu in the US.