Features
Will The Falcon and the Winter Soldier Become a Victim of WandaVision's Success?
Marvel's WandaVision was arguably a risky project that captivated viewers, but The Falcon and the Winter Soldier was supposed to make the MCU's transition to the small screen easier for fans.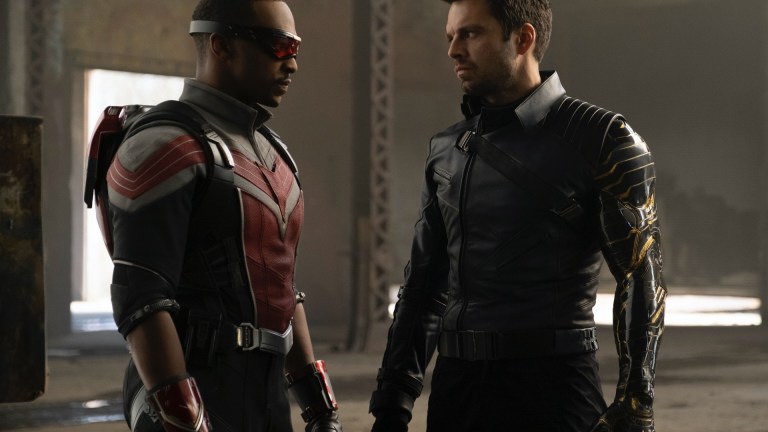 This post contains both WandaVision and broader MCU spoilers.
When The Falcon and the Winter Soldier was first announced, the excitement among Marvel fans was palpable. Finally, a chance for both Bucky Barnes (Sebastian Stan) and Sam Wilson (Anthony Mackie) to step out of Steve Rogers' shadow and fully become their badass comics counterparts.
We'd be exploring their characters at an ideal point in the MCU's evolution, too. Both men wielded Captain America's shield in the comics, but here Bucky and Sam would be attempting to make sense of their roles in a post-Cap world right along with fans who had already watched Steve Rogers' story play out on the big screen as he went from an earnest and scrawny WWII soldier to a jaded "war criminal" who opted for early retirement.
Marvel Studios' plan for The Falcon and the Winter Soldier's Phase 4 slot seemed to have a sublime and long-considered sense to it. After Phase 3's box office-obliterating blockbuster Avengers: Endgame and the somewhat tacked-on Sony epilogue of Spider-Man: Far From Home, Marvel would bring the MCU back down to Earth with a Black Widow spy film and an action-packed Falcon and Winter Soldier TV series, as the more cosmic-focused Eternals and Thor: Love and Thunder loomed.
Then 2020 happened, and even Marvel's meticulously-planned future fell apart.
Black Widow's release date came and went, as did the Eternals'. The gap between the thrilling climax of Avengers: Endgame and the start of Phase 4 widened, and The Falcon and the Winter Soldier, despite being the first MCU spinoff heading to Disney+, hadn't even finished filming. It would miss its August 2020 release date.
When it became clear that an imminent debut for The Falcon and the Winter Soldier wasn't on the horizon and that Black Widow would stay locked into a theatrical release, Marvel seemingly came up with a solution to keep fans happy: it would go ahead and start streaming the second of its Disney+ MCU spinoffs, WandaVision, at the start of 2021, along with an acknowledgment that The Falcon and the Winter Soldier would arrive hot on its heels.
Though it was another project set to explore a pair of sidelined MCU characters, hype for WandaVision was understandably a little lower than The Falcon and the Winter Soldier. For a start, it looked a little silly, and perhaps even irrelevant since we knew Vision was as dead as a doornail. In an effort to keep the project's secrets hidden, the marketing for the series simply presented us with a vague sitcom montage setup for Wanda Maximoff (Elizabeth Olsen) and The Vision (Paul Bettany), who would be playing happy families in the suburbs. And not much else.
Mystified but intrigued, Marvel fans were grateful for anything, even if it was to be the weird middle child of the studio's opening TV troika. But perhaps even beyond Marvel's expectations, WandaVision went on to become a roaring success.
A weekly nine-episode series that frustrated some viewers with its slow burn storytelling and almost complete lack of action, WandaVision presented few of the popcorn selling points that the Marvel Cinematic Universe tends to offer in abundance, but it still worked like a charm.
The show's central mystery – initially a sort of big budget comic book love letter to David Lynch's brand of surreal Americana by way of old sitcoms – propelled it for weeks as internet sleuths picked apart every frame for clues. WandaVision turned into a cultural phenomenon that had people around the world setting their alarm clocks every week so they could watch each episode as soon as it dropped, generating an old school vibe of anticipation practically unheard of in the relentless era of binge TV. While other streamers rushed to make sure there were big blocks of new content readily available, Disney dared to make "appointment viewing" hot again.
Now, we're shifting into a six-episode event series that ticks a lot more of the traditional MCU boxes. In The Falcon and the Winter Soldier, Bucky Barnes and Sam Wilson will be feeling out Cap's legacy and deciding what it means for the future.
The trailers for the series promote action set pieces, fun buddy cop humor and plenty of shield throwing between our two charismatic leads, and the story's political intrigue will probably keep us glued to our screens. But after seeing what the MCU is capable of delivering when it takes the time to really think outside the 'zap! pow! bang!' box, has The Falcon and the Winter Soldier accidentally become a victim of WandaVision's success?
Arguably, no. Back at the start of February, The Falcon and the Winter Soldier's Super Bowl trailer actually smashed viewing records with 125M views in the 24 hours following the game, easily beating the eyeballs on Star Wars: The Rise of Skywalker, according to Deadline. Compare that to WandaVision's 53M views after 2020's Primetime Emmys. You'd get very little pushback suggesting that The Falcon and the Winter Soldier could be the most highly anticipated event series of all time.
But toward the middle of WandaVision's run, online watercooler chat took a strange turn. Some fans were openly discussing why they were no longer as excited for The Falcon and the Winter Soldier as they had been last year. It wasn't that they thought the show would be anything less than stellar, but more that the footage they were seeing in the trailers increasingly made it look like standard MCU action fare compared to WandaVision.
The wind was further taken out of The Falcon and the Winter Soldier's sails before WandaVision even began when Marvel released a thrilling first trailer for its Tom Hiddleston-led Loki series that teased a much larger story with perhaps universe-shattering ramifications for the conniving and reprehensible God of Mischief, and rumors began circulating that a second season was heading into production. As a result, The Falcon and the Winter Soldier – likely a "one and done" affair – looked smaller, even with all its obligatory car chases, fights and myriad shield-thwanging moments.
It feels like many fans think they know what to expect out of The Falcon and the Winter Soldier, and imagine it can't possibly top the surprises of Jac Schaeffer's weird and wonderful Scarlet Witch spinoff. The Falcon and the Winter Soldier will likely be a blast, it's just that right now it's got a tough act to follow in WandaVision, which has unexpectedly become the wild ex that some lovers won't quickly forget.
It would be a mistake to underestimate both Marvel's ability to reel us in with a change of pace and the excellent talent behind the upcoming series, though. Perhaps that's the lesson we should learn from the changes to its Disney+ schedule, and one we should also bear in mind if it announces another off-kilter project like WandaVision in the future.