Features
The Boys Season 2: Patton Oswalt and Fresca Help The Deep Self-Actualize
In The Boys season 2, Chace Crawford's The Deep goes on an unlikely journey of self-discovery with some equally unlikely allies.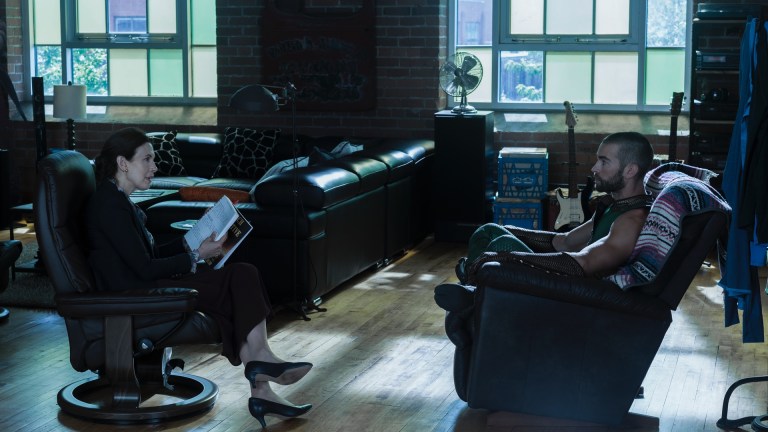 The following contains spoilers for The Boys season 2.
When comedic actor extraordinaire Patton Oswalt was announced as joining the cast of The Boys season 2, one couldn't help but imagine what kind of character he would be playing. Would he be an ally of The Boys? An ally of The Seven? A victim of the Boys and Seven's ongoing underground war?
Well The Boys season 2 episode 2 "Proper Preparation and Planning" reveals that the answer is none of the above. Patton Oswalt plays…gills.
Yes, as strange as it may sound, Patton Oswalt and a few cans of the carbonated beverage Fresca help The Deep (Chace Crawford) confront some of his deep-seated body issues on The Boys.
Suppose an explanation is in order. Former Seven superhero The Deep is a massive asshole. As two seasons of the show have explained, however, that assholery comes from the hero's deep-seated insecurities and body dysmorphia. As an Aquaman-style guardian of the planet's oceans, The Deep has a set of large, unmistakably fishy gills underneath his chest. The Deep's insecurities have often led to him lashing out, which got him exiled from The Seven to Sandusy, Ohio, where he operates as a glorified Vought mascot at various theme parks.
In the first two episodes of season 2, The Deep hits rock bottom and is arrested after throwing a drunken scene at a theme park. The Deep is then rescued by fellow disgraced supe Eagle the Archer, his handler Carol, and the mysterious Church of the Collective. With a Fresca and a smile, Carol and Eagle convince The Deep to join their church…or at least hang out for a bit and get some help. That help eventually involves Eagle and Carol feeding The Deep some psychedelic mushroom tea and locking him in a room, alone with only his thoughts and a Goo Goo Dolls song for company.
It's here that Patton Oswalt makes his debut as The Deep's gills. The Deep's gills (via the magic of 'shrooms) assure him that he deserves to be loved. They tell him that he only violates his sexual partners' bodies because he can't accept his own. Then, in a truly bizarre and oddly touching sequence of events, The Deep's gills encourages him to "take a look…a real look." So The Deep grabs a hand mirror and examines his own body for the first time.
It's worth pointing out that the humble hand mirror is an unlikely feminist icon. Eve Ensler's classic episodic play The Vagina Monologues has a moment in which Ensler encourages women to examine and acquaint themselves with their vaginas via a hand mirror. Ensler writes:
"I must tell you that up until this point everything I knew about my vagina was based on hearsay or invention. I had never really seen the thing. It had never occurred to me to look at it. My vagina existed for me on some abstract plane. It seemed so reductive and awkward to look at it, getting down there the way we did in the workshop, on our shiny blue mats, with our hand mirrors. It reminded me of how the early astronomers must have felt with their primitive telescopes."
By grabbing a hand mirror to explore his own body, The Deep, one of the Boys' most reliably misogynist characters, is participating in an act of feminist self-discovery…all with the help of Patton Oswalt, mushrooms, and Fresca.
"Oh wow, I guess I didn't really think about it that way," Crawford told Den of Geek of The Deep's body examination in advance of season 2. "But that's been the source of all his sort of insecurities or he feels like even though he's got these super powers and he's a freak, he's been ridiculed for these gills in the past, and they're gross and it just feels like that this is the source of all of his insecurity." 
Though the moment is undeniably funny, and involves the reliably hilarious Oswalt, Crawford was grateful for the scene as a dramatic marker for The Deep's continued evolution.
"I didn't realize it would have kind of such depth to it. I thought I might just be kind of surface level comedy and it wasn't – it was really also a good opportunity to show this kind of guy coming unraveled through a funny mechanism and device. It was interesting to get to see The Deep face his own reality," Crawford says.
No one knows what the remaining five episodes of The Boys season 2 hold for The Deep. Based on the show's track record, there is sure to be more blood, guts, and violence. But for at least one shining moment, The Deep got to share a duet of "You Are So Beautiful" with his Patton-voiced gills.