Features
The Boys Season 3: How That Imagine Video Came Together
The Boys season 3 pays homage to the ghost of pandemic's past with a host of celebrity cameos.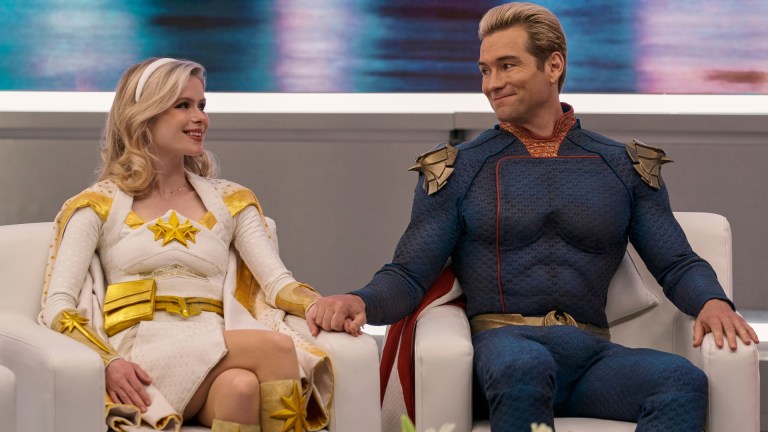 This article contains spoilers for The Boys season 3 episode 6.
With its latest episode, "Herogasm", The Boys takes a little trip to the past…our past. Yes, as is often the case on the Prime Video superhero satire, the line between Vought World and our own world (let's call it Amazon World) is thinner than ever.
Flash back, if you will, to March 19, 2020. Things are looking pretty bleak. The COVID-19 pandemic has officially kicked off by just about any metric. The NBA has ended its season prematurely. Tom Hanks has contracted the virus. And everyone is starting to learn about the concept of "social distancing." Just when it seems as though things can't possibly get worse, the celebs decide that it's up to them to do something, anything to cheer us all up.
Thus enters Gal Gadot's "Imagine" video into the pop cultural canon and the Cringe Hall of Fame. Give it a look watch again below if you can bear to do so.
It just so happens that while all of us were watching that video through gritted teeth, so too was The Boys season 3 writers' room.
"With the best of intentions, Gal Gadot released that video while the writers' room was in full steam," The Boys showrunner Eric Kripke tells Den of Geek. "It's hard for the writers to not come in and go 'wow a superhero put something out into the world that was pretty tone deaf. How can we sort of not go for that?' It was just right there. It was so fat and juicy. We had to go for it."
And go for it The Boys writers' room did. "Herogasm" opens with The Deep (Chace Crawford) trying to put the world's mind at ease in light of a recent suspected supervillain attack in Manhattan. What better way to do so than with the magic of celebrity? What follows is a group of famous people doing their best Gal Gadot and singing John Lennon's "Imagine." The famous crew includes: Patton Oswalt, A-Train (Jessie T. Usher), Josh Gad, Ashton Kutcher and Mila Kunis, Elizabeth Banks, Kumail Nanjiani, Aisha Tyler, Rose Byrne, and of course: a wordless Black Noir.
Who knows how The Deep gathered all these famous friends together? Perhaps being the public-facing survivor of the Church of the Collective cult has its advantages. For the folks behind The Boys, however, getting celebrities to participate in their nonsense is a fairly easy proposition.
"As usual, every cameo in this show follows the stringent test of whoever returns Seth Rogen's calls," Kripke says. "We lined up as many as we could. We had them all do it the way the real one was done. Just take your iPhone and film yourself singing a couple of lines from 'Imagine' and cut it all together. It's delightful. It's really funny and it feels like something The Deep would do."
Convincing real life celebrities to join in on the fun was the easy part as it turns out. For singing "Imagine" on television means needing to secure the rights to the song from the John Lennon estate.
"They don't give rights very easily," Kripke says. "We had to explain that we were satirizing that video and then they gave us the rights which kind of tells you what they thought about that video."
Imagine a world in which the John Lennon estate joins with The Boys to lightly troll some celebrities. It's easy if you try.