Reviews
The Blacklist Season 10 Episode 4 Review: The Hyena
The Blacklist's 200th episode reminds fans of Raymond Reddington's true colors.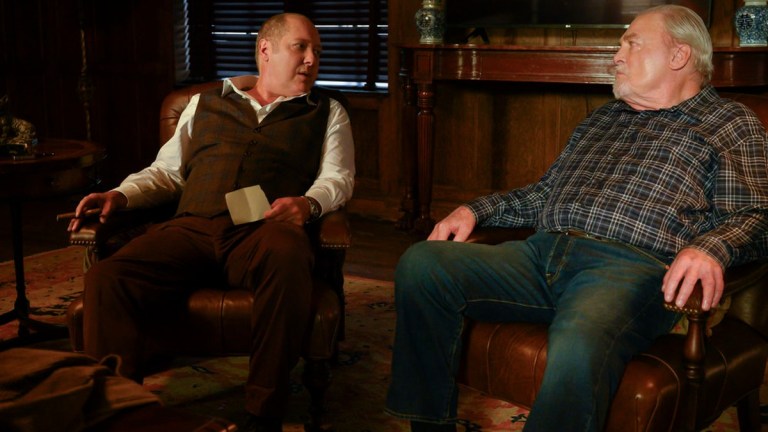 This The Blacklist review contains spoilers.
The Blacklist Season 10 Episode 4
The 200th episode of The Blacklist advances the series' exploration of the shades of gray between morality and wickedness while bringing back the emboldened, devil-may-care criminal that fans have been missing ever since the death of Elizabeth Keen (Megan Boone). Raymond Reddington (James Spader) may have lived longer than he hoped and have little left to lose, but he makes it clear in "The Hyena" that he is done with fear, pain, and regret. At the moment of his death, Red just wants to feel alive–a melding of opposites that only a man like Red can forge.  
Wujing (Chin Han) is not the only criminal with tricks up his sleeve in the quest to amass the wealth and the circle of friends that will be required to put an end to his foe. At the end of the last episode, Red busts his old mentor, Robert Vesco (Stacy Keach), out of prison by poisoning him with a book and then rolling up in a hearse to whisk his friend off, but not into the sunset. When we meet Vesco again in episode 4 "The Hyena," he's slathered in Turkish oil and propped up in a vintage nylon lounge chair in the cobwebbed, damp underbelly of the abandoned NYC Public Bath House, Red's latest lair. This must be the invisible space that Red was shopping for with the sassy realtor in episode 1. And, as Red so vehemently requested, there is, indeed, no kitchen.
After a night at Mt. Vernon reenacting a Revolutionary War battle and drinking too much whiskey with the 1st Delaware regiment, Red pops-in to the Cooper kitchen for a predawn nap and a lovely breakfast prep, just in time for a sleepy-eyed Harold Cooper (Harry Lennix), to protest Red's presence from the comfort of his bathrobe. While Harold is irritated, he's also concerned that Red is homeless. But Harold doesn't worry too long before Red has him nibbling fruit, sipping coffee, and listening to a profile on The Hyena, otherwise known as Sean Bane (Greg Yoder).
The Hyena is a new blacklister of the lowest order, a scavenger that strikes by sniffing out the hidden riches of imprisoned white-collar criminals and "shaking down family members and associates–torturing them, murdering them" to steal their wealth. It's an apt description of Reddington himself. At this point in the series, we have 199 examples of Red's proclivity to torture and murder. Where family members have been previously out-of-bounds as subjects of Red's brutal tactics, this 200th episode reminds us that Raymond Reddington can also be as "low order" as a criminal comes, despite all the eloquent grandstanding.
Red is planning to shakedown the three daughters of a dead financier, Warren Bostwick (David Manis), and he persuades Harold not to re-arrest Vesco by claiming that he needs his old friend's help to stop The Hyena and "save" the sisters. There is always more than one side to Red's motives and those sides exist in harmony for Red, if not for anyone else. When he speaks, he gets his way, using his most fearful weapon–the double-edged sword that is Raymond Reddington's tongue.
Warren Bostwick left hundreds of millions in cryptocurrency to his triplet daughters, Kendall, Alex, and Cordelia (Molly Bernard), which they can only access by working together. Daddy-dearest wrote a poem for his children to decipher so they can piece together the passcode that will open the account where the inheritance has been locked away in a digital wallet. It's been two years since Warren's will was read, and the sisters have not made much progress on figuring out the clues or growing closer in sisterly love.
Conveniently, Red and Vesco are not only enlivened by a treasure hunt and fairly good at poetry, they are both old acquaintances of Warren Bostwick and figure they collectively know the deceased better than his own disaster of daughters. The eldest by 12 minutes, Kendall, is the one responsible for the poem ending up in Red's hands. She secretly paid a cryptanalyst to try and decipher the poem and that cryptanalyst happens to also be on Red's payroll. Yet, where the cryptanalyst fails, Robert Vesco makes his value known as he uncovers a solid lead on the first clue.
The path the treasure hunt takes is full of surprise twists and turns. In the end, it's Robert Vesco, not Red, who suggests sharing the wealth with the remaining good sister. However, Vesco's endearing altruism is almost immediately called to question when Wujing's thug, Zhang Wei (Kenneth Lee), follows a lone Vesco to a parking garage and informs him that Vesco's arrest last year was not bad luck, but that it was part of Red's trap. Vesco is given a card with a number to call when he is ready to learn more about the shared interests he may have with Wujing.
The stakes are higher than ever as one of Red's last friends considers betrayal. If 200 episodes of The Blacklist have taught us anything, it's to think like Raymond Reddington. Why was it so easy for Wujing's representative to walk up on Vesco as he exited a cab in a desolate garage? Maybe the job Red really needs Vesco for is the long game, inside man who makes his way into Wujing's fold feigning vengeance and making his value felt by delivering some slice of the Bostwick treasure to Wujing's coffers. By either count, Vesco's freedom comes at a high price—he's either going to betray Red or play the double-agent. If Vesco's not at the top of his game, then his freedom may end up costing him his life.
The first nine seasons of The Blacklist are available to stream on Netflix now. New episodes air on Sundays, 10 ET/PT, on NBC.