Reviews
The Blacklist Season 10 Episode 3 Review: The Four Guns
"The Four Guns" keeps The Blacklist fans guessing to the end while finally reuniting two major characters.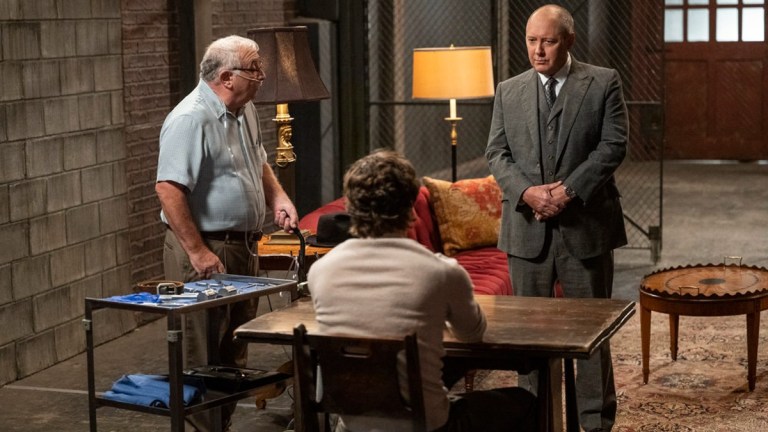 This The Blacklist review contains spoilers.
The Blacklist Season 10 Episode 3
In typical The Blacklist fashion, "The Four Guns" doesn't refer to firearms. Rather, the four individuals who are on Raymond Reddington's (James Spader) blacklist this week are goniffs, Yiddish for "thieves." These are not your run of the mill pickpockets. After all, they move through Senator Cynthia Panabaker's (Deirdre Lovejoy) re-election speech at the park as an "apex predator," a single organism of coordinated effort that manages to deftly swipe two guns, a radio, and a cell phone off of the two Secret Service men tasked with protecting Panabaker from malcontents. One of those secret service weapons is the one that fires at Panabaker but hits one of her agents in the shoulder instead.
A goniff is not a murderer, but a sly trickster who takes what belongs to another while fearing flesh and blood and eluding discovery at all cost. What the goniff doesn't fear is the notice of Divine Justice. In Yiddish, a goniff is the worst kind of thief, like a man who invites a guest for dinner knowing full well that the guest cannot attend. For The Blacklist to invoke the goniff, it's impossible then to ignore its foil–the gazlan, especially since there are gazlans in abundance in this episode. The gazlan is brazen, strong and takes without caring who sees. In Jewish law, the gazlan must pay back what he took while the goniff must pay back double. Reddington is an obvious example of a brazen thief with a sense of moral justice.
The highlight of this episode is the unspoken collaboration of Red and Agent Dembe Zuma (Hisham Tawfiq). For all the fans who are longing for a reunion of Dembe and Red, this episode offers the first glimpse of this pair working together again. The last time these two were in unison was season 8, and there have been chinks in the armor of their alliance ever since season 6 and Red's near-death-chamber-experience. Their collaboration is silent yet seamless in "The Four Guns." How else could Red know about the details of Panabaker's assassination attempt unless Dembe told him?
The hints at a Red-Dembe reunion only get bigger as the episode moves on. The next insight comes when the leader and mastermind of the four goniffs, Quinton Dodd "The Claw" (Jacob Pitts) is taken into custody and questioned at the Post Office. The Claw is clever, of course, and knows enough about the penal code to get him kicked back to freedom quickly–or so Director Harold Cooper (Harry Lennix) thinks and subsequently informs Red by phone. As soon as Red hangs up from the call, he turns and we all see that The Claw is still handcuffed and now in Red's custody.
Enter torture guru Teddy Brimley (Ted Colaluca) and his metal cart of bone nibblers, shaping mallet and the fearsome Gigli saw. When has Brimley ever not been successful at getting words out of those he "interrogates?" Brimley doesn't even have to smell any bone dust to get The Claw to reveal the location of the man who blackmailed the four goniffs into collusion with his plan to fire a stolen Secret Service weapon at Panabaker. As soon as Red obtains that information, who swiftly busts into the assassin's lair? The FBI—led by Agent Dembe Zuma.
The FBI soon learns that the assassin is a former secret service agent and marksman, Lucas Roth (Neal Huff), who didn't miss when he hit Panabaker's agent in the shoulder–that was intentional. He wasn't aiming at the Senator at all. Instead, his purpose is only to wound so that the other agent on Panabaker's detail, Will Strickland (Guy Lockard), is assured to be on duty when Roth strikes again. Roth is not an assassin, but a gazlan, willing to lay down his life to make public the shanda (shameful scandal) of a corrupt Secret Service that sacrifices the sanctity of the presidency and democracy for power and political gains. The actual target of Roth's wrath? Special Agent Will Strickland.
In addition to Red and Dembe finding a way to play on the same team from different sides of the field, there is yet another joyful expedition underway throughout this episode. Red procures a poison book from the very private collection of a bookseller and has it delivered to the jail cell of his old pal and mentor, Robert Vesco (Stacy Keach). While breaking a friend out of jail by nearly killing them may not sound like an act of charity, it's safe to say that Red and Vesco embrace a complicated relationship. These two have double-crossed each other for decades. First, when Vesco brokered Red's trust in him by convincing Red to invest in a lucrative project in Paraguay that ended with Red broke and abandoned in an Asuncion brothel. Vesco claims he was simply teaching Red the ultimate lesson: trust no one.
Yet, Red is full of laughter and good energy over a shared cracker of caviar with Vesco on the private jet. Perhaps Red's gift to Vesco, the book Treasure Island, is a foreshadowing of a future excursion that will once again have them decoding clues and discovering riches together.