Features
The Best French TV Shows on Netflix
A guide to the best French-language sci-fi, horror, supernatural, crime thrillers, dramas and comedies available to stream on Netflix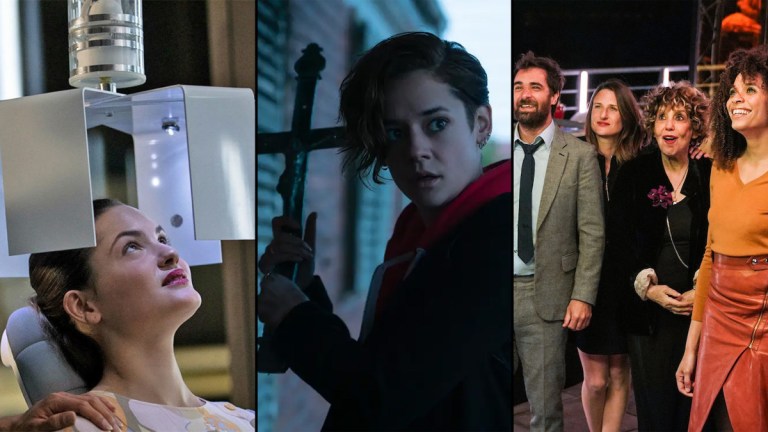 When acclaimed supernatural series Les Revenants/The Returned aired on Canal+ in 2012, it emerged into a fairly barren landscape for French-language scripted TV drama. The story of a remote mountain town whose dead are mysteriously revived, its stylish, cinematic look and philosophical, grown-up approach to genre television had little precedent. While the French 'polar' or detective series had long been a television staple, France had almost no tradition of sci-fi, horror and fantasy TV shows – or at least, none taken seriously by its understandably cinephile-and-proud cultural gatekeepers.
In the last five years, coinciding with the global growth of scripted TV drama, that's all changed. Crime thrillers still wear the crown, but alongside them, France and Belgium are producing and exporting more continuing television dramas and miniseries than ever. From Black Mirror-ish future-set Osmosis and consciousness-swapping Transfers, to cool Parisian teen fantasy Vampires and creepy horror Marianne, scripted French-language genre television is exploding. It's early days and the market has been testing its breadth, which explains the profusion of shows below that haven't lasted beyond a single series. When it works though, as in excellent comedy-drama Call My Agent, it really works, in France and around the world.
Political thrillers, comedies, psychological drama, rom-com… there's never been such scripted variety on French television, and thanks to streaming services, it's never been so accessible around the world. Here's a guide to what's currently available on Netflix.
SCI-FI & FANTASY
Osmosis (2019)
In near future Paris, a dating app matches singles with their soulmates by mining their brain data, but decoding true love comes at a price.
'If science could guarantee true love, would you say yes?' asks this atmospheric Parisian-set sci-fi series. If your answer is 'oui', then this thoughtful examination of relationships, technology, fate and free may give you pause.
Eight-episode series Osmosis was created by Audrey Fouché, a writer on hit French supernatural series Les Revenants / The Returned. It's about 12 participants in an experimental scientific study designed to match people with their perfect partner using an AI named Martin (pronounced Mart-an in French, therefore much less funny). It attracted excellent reviews on release, including many favourable comparisons to Black Mirror, though Netflix frustratingly said 'non' to a second season.
Into the Night (2020)
When a mysterious cosmic disaster strikes Earth, survivors on an overnight flight from Brussels race to find refuge and escape the sun's rays.
Inspired in part by Polish sci-fi novel The Old Axolotl (what is there not to enjoy about that combination of words?) written by Jacek Dukaj, Into the Night is Netflix's first Belgian original series. The sci-fi thriller was created by Jason George, a producer on Narcos and The Blacklist, and its first season consists of six 40-minute episodes.
It's the story of a planeful of passengers mid-flight when an environmental catastrophe causes the sun's rays to start destroying all organic life. If the plane can outrun the sunrise by flying through different time zones, they might survive to fight its disastrous effects. A lot of them will, in fact, because a second season was ordered by Netflix in July 2020. Don't go looking for depth necessarily with this one, it's a twisty action sci-fi designed for bingeing and not for the 'but would that really happen?' brigade.
Transfers / Transferts (2017)
After a boating accident, woodworker and family man, Florian, wakes up in the body of an officer who leads a task force against illegal body transfers.
This six-episode sci-fi imagines a world where the technology has developed to transplant human consciousness from one body to another. Due to moral objections from the Church, the process is ruled illegal but continues underground, leading to the creation of a police task force which specialises in capturing unlawful 'Transfers'. When a carpenter dies in an accident and awakens in the body of the man leading that task force, he's thrown into the middle of a tense conspiracy.
This pacey thriller blending crime drama and sci-fi won a couple of awards on release, including a plaudit for the performance of Belgian lead Arieh Worthalter. Its co-creator Claude Scasso is part of the team on France's hugely successful detective show Cain. Sadly despite all that, there's no sniff of a second season.
Mortel (2019)
Determined to find his missing brother, high school troublemaker Sofiane ropes timid classmate Victor into a pact with a mysterious figure.
A rare excursion for France into the kind of teen supernatural TV more commonly found on America's The CW, Mortel (a pun on French slang for cool, or whatever word means 'cool' these days – slammin'?) is the story of two high schoolers gifted with magical abilities. Teen Sofiane seeks an ancient power to help find his missing brother, and receives it courtesy of a Voodoo god. The catch is that this new-found power may only be used in conjunction with his oddball classmate, Victor.
Sofiane and Victor are thus thrown together by their magical pact, and the six-episode show sees the pair navigate teen life and supernatural danger at the same time. It was created by Frédéric Garcia, who made his name as a teen drama writer on Skam France. There won't be a second season, and in all honesty, that's not an enormous shame but genre fans looking for a change of scenery should get a kick from it.
Marianne (2019)
Emma, a famous and successful French horror writer, is forced to return to her hometown after the woman who haunted her dreams fifteen years ago begins to re-appear. The work she writes is apparently a work of fiction, but how much is fact?
This eight-episode series about a successful writer who, having bled her teenage nightmares for book material, now faces its real-life return was warmly received by horror fans on its arrival in 2019. The eight-episode first season (sadly, it wasn't renewed for a second) is packed with classic scares which, though familiar, were handled extremely well. The French setting added a new element for UK and US viewers more used to seeing such hauntings play out in English.
Created by Quoc Dang Tran and Samuel Bodin, the undeniably scary Marianne stars Call Me By Your Name's Victoire Du Bois as hit novelist Emma Larsimon, but it's undeniably the face of Mireille Herbstmeyer as Madame Daugeron you'll be seeing in your own nightmares.
Vampires (2020)
A Parisian teenager who is half human, half vampire grapples with her emerging powers, and family turmoil as she is pursued by a secret vampire community.
The vampire mythos gets another go-around in this six-part coming-of-age drama about a Parisian teenager torn between two identities. Doina (Oulaya Amamra) is half-vampire, half-human. Her vamp mother has kept her on drugs to suppress her vampiric urges, but curiosity and teen rebellion lead Doina to explore her supernatural heritage.
The result is a stylish, blood-soaked, neo-noir teen show filled with sex and gore against the backdrop of the French capital. Yes, you've seen most of it all before, but as metaphors for adolescence go, vampirism's one of the richest. The music-video aesthetic and developing mythology – who are The Community, the mysterious vampiric cult who want Doina to join them? What happened to her human father? – combined with the family drama make this very watchable, if not a total must-see.
Black Spot / Zone Blanche (2017)
A police chief and an eccentric new prosecutor investigate a string of grisly crimes and eerie phenomena in an isolated town at the edge of a forest.
A creepy town, a haunted forest and beaucoup de killings are the ingredients of this Belgian supernatural series. It's the story of a local police chief in a fictional town surrounded by a vast forest filled with creepy secrets that makes the local murder stats six times the national average, attracting the attention of an out-of-town investigator.
Black Spot was created by Mathieu Missoffe, a writer on crime drama Spiral and the French portions of Netflix original Criminal. It's extremely bingeable, and while the Twin Peaks comparisons are overstating the matter, its combination of folk horror and dark humour makes it memorable. There are currently two eight-episode seasons (the original title Zone Blanche translates more closely to Dead Zone, but we're not the ones making the decisions around here). As yet, there's no word on a third season, but neither has it officially been cancelled.
Twice Upon a Time / Il était une seconde fois (2019)
While still reeling from a breakup, Vincent receives a cube with extraordinary powers and seizes a change to reconnect with his ex – in the past.
This mournful sci-fi romance about a man who receives an object in the post that enables him to travel back in time to nine months earlier, when he attempts to resurrect a failed relationship with his ex (Skins and The White Queen's Freya Mavor) wasn't exactly warmly received by fans of either genre. With only four half-hour episodes though, it does have brevity in its favour, as well as its own violin-laden, intense atmosphere. If you're a fan of meditative science-fiction that poses moral questions and doesn't provide all (or indeed some) of the answers, Twice Upon a Time could be for you. Make sure you watch it with subtitles though, because the US dubbed accents are a bridge too far.
CRIME THRILLER
The Forest / La Forêt (2017)
When a teen girl disappears from a village near the Ardennes Forest, local police and a concerned teacher begin to uncover a web of unsettling secrets.
Comparisons to Zone Blanche (see above) abound for The Forest, but this is a much more straightforward Broadchurch-style crime thriller. Set in the Ardennes in a small town where everybody knows everybody and they're all hiding sordid secrets (you know the drill by now), it's about the search for a missing teenage girl and years of strange disappearances and goings-on in the titular forest.
Reviews were generally good, with plenty of praise for the scenery and soundtrack, but the key thing about this one-series thriller is that the ending offers definitive answers to the many questions posed in the series. A bit clichéd, perhaps, but crime mystery fans should find plenty to enjoy in the twists and turns.
The Chalet / Le Chalet (2017)
Friends gathered at a remote chalet in the French Alps for a summer getaway are caught in a deadly trap as a dark secret from the past comes to light.
The backdrop of Chamonix in the French Alps is what makes this serviceable thriller worth a look. Its somewhat predictable 'nasty things happen in a remote chalet' story plays out against a stunning mountain setting, over two timelines. The six hour-long episodes are split between 2017, when a group of friends visits the titular chalet, and 1997, when a family moved there for a fresh start. Neither goes… well.
By no means a must-watch, it's nevertheless a compact, eventful series for Francophile TV fans, from the makers of crime thriller Les Dames and popular long-running French detective series Julie Lescaut.
The Mantis / La Mante (2017)
A serial killer, nicknamed 'La Mante' decides to collaborate with the police when a string of murders that copycat her style suddenly appear.
Try to ignore the fact that the main character is called Damien Carrot and this six-part crime thriller will feel all the more gruesome. It's already very, very gruesome and merits its many comparisons to The Sinner and Luther's heightened world of psychopathic murderers and nasty death scenes. Apparently Stephen King's a fan.
It's a kind of Silence of the Lambs set-up about an incarcerated serial killer helping a cop to solve a series of copycat murders in Paris, with the twist that said cop is said serial killer's son (!). Without giving anything away, the controversial ending definitely merits a wider discussion about the responsibilities of TV drama, which you'll find elsewhere online, so be prepared for crassness. The trailer above is French-language only.
The Frozen Dead / Glacé (2017)
A grisly find atop a mountain in the French Pyrenees leads investigator Martin Servas into a twisted dance with a serial killer in this icy thriller.
Did we say the last one was Silence of the Lambs-y? This one is very much that aussi. In The Frozen Dead, a serial killer plays a sick game with the cops investigating some gruesome murders in the French Pyrenees. There's also some wrongdoing involving a horse that doesn't involve it ending up in a pot-au-feu.
This suspense thriller consists of six 50-minute episodes, which makes it a choice weekend binge, from creators with credits including Spiral and French political series Spin / Les Hommes de l'Ombre.
Unit 42 / Unité 42 (2017)
A widowed cop tapped to lead a special cybercrimes unit teams up with a former hacker to hunt down tech-savvy criminals who are terrorizing Belgium
For fans of The Tunnel and The Bridge, this is a Belgian odd-couple crime thriller about Sam – a resolutely analogue detective in his 50s – and Billie – a troubled hacker in her 20s. They team up in a newly created Brussels digital policing unit to track down a network of cyber terrorists responsible for a series of killings.
If that sounds generic and familiar, it is, but the chemistry of the two leads Patrick Ridremont and Constance Gay sells the premise. This police procedural has two 10-part series so far, comprising 50-minute episodes but only the first is currently available to stream on Netflix.
The Break / La Trêve (2016)
A police detective mourning a painful loss moves back to his peaceful hometown, only to be drawn into a murder case that dredges up dark secrets.
Nicknamed the Belgian Broadchurch (we really need to find new ways to describe crime TV), this whodunit earned high praise across both seasons for its darkly comic and twisted story of dark small town secrets. Filmed in The Ardennes, the two 10-episode seasons weave together numerous family drama subplots and lay bare sick secrets about the residents of Heiderfeld, Belgium.
The premise sees a police detective moves with his teenage daughter from Brussels back to his home town, where the body of a young football player has been pulled from the river. Against a backdrop of local corruption surrounding the construction of a dam, was it suicide or murder?
DRAMA
Inhuman Resources / Dérapages (2020)
Alain Delambre, unemployed and 57, is lured by an attractive job opening. But things get ugly when he realises he's a pawn in a cruel corporate game.
Eric Cantona (yes, him) stars in this six-episode action-packed thriller satirising corporate greed. It's based on a 2010 novel by Pierre Lemaitre titled Cadres Noirs, which itself was inspired by a true story about a company that staged a fake hostage situation as part of a round of high-level job interviews.
It's a slick, gritty morality drama about a down-on-his-luck man (Cantona) forced into an extreme role when he's tasked with simulating a hostage attack for a slimy boss seeking to decimate his workforce. Reviews have been very positive, with particular praise for Cantona in the lead role.
Mythomaniac / Mytho (2019)
Burned out and taken for granted, a working mother suspects her partner is cheating, so to win back his attentions, she feigns a medical diagnosis.
Directed by Fabrice Gobert, who headed up Les Revenants / The Returned and written by Anne Berest, this domestic drama-comedy is about Elvira, a disenchanted mother of three ignored by her family, cheated on by her husband and kicked around by suburban life. When she lies about a cancer diagnosis, things start to change for the better at home, but the lie brings its own complications. It won the audience award and best actress for lead Marina Hands (Black Spot, Taboo) at Series Mania, winning praise for her delicate, compassionate performance.
This is a solid family drama with a strong lead performance. It's already been renewed for a second season, which was, pre-Covid-19, due to arrive in France in late 2020. See the French-language trailer above.
COMEDY & ROM-COM
Family Business (2019)
After learning France is about to legalize pot, a down-on-his-luck entrepreneur and his family race to turn their butcher shop into a marijuana cafe.
Starring, among others, French legend Liliane Rovère (also seen in Call My Agent, see below), this is part stoner comedy, part dysfunctional family sitcom. It's about a struggling son (creator Jonathan Cohen) who comes up with the bright idea to pivot his Parisian Jewish family butcher shop into a cannabis cafe, and the trouble that lands them in on both sides of the law.
It's lightweight with a bit of edge, and if you take a shine to its larger-than-life characters fear not, it was renewed for a second season very quickly after its initial release. The new episodes are scheduled to arrive in September 2020.
The Hook-up Plan / Plan Coeur (2018)
Elsa, on the verge of turning thirty and stuck in an uninspiring job, finds herself still hung up on her ex-boyfriend two years after their breakup. Her friends, hoping to help her break out of her rut and find some confidence, decide to hire a male escort to take her on a few dates.
This rom-com is the second French-language Netflix original after Gerard Depardieu-starring Marseille, and given the choice between the two, this is the one to watch. Three friends, Elsa, Emilie and Charlotte navigate relationships and imminent motherhood in contemporary Paris over two series.
It's a light, pacey modern dating comedy filled with bright shots of Paris and city life. The English-targeted trailer riffed on its similarity to Love Actually, if you want to use that as a barometer for whether you'd enjoy it. (Though if it's French comedy-drama you're after though, run, don't walk to Call My Agent, see below).
A Very Secret Service / Au Service de la France (2015)
1960: the French intelligence service hires the 23-year-old Andre Merlaux. Handsome, well-raised, intelligent but impressionable, Merlaux has much to learn to serve and defend the interests of France.
This light-weight Archer-ish satire goes back to the 1960s to a time when France's position in the world stage was changing due to ongoing bloody colonial battles for independence, and French society was changing thanks to the rise of feminism and the civil rights movement. Set in a French intelligence training service, it follows a hapless new recruit's attempts to follow orders and do his compatriots proud. There are two 12-episode seasons of this comedy drama, which was received warmly back in 2015 and pokes fun at the old ways and the new through the eyes of a fish out of water.
Call My Agent / Dix Pour Cent (2015)
At a top Paris talent firm, agents scramble to keep their star clients happy – and their business afloat – after an unexpected crisis.
Unless you are in fact watching it (in which case, carry on), this is surely The Best French TV Series You're Not Watching. Set in a Parisian talent agency struggling to survive after the loss of its patron, it's a workplace comedy-drama with heart and satirical bite. The forthcoming season four will sadly be its last, but at least it's going to end on its own terms.
Dix Pour Cent (10 Per Cent in English, in reference to the agent's cut of a star's pay packet) is a funny, fast, whip-smart satire of, and love letter to the French film industry, filled with characters to love. Created by Fanny Herrero, it has a terrific comedy ensemble cast (including Camille Cottin, who played Fleabag in the French-language remake) but the real joy for fans of French cinema are the guest stars. So many legends pop up, from Juliette Binoche to Monica Bellucci, Jean Dujardin, Isabelle Huppert and Beatrice Dalle… all playing exaggerated versions of themselves. N'hesitez plus, vas-y!