Features
The Beatles: Get Back – Was Magic Alex a Con Artist or an Innovator?
The electronics wizard who couldn't deliver a working recording studio in The Beatles: Get Back had a history of distortion.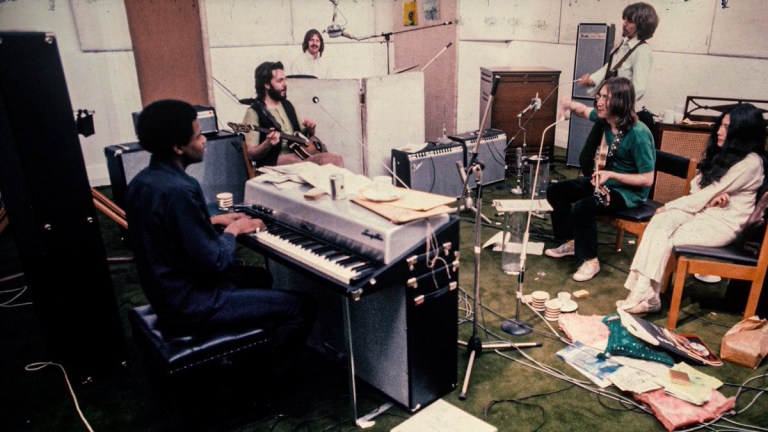 The clarity of Peter Jackson's The Beatles: Get Back brings a lot out in the mix. Audiences can see chord changes and teary eyes. Members of The Beatles' inner circle also make appearances. Peter Brown, who was Brian Epstein's assistant, pops by with papers. Longtime friends Neil Aspinall and Mal Evans, the managing director of Apple and the band's road manager, respectively, stick around to make sure the band is getting what they need, while co-producer and engineer Glyn Johns does the same for the audio. Jackson also gives hazy focus to the man who disturbed the sound, Yanni "John" Alexis Mardas, better known as "Magic Alex."
In The Beatles: Get Back, Magic Alex develops, designs, and delivers a state-of-the-art recording console, which creates far too much hum to be usable in recordings. He also gifts John Lennon with the prototype of a combination rhythm guitar and bass. It has a swivel neck and would be impossible to tune. But Magic Alex looms far larger in the Beatles universe. All four members of the band attended Mardas' wedding in 1968. He was named head of Apple Electronics when The Beatles formed Apple Corps.
Lennon almost credited Mardas as co-writer of "What's the New Mary Jane," saying "This was a thing I wrote half with our electronic genius Alex," in a 1969 interview, per New Musical Express, and the mad inventor appeared in the film Magical Mystery Tour. But Mardas was also the malcontent who started the rumor that the mystical Maharishi Mahesh Yogi was mooning over Mia Farrow, lusting after her sister, dear Prudence, and possibly having an affair with Lennon's wife Cynthia. In her book, Wonderful Tonight, Pattie Boyd says Magic Alex convinced John that "the Maharishi was evil."
Magic Alex broke the news to Cynthia about Lennon's relationship with Yoko Ono. "I've come with a message from John," Alex told Cynthia, according to Philip Norman's book John Lennon: A Life. "He is going to divorce you, take Julian away from you and send you back to Hoylake." Ray Colman's Lennon reveals Mardas had hired a private detective to follow Cynthia around during a vacation in Italy to get evidence of adultery.
Rumors that Cynthia slept with Mardas in vengeful retaliation are not true. "Alex crept into the bed and was attempting to kiss and fondle me, whispering that we should be together," Cynthia writes in A Twist of Lennon. "I pushed him away, sickened."
Lennon met Magic Alex through Brian Jones in 1965, while viewing an art exhibit at John Dunbar's Indica Gallery. Mardas had created a psychedelic light show for the Rolling Stones' Their Satanic Majesties' Request tour. Mardas had recently moved to London from Greece. He worked as a TV repairman, but fancied himself an electrical engineer. He said his father was in the Greek Secret Police, and nothing is known about him before he met Lennon and Jones.
"I remember John coming to my house one day and saying 'This is my new guru, Magic Alex,'" Paul McCartney explained in The Beatles: Anthology. "And I said 'Oh, OK." According to John Lennon: A Life, Mardas became a part of the Beatles inner circle immediately and remained up to the last days of the band. The band members saw Mardas as a magician whose gadgets and gizmos seemed absolutely revolutionary. Peter Brown's The Love You Make describes psychedelic light boxes, and wallpaper loudspeakers. Lennon also enthused about Mardas' idea that, by drilling a hole in the Beatles' collective craniums, "our third eye would be able to see, and we'd get cosmic instantly."
Multiple books mention Mardas' vision of a recording studio with multiple computers and a 72-track desk. It certainly is not the overly dull cutting-edge technology of the 16-track recorder Mardas delivers in The Beatles: Get Back, which consisted of small speakers, and, did I mention the small speakers? The rest were a box of unassembled components from a German manufacturer.
"Alex's recording studio was the biggest disaster of all time. He was walking around with a white coat on like some sort of chemist, but he didn't have a clue what he was doing," George Harrison is quoted as saying in Long and Winding Roads: The Evolving Artistry of the Beatles, by Kenneth Womack. "It was a 16-track system, and he had 16 tiny little speakers all around the walls. You only need two speakers for stereo sound. It was awful. The whole thing was a disaster, and it had to be ripped out."
"There's no such thing as a genius, but if there are any, he is one," Lennon said of Magic Alex, even as each of the Greek expatriate's ideas cost him money.
"I'm a rock gardener, and now I'm doing electronics," Magic Alex said of himself. "Maybe next year, I make films or poems. I have no formal training in any of these, but this is irrelevant."
As were some of his finest inventions, such as his blinking light "Nothing Box," which stimulated LSD trips. Mardas said he could make a flying saucer out of the V12 engines from John and George's cars, paint that changed the color of a car when you hit the brake, force fields to surround drum kits for audio separation, a telephone which only answer to its owner's voice, and an X-Ray Camera. In his book Magical Mystery Tours: My Life With The Beatles, Tony Bramwell called Mardas, "a waste of time and money."
In the summer of 1967, the Beatles considered buying an island to get away from the pressures of fame. Magic Alex suggested Leslo, an island off the coast of Greece. When the Beatles assembled on the island, on July 21, they were swarmed by fans and media. Magic Alex tipped off the Ministry of Tourism every time a Beatle tried to go to the beach. Mardas said it was a deal he worked out with the government, so the band's luggage wouldn't be searched. Greece had a very strict drug policy.
When Allen Klein took over as The Beatles' business manager, Mardas was unplugged from Apple Electronics. After the Beatles breakup, Magic Alex became a security consultant. In 1977, he invented bullet-proof Mercedes limousines. He got King Constantine of Greece to sell them to the Sultan of Oman. They exploded when shot at. It came with a guarantee, King Constantine had to pay the Sultan back. To the day he died, in 2017, Mardas insisted he invented the digital camera and voice recognition.