News
How a Batman 1989 Deleted Scene Cost Sean Young the Co-Starring Role
Sean Young famously lost the role of Vicki Vale in 1989's Batman due to an injury while practicing for a scene that, ironically, didn't even make the film.
1989's Batman is widely regarded as a time-tested, transformative entry for the comic book movie genre, and its $411.5 million worldwide gross ($872.8 million adjusted for inflation) certainly shook an unsuspecting film industry to its core. However, for actress Sean Young, who was initially set to co-star in the film as Vicki Vale opposite Michael Keaton's Caped Crusader, it represents a point in which misfortune pulled her away from a prospective mainstream breakthrough. Not only did a pre-production accident force her off the film, but the scene for which she was preparing ended up getting cut from the movie!
Director Tim Burton's choice of Young for Batman's leading lady role as photojournalist Vale seemed auspicious since it brought the genre experiment a rising star with pertinent gravitas from roles in then-recent offerings like Blade Runner and Dune, along with dramas such as No Way Out and Wall Street. It was a positive outlier against the buildup from the film's 1988 production, during which it was preemptively savaged by fans and critics over Burton's selection of comedic character actor Michael Keaton—fresh from starring in Burton's 1988 hit, Beetlejuice —as opposed to a conventionally imposing action movie star. However, a fateful horseback accident would see Kim Basinger take the role of Vicki, depriving Young of the film's defiant, industry-altering success.
During production, one version of the Batman script, written by Sam Hamm and Warren Skaaren, once had equestrian leanings—initially involving Vicki—designed to build toward a major action sequence. Consequently, in a setback that now resides in the realm of comic book movie legend, Young, who had been in London for four weeks of read-throughs and rehearsals for Batman's imminent production in Pinewood Studios, was practicing her horse-riding skills when she was thrown off and sustained a fractured arm. That led producer Jon Peters, who had purportedly convinced Burton to cast Keaton, to suggest that the incapacitated Young be replaced with Basinger, as cameras were set to roll in a week. The suggestion was immediately accepted, resulting in the replacement being quickly flown in, costing Young what was to be the biggest role of her career.
"They did spring the horse-riding thing on me, and I fell and had an accident," explained Young in a recent interview with The Daily Beast. "Could they have kept me on the show and shot around my arm? They probably could have. I think [producer] Jon Peters had this hard-on for Kim Basinger, and he saw an opportunity to exit me, and he did. And no one ended up being very happy with that choice. But it is what it is. I had an accident and then got walked to the door."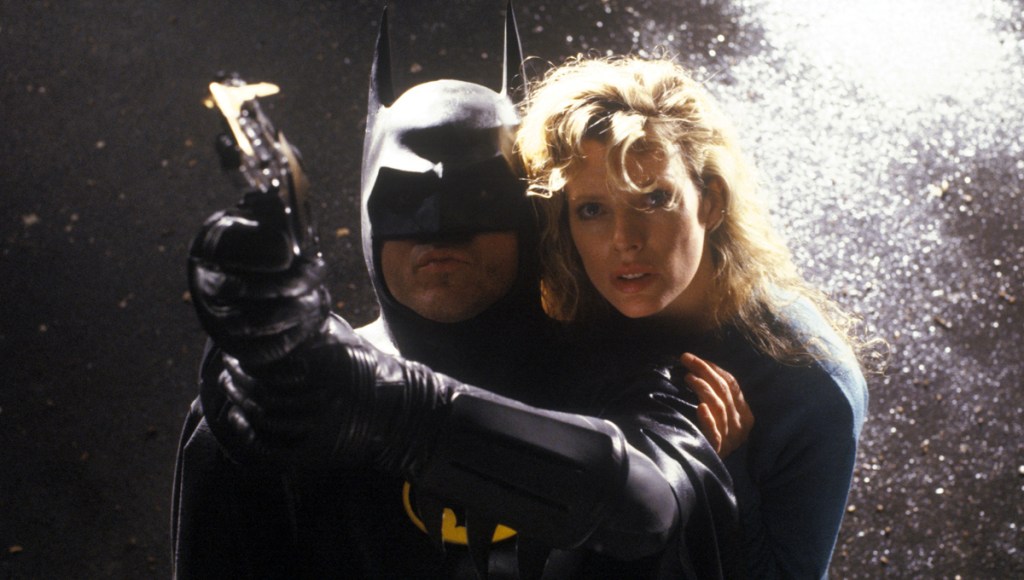 The scene in question was the intended start of Bruce Wayne and Vicki Vale's first date, set at Wayne Manor. While the final cut started the date inside the dreary, echoey estate, the date would have instead started outside at the horse stables in an earlier version of the film. There, we briefly see the two riding horses—with Vicki coming across as the more experienced rider—before they dismount and kick off their flirtations. In an example of intended foreshadowing, Bruce says, furtively alluding to his secret crimefighting exploits, "Horses love me. I keep falling off. Maybe that's why they love me. You should see me, I'm one big mass of bruises." At that point, they walk off to a patio on which Alfred (Michael Gough) awaits them with a bottle of champagne, at which point their date continues inside. Indeed, it's a minor scene, and, as we were meant to see later in the film, Vicki's horseback riding was originally designed to set Bruce on an arc for his own horseback action sequence—but the scene was cut, an aspect that lends Young's role-costing accident a cruel element of irony.
The eventual payoff to the stable scene would have manifested after a scene that did make the film (at least partially), in which Bruce visits Vicki in her apartment, hemming and hawing as he tries to muster up the courage to reveal to her that he's Batman. Of course, the Joker (Jack Nicholson) then interrupts at the door, resulting in a confrontation with Bruce that ends with Joker—after dropping the crucial clue of the "You ever danced with the devil in the pale moonlight?" line—shooting Bruce with a pistol, leaving Joker convinced that he killed him before leaving Vicki with an offer to consider. As we saw in the movie, Bruce secretly lined his shirt with a bullet-stopping metal tray, and pulled a Batman-esque disappearing act on Vicki after Joker departed. However, this scene was initially designed to kick off an elaborate chase sequence.
In a major contrast from Batman's onscreen form, early drafts of the script's apartment scene had the Joker kidnapping Vicki after he revealed the suicide of girlfriend Alicia (Jerry Hall) and smashed the porcelain mask that covered her acid scars. The famous "You can't make an omelet without breaking a few eggs" line was to be followed by a dramatic cut, after which we see that Vicki was taken by the Joker and his men in a van maniacally driven by Bob (Tracey Walter). At this point, Bruce arrives on the scene to find a mounted policeman in bad shape, sporting a familiar unnatural grin delivered by Smilex gas. Without any other vehicle nearby, Bruce commandeers the cop's horse and proceeds to chase down the Joker's vehicle. As the chase through Gotham starts to prove fruitless, a red symbol light flashes on Bruce's belt, at which point a Volkswagen Bug—conspicuously going 70 mph—closes in on him, revealing the driver to be Alfred, who arrives bearing a bundle of fresh Batman attire, resulting in a quick pit stop before the rescue commences. It's a major divergence from the film itself, in which Vicki wasn't taken by the Joker at all, save for the climactic scene atop Gotham Cathedral.
"Falling off that horse was something kind of—I couldn't hang on. There's kind of a poetic symbolism about that," lamented Young back in 2005 DVD documentary Shadows of The Bat: The Cinematic Saga of The Dark Knight. "In a way, I look back at that particular time in my life and I go, 'Wow, I wish I'd been able to hang onto that horse. I wish I'd been able to do that.' Because then the turning point in my particular career—I would have been able to stay on the film, I would have been in a big box office hit, I would have been able to go on to other big box office hits. That kind of domino effect would have occurred in my career. That was the turning point in my career where that didn't happen."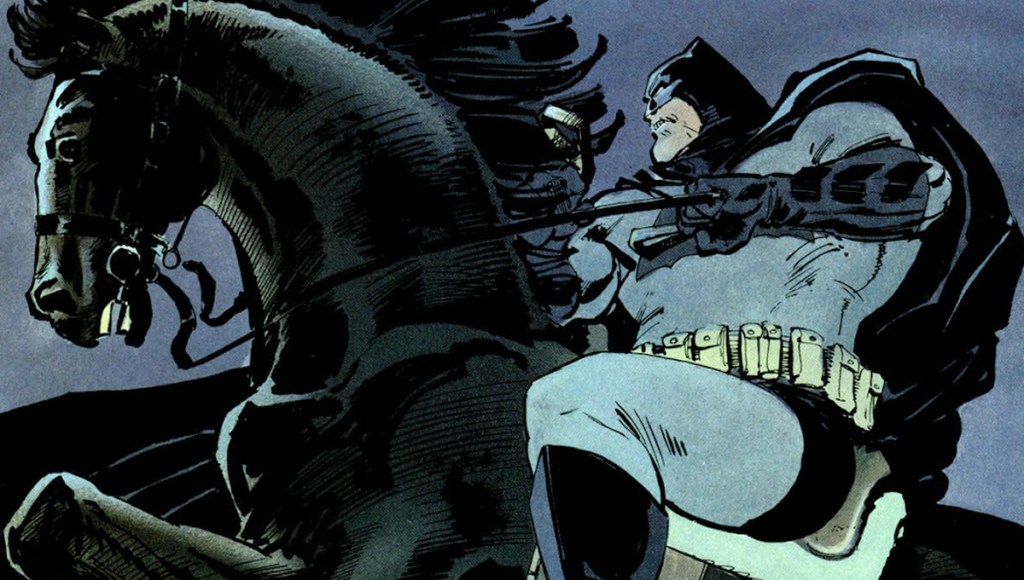 The horseback scenes, while ultimately cut, weren't as excessive as they seem in retrospect. That's because it was always clear that Burton's version of Batman was to reflect the darker elements that came into prominence with Frank Miller's groundbreaking, profoundly influential 1986 DC Comics miniseries The Dark Knight Returns. By no coincidence, that comic story contains a scene in which Batman rides a horse off into battle, which has become an iconic image among Batfans. The movie scene would have merely been a reflection of the revolutionary influences—divorcing Batman from the comical stereotype from the 1960s Adam West TV series—that helped form the film. Additionally, one draft even used this sequence as the vehicle to set up the origin story of Robin.
The saga of Young and Batman continued in the public sphere—sans horses. When the sequel that would eventually become 1992's Batman Returns cast Michelle Pfeiffer for the key role of Selina Kyle/Catwoman, Young felt slighted for not having been given the chance to audition for the part. It's an understandable feeling, given the way she was unceremoniously recast from the original. Consequently, Young started what became a very public campaign to be cast as Catwoman. This culminated in a 1991 appearance on The Joan Rivers Show (seen just below) in which Young showed up in a homemade Catwoman getup and—through a sultry performance of the character evocative of Eartha Kitt—took Burton to task on his apparent reluctance to even meet with Young in any capacity.
"Even if he wasn't even going to use me in the sequel, I can't understand why he wouldn't at least see me. He wouldn't see me," exclaimed Young—at this point out of character—to the late talk show host, who then brought up the rumor that Burton thought the Walkie-talkie Young liked to carry during those days was a gun. "How would I know what he thinks," Young responded. "He wouldn't see me, he ducked me, he ran. And then later on, my agent told me that he was going to hire a bodyguard because I was like a dangerous lethal person."
Batman's nixed horseback scenes ultimately proved to be a major undoing for Sean Young. Her status as a rising headliner evaporated after that tumble. She would subsequently suffer from, as she now alleges, being blackballed by prominent Hollywood figures such as Steven Spielberg, Warren Beatty and, yes, Burton. In fact her most prominent post-80s movie was her role in 1994's Ace Ventura: Pet Detective, which Young says she only landed because star Jim Carrey advocated on her behalf in spite of studio Morgan Creek. Yet, Young has always worked steadily, and was recently seen in director Tracy Wren's 2020 drama, Rain Beau's End, with multiple movies still on her backlog. So, don't discount the prospect of a potential Sean Young-issance just yet.