Features
Ted Lasso Season 2: Dani Rojas Discovers Football Is Death Too
Cristo Fernández discusses Dani Rojas's canine catastrophe in the Ted Lasso season 2 premiere.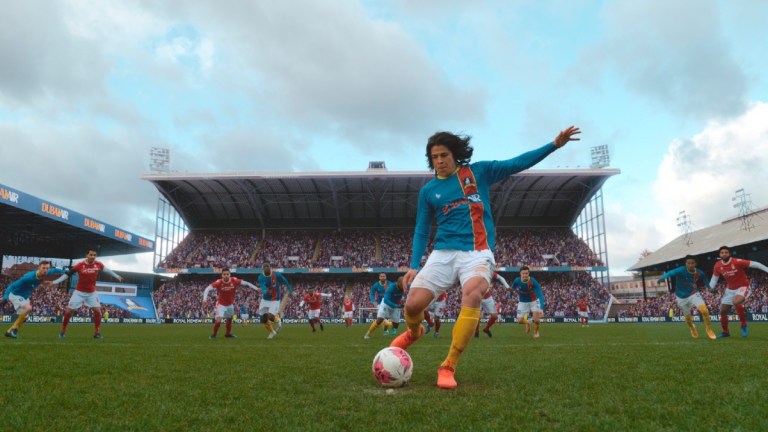 This article contains spoilers for Ted Lasso season 2 episode 1.
In its first season, Apple TV+ comedy Ted Lasso was regarded as an optimistic breath of fresh air.
This tale of a kind American football coach in London politely asked us all to be curious, not judgmental. And in the process, it created a legion of fans excited for more of Ted Lasso's (Jason Sudeikis) cheerful disposition in season 2. So how does season 2, which premiered this Friday, July 23 on Apple TV+, fulfill those good vibes? Why, by killing a dog, of course!
As you probably know by now, the very first scene of Ted Lasso season 2 catches up with AFC Richmond eight games into their first season in second tier English soccer league, the Championship. Things have been frustrating thus far for the Greyhounds, as they've rattled off seven consecutive ties, one short of the league record of eight (which is naturally a tie between Southampton and Swansea). 
Get a free week of Apple TV+, on Den of Geek!
Thankfully Richmond has its best striker, Dani Rojas (Cristo Fernández) prepared to take a penalty kick and seal away the side's first win. Unfortunately, that's when "Earl Greyhound", precocious pup and beloved team mascot, gets distracted by a pigeon and throws himself in the path of Dani's well struck ball, killing both himself at Richmond's chances at avoiding draw number eight. CUE OPENING CREDITS.
Why would a series that prides itself on optimism open its second batch of episodes with a grim instance of canicide? According to dog-killer innocent Dani Rojas actor Fernández, it's all part of a larger storytelling plan.
"I still laugh, and I don't know if I should. It's very dark," Fernández says. "When I read the script, I was very excited to be able to show another side of Dani and to play that and show that he can be vulnerable."
Though "Ted Lasso as the kindest show ever" has become a prevailing pop culture meme with good reason, it's important to remember that no story can exist without conflict. As things pick up in season 2, there is certainly no shortage of conflict surrounding AFC Richmond. Being relegated to the Championship is not a good thing. Nor is not securing a win in eight tries. An optimistic outlook on life only works when life is imperfect. And things are pretty imperfect for Coach Ted and the boys in the moment.
While Dani Rojas was perhaps the series most optimistic and unshakeable character in season 1 ("Football is life!"), the opening moments of season 2 break him away from that caricature. Dani takes the loss of Earl Greyhound hard, first trying to wash away his sins fully clothed in the shower. When that proves fruitless, his dreams are tormented by the bloody killing of a lovable cartoon dog goalkeeper. Ultimately he develops a case of the dreaded "yips," becoming incapable of sinking a soccer ball into the net where it belongs.
When even the mighty Coach Lasso is unable to shake Dani out of his funk, General Manager Higgins (Jeremy Swift) comes through with the wise suggestion of having a sports psychologist, Dr. Sharon (played by Sarah Niles), visit. And thus, one of the first big themes of Ted Lasso season 2 is born. Sometimes you can't get yourself out of a mental health crisis solely through kind words and an aphorism or anecdote from a Kansan football coach. Sometimes it takes an actual professional.
"For me, it's just genius that they brought up all these mental health issues that it's important to talk about," Fernández says. Sometimes it's okay not to be okay. Sometimes it's good to talk about it. And I think the world of sports is the best scenario to show that."
Spending some time with Dr. Sharon (who appears to be fluent in Dani's native Spanish tongue) does the trick. Dani Rojas emerges rested, recharged, and ready to score goals again. What did the good doctor tell Dani that helped so much, Ted asks?
"Dr. Sharon helped me remember that even though football is life, football is also death. And that football is football too. But mostly that football is life!"
That right there is a mission statement for Ted Lasso season 2 if I've ever heard one. Dani Rojas's mantra of "Football is life" had a sweet, sincere, and almost child-like context in season 1. Now it appears that it's more complicated than that. Football is life, which means it includes dead dogs and unwanted ties as well.
Ted Lasso season 2 premieres new episodes Fridays on Apple TV+.