News
Avatar 2 Release Date, Cast, Production and Everything to Know
We have the latest news regarding James Cameron's Avatar 2, including some breathtaking production art of the Pandora Sea.
James Cameron is currently at work on four — yes, four — sequels to Avatar, with the first one scheduled for release in 2021. While that still may seem far away, Cameron and company started rolling cameras for Avatar 2 back on September 25, 2017.
Here's everything you need to know about the Avatar sequel effort!
Avatar 2 News
James Cameron previously teased that water would play a big role in Avatar 2 and the sequels going forward, and he wasn't kidding. The new concept art that Cameron and Disney have released looks like a cross between every Bahamas tourist video you've ever seen and, well, the Avatar ride at Disney World. Combined it promises a whole new watery world for Cameron to explore, plus diverse new habitats. The final image even includes a volcano.
If you are a fan of Cameron's pre-Avatar films, including The Abyss and Titanic, then you know if you give this man a watery setting that he will come back with something massive. Just consider that one image shows Jake Sully riding what is our first Pandorian sea creature. And right now, we're only looking at the surface…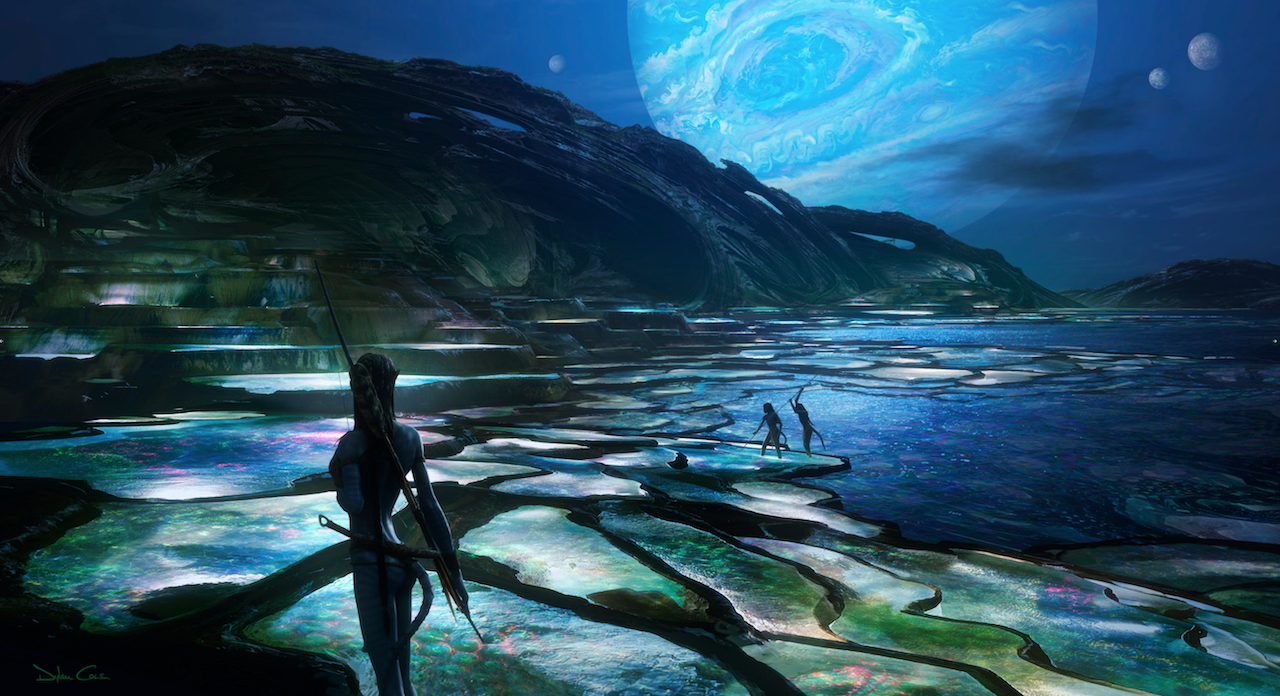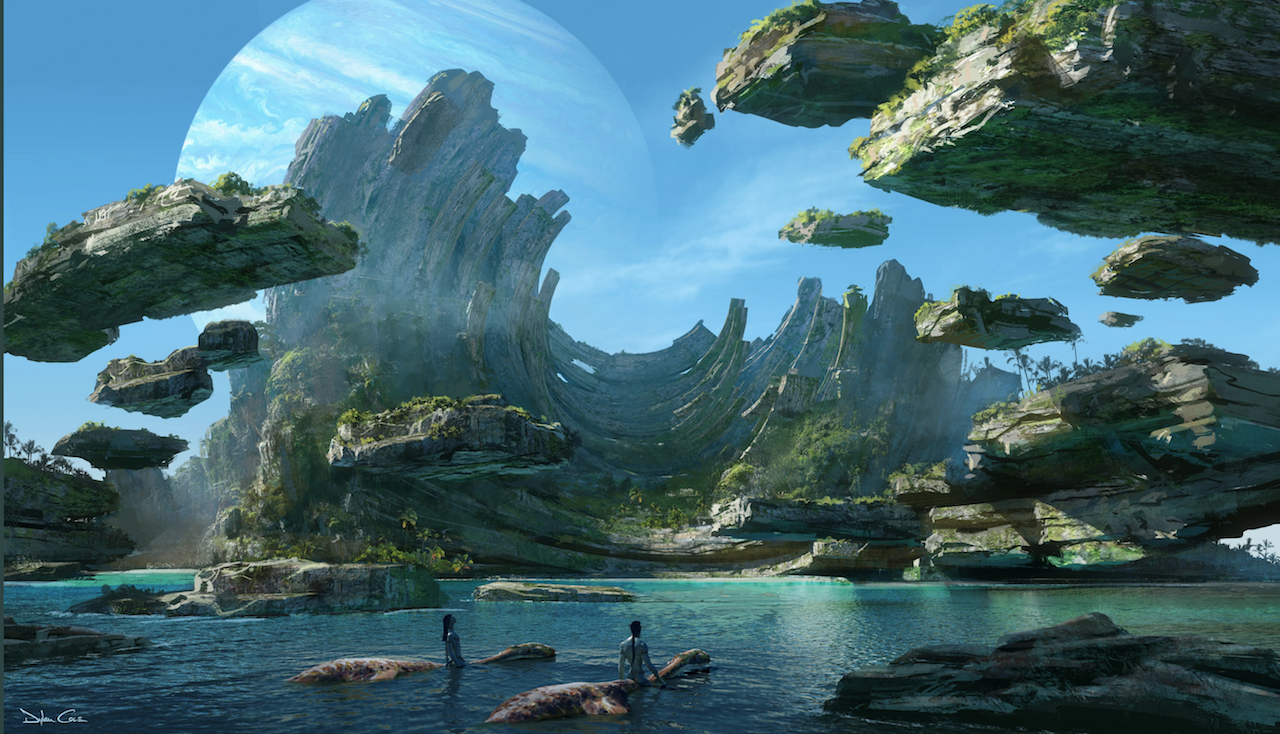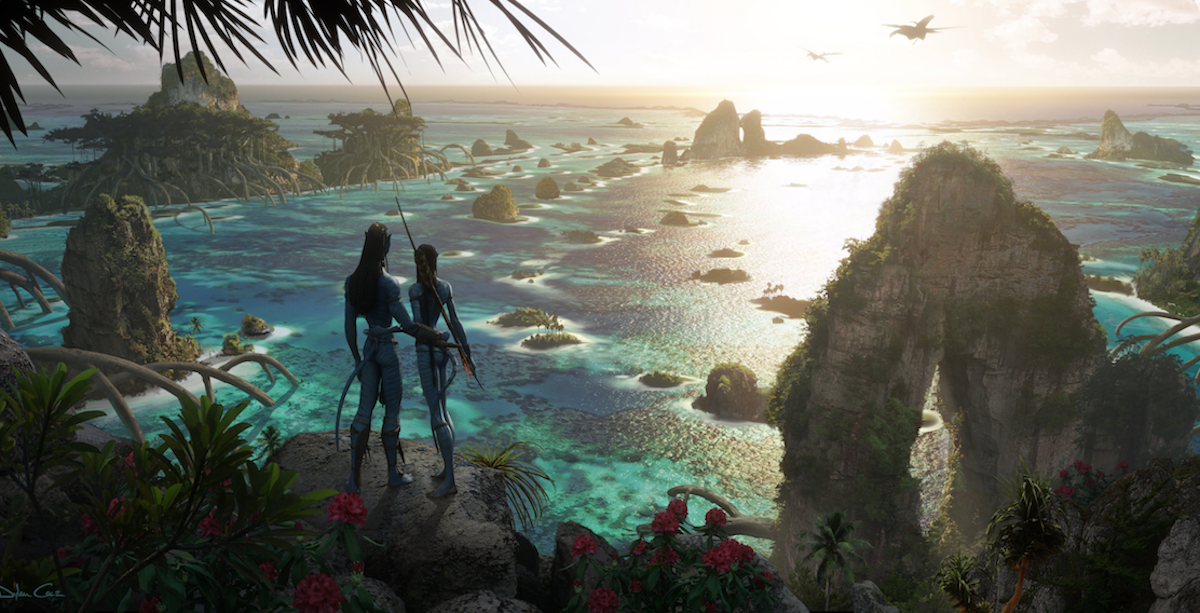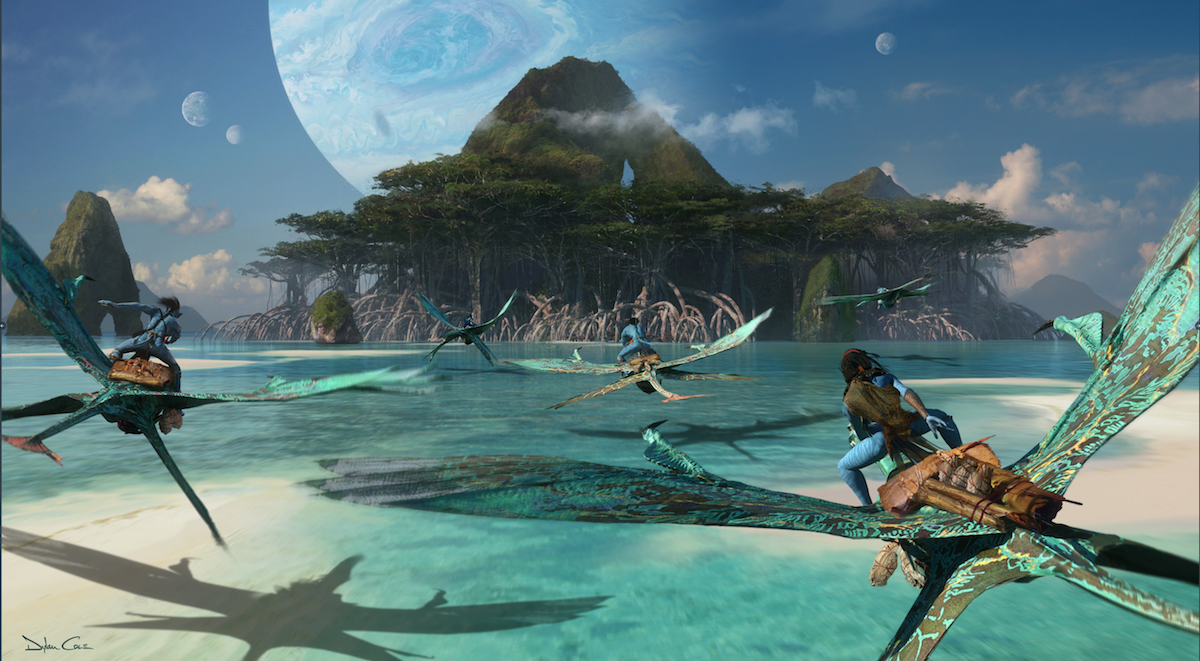 Avatar 2 Release Date
Avatar 2 was expected to arrive on December 18, 2020. But now that Disney is in control of the franchise, they have announced a new release date for the sequel and all the other planned Avatar sequels. Avatar 2 arrives on December 17, 2021. Avatar 3, 4, and 5 are slated to premiere in 2023, 2025, and 2027 respectively. Here is the full release schedule.
Avatar 2 Cast
Sam Worthington and Zoe Saldana, who starred together in the original movie, respectively as Jake Sully and Neytiri, return for all four of the sequels. Saldana officially wrapped her reprisal for both Avatar 2 and Avatar 3 back in June 2018. That tidbit came from James Cameron himself, who made the reveal in a video presentation (via Deadline) that played for an audience at this week's CineEurope Film Expo in Barcelona. Interestingly, Cameron, ever the hype man, says that the Avatar sequels are "beyond even our expectations," also providing what could be perceived as a plot tease.
Cameron, standing in front of a giant water tank (he's a big fan of those,) divulges that water "plays a huge part" in the Avatar sequels, promising a shift in setting to "never before seen parts of Pandora."
In what could be considered an additional hint, he muses about the fact that cast member Kate Winslet can hold her breath underwater for seven minutes. – While there's a Titanic door joke there somewhere, this does give us a slight peek into where Winslet's character, Ronal, will spend time.
Michelle Yeoh was officially announced for a role in the Avatar sequels as scientist Dr. Karina Mogue. Already a Hong Kong action icon when she co-starred with Pierce Brosnan in 1997 James Bond effort Tomorrow Never Dies, Yeoh gained international acclaim for her sword-swinging, tree-hopping role in 2000's Oscars-reaping Crouching Tiger, Hidden Dragon. She's recently experienced some serious career momentum, notably from her – soon to be spun-off – role as evil(ish) alt-universe doppelganger Philippa Georgiou on CBS All Access's Star Trek: Discovery and the recent smash comedy film, Crazy Rich Asians.
Vin Diesel, international megastar of the Fast & Furious film franchise and the upcoming Valiant comics film adaptation, Bloodshot, is apparently set for a mystery role. (You can read more about the Vin Diesel casting here.)
Kate Winslet joins the cast of Avatar 2, for an unspecified role, reuniting with the actress with her Titanic director, James Cameron. At this point, it is unknown how far down the line of the Avatar franchise sequels will appear.
Stephen Lang, who played the bellicose Colonel Miles Quaritch in the first Avatar, is said to have also signed on as a recurring antagonist in the fantasy franchise. Pretty impressive since he died the last time around.
Sigourney Weaver appears to be returning in the sequels, despite her character very much kicking the bucket in the first film. That seems to be a recurring issue on Pandora…
Jemaine Clement will play Dr. Garvin, a marine biologist on Pandora. This is a major tentpole notch for the famed kiwi comedian, known as one-half of Flight of the Conchords, and an actor in films such as What We Do in the Shadows.
Edie Falco will play General Ardmore, the Commander in charge of the RDA's interests, as an official tweet recently revealed.
Giovanni Ribisi will reprise his original Avatar role as the recalcitrant bureaucrat, Parker Selfridge for all four sequels. Selfridge was the head administrator of the RDA (Resources Development Administration), charged with mining unobtanium on the lush, Na'vi-inhabiting planet of Pandora. While he showed somewhat of a conscience after the ensuing violence caused by endeavor, his role in attempted genocide culminated with his forced exile from the planet after the Na'vi victory. With Selfridge's unhinged military counterpart Miles Quartich (Stephen Lang) set to return (despite being presumed dead,) it will be interesting to see if Avatar 2 shows the embattled administrator turning over a new leaf.
Oona Chaplin joins the quartet of Avatar sequels to play Varang, a new central character set for all four sequels, who is described as "strong and vibrant." The former Game of Thrones actress, Chaplin, was the second new face in the franchise, after the May 2017 acquisition of Fear the Walking Dead star Cliff Curtis (in a bit of news that proved portentous for the AMC zombie spinoff series).
Cliff Curtis joined the cast of the upcoming sequels to Avatar. He will play Tonowari, a leader of the reef people clan known as the Metkayina. This lines up with director James Cameron saying many times that a great deal of the sequels would take place in and around the planet Pandora's oceans.
Brendan Cowell will play Mick Scoresby, described as "captain of a large-scale marine hunting vessel on Pandora."
Matt Gerald reprises his original Avatar role as Corporal Lyle Wainfleet. The character was one of the uniformed mercenaries under the command of Colonel Miles Quartich (Stephen Lang). Interestingly, like the confirmed-to-return Quartich, Wainfleet was presumed to have been killed in the first film's culminating skirmish on Pandora. Thus, with a pattern of presumed resurrections established, there may be some plot magic at play in Avatar 2.
The sequels will also have many fresh faces amongst its cast. Meet the new generation…
What are you looking at here? No, it's not the cast of the latest Disney Channel original TV series.
From left to right: Jack Champion (Javier "Spider" Socorro), Trinity Bliss (Tuktirey of the Sully Family), Bailey Bass (Tsireya of the Metkayina Clan), Jamie Flatters (Neteyam of the Sully Family), Britain Dalton (Lo'ak of the Sully Family), Filip Geljo (Aonung of the Metkayina Clan), and Duane Evans Jr (Rotxo of the Metkayina Clan).
If that was a bit confusing, story-wise, here's what this photo tells us. The Sullys will have three children: Neteyam, Lo'ak, and Tuktirey.
The following kids hail from the Metkayina Clan: Tsireya ("she is a graceful and strong free-diver, considered "the young Neytiri of the ocean"); Aonung (a young male hunter and free-diver); and Rotxo (another young male hunter and free-diver).
Then we have "Former Hell's Gate Adolescent," aka Javier "Spider" Socorro. He is described as "a human teenager, born at Hell's Gate but prefers his time in the Pandoran rainforest more than the asphalt of Hell's Gate." Basically, Jake Sully: The Next Generation.
The young stars recently visited the Pandora – The World of Avatar attraction at Disney's Animal Kingdom to get inspired for their blue-screen-centric roles. Feel free to check out the video of that visit.
Avatar 2 Production
At Barcelona's 2017 CineEurope expo, Jon Landau of Lightstorm Entertainment (the production company co-founded by James Cameron,) made the official announcement confirming that the four Avatar sequel films, revealing its September 25, 2017 production launch. Landau also touched upon the oft-discussed decade-long delay for the first Avatar sequel, explaining the difficulties in crafting a solid foundation for the (four) scripts. With that, he also explained the focus of the sequels, explaining how each one will carry a unique tone. As Landau states (via Deadline,):
"At the heart of any movie are the characters. One of the strengths of great scripts are always the universal and relatable themes… There's no more relatable theme than family. At the center of each of our four movies will be the Sully family. Each sequel will play as a stand-alone movie. Each movie's story will come to its own conclusion… However, when looked at as a whole, the journey across all four movies will create an even larger connected epic saga for audiences around the world."
While only one Avatar sequel would have been a tall order, four stands as a monumentally unprecedented cinematic endeavor. While the odds are not exactly in James Cameron's favor, it would be ill-advised to write him off.
Avatar 2 Story
Director James Cameron has remained fairly tight-lipped about his plans for the Avatar franchise, but has said that "the storyline in the sequels really follows Jake and Neytiri and their children. It's more of a family saga about the struggle with the humans." He has also said he wants to introduce "whole new worlds, habitats, and cultures." Additionally, a returning Sigourney Weaver had some words for Variety about the Avatarsequel pages she's read:
"In my opinion, the three scripts I've read so far are many times more amazing than the first one in terms of their scope. He did a lot of the heavy lifting in the first movie, establishing the family and the relationships and the world, and now he really gets to play."
Avatar 2 Crew
James Cameron hasn't been shy about his plans for the Avatar universe, and has confirmed he'll be back on board as director for the four (four!) planned sequels to his 2009 box office hit. The first film's script was credited to Cameron and Cameron alone, but he is said to have brought in a team of heavy hitters to work on the sequels' screenplays, including Josh Friedman (Spielberg's War Of The Worlds, Terminator: The Sarah Connor Chronicles), Rick Jaffa and Amanda Silver (Rise Of The Planet Of The Apes), and Shane Salerno (Armageddon).
Avatar 2 Technology
Never shy about pushing technical boundaries on his films, James Cameron has seemingly set himself a rather tough goal where Avatar 2 is confirmed: he wants to seize back the initiative on 3D, and potentially remove the need for special glasses.Picking up a gong at the Society Of Motion Picture And Television Engineers, Cameron spoke briefly about the state of his many Avatar sequels and what his technical wishlist was."I'm going to push," he said. "Not only for better tools, workflow, high dynamic range and high frame rates – the things we are working toward. I'm still very bullish on 3D, but we need brighter projection, and ultimately I think it can happen – with no glasses. We'll get there."