Features
Stranger Things: Best Monster TV Shows & Movies to Watch Next
While we wait for Stranger Things Season 5, here are the Monster films and series to watch next, from Attack the Block to Sweet Home and more.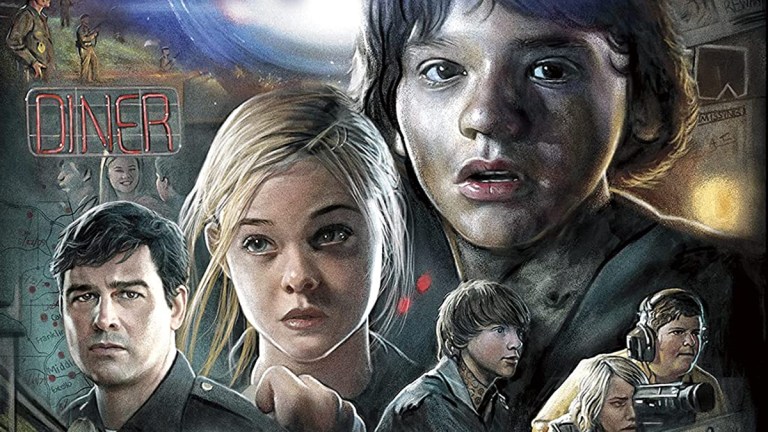 Gloop. Guts. Gigantic gore creatures from alternate dimensions having tentacles axed off by plucky schoolkids who should by rights be doing homework/a paper route instead of saving the world, but honestly, who else is going to do it? Not the government, not the military and definitely not the shady experimental lab on the edge of town that's the reason all the local rats now glow in the dark…
That's the kind of thing a show like Stranger Things offers, and now that season four is finished and Vecna is safely sealed up in psychic-proof Tupperware and buried under Mount Rushmore (a guess due to the season four finale not being available to preview at the time of writing, but we're pretty confident on it), here are a frankly ludicrous amount of recommendations for films and TV shows to scratch your Stranger Things itch (assuming that you've already seen the show's many Steven Spielberg/John Carpenter/Wes Craven inspirations). Aliens. Monsters. High school kids getting covered in squelch, new and old. Happy hunting!
Super 8
Stream on: HBO Max (US); various to buy/rent (UK)
Before Stranger Things, there was Super 8, the first 2010s love letter to Spielbergian '80s movies. J.J. Abrams mimics everything from Jaws' everyman sheriff (Kyle Chandler) to the group of E.T.-esque boys getting on their bikes to deal with the twin threats of aliens and hostile government agencies. The movie even 'homages' Spielberg's penchant for lens flare to such a degree that it starts looking derivative. Still, Abrams makes a sweet coming-of-age story about a young boy named Joe (Joel Courtney) who, like Abrams and Spielberg himself, copes with his insecurities by making Super 8 films in his backyard—especially since his father (the sheriff) barely makes time for him after the death of the boy's mother.
It's sweet stuff, even if Stranger Things did it better a few years later, and it also provided a breakout role for 13-year-old Elle Fanning as the too-cool-for-Joe girl next door. She doesn't have superpowers but makes an impression as the iconoclast who'll lead these nerds into an extraterrestrial adventure. David Crow
The Fades
Stream on: BBC iPlayer (UK)
Yes, Stranger Things' ensemble cast has charm to spare, but does it also have Daniel Get Out Kaluuya, Tom Lucifer Ellis, Natalie Dormer and Joe Game of Thrones Dempsie, Iain Agents of Shield de Caestecker, to name just a few? It does not. Nor does Stranger Things have scripts by extraordinary screenwriter Jack His Dark Materials Thorne or a brilliant speech about the Hertfordshire town of Stevenage. Of course not, Stranger Things is as American than apple pie and supernatural fantasy series The Fades is unimprovably British, right down to the excruciating fact that it was cancelled after season one and that season only contained six episodes. Nonetheless, this 2011 horror about a high school boy initiated into the celestial secret that the dead are trapped on earth and extremely pissed off about it is well worth watching for its characters, imagination, geeky nods, wit and heart. Louisa Mellor
Sweet Home
Stream on: Netflix
The apocalypse doesn't only come to Hawkins, Indiana. In Netflix's Sweet Home, adapted from the massively popular webtoon by Kim Carnby and Hwang Young-chan, the end of the world also threatens the South Korean city that's home to Cha Hyun-soo. His move into his first apartment coincides with the arrival of a tag team of fantasy monsters dead-set on destroying humanity. With his building in quarantine and monstrous infections flying through his neighbours, Cha Hyun-soo has to work out who to trust and how to survive. This 10-episode virus thriller/survival horror was released on Netflix in the wake of massive Korean hits Squid Game and Hellbound (see below) and has already been renewed for a further two seasons. Expect gore, CGI monsters, some Stranger Things-ish creature design, and gruesome K-horror imagination. LM
The Faculty
Stream on: HBO Max (US); various to buy/rent (UK)
Robert Rodriguez's fourth feature, the 1998 sci-fi horror film The Faculty, is an entertaining homage to classic man vs. monster movies from the 1950s such as Invasion of the Body Snatchers and The Thing. In fact, 'Body Snatchers meets high school' would be a perfect tagline for this underrated teen flick starring an ensemble cast that includes Josh Hartnett, Jordana Brewster, Clea DuVall, Famke Janssen, Robert Patrick, Usher, Jon Stewart, and Elijah Wood. It's the classic setup: when alien parasites begin infecting teachers at Herrington High School and taking over their bodies, an unlikely team-up between popular kids, nerds, and misfits are all that stand between these grotesque invaders and the rest of their Ohio town. Come for the teen angst, stay for the hilariously gruesome gags sprinkled throughout. John Saavedra
Buffy the Vampire Slayer
Stream on: Prime Video/Hulu (US); Disney+ (UK)
Obviously Buffy, of course Buffy. If it's high schoolers battling demons, quipping and falling in love you want then there's really nowhere else to look than the WB/UPN series which ran for seven seasons between 1997-2003. The story of the one girl in all the world with the strength to fight the forces of evil has made headlines in recent years for the unacceptable behind-the-scenes behaviour of creator/showrunner Joss Whedon. That needed dragging out into the light and has understandably tainted the show by association, yet the work remains, and the work (including that of plenty of contributors other than Whedon) remains largely, great. Viewers will have their own mileage on how dated/uncomfortable it feels to watch now but it's still Buffy, a collection of great fantasy horror stories based on the eternal truism that high school can be hell. LM
IT: Chapters I & II
Stream on: HBO Max, Netflix (US); Netflix & various to buy/rent (UK)
Stephen King's 1986 horror tome may have once been considered unfilmable for the big screen, but director Andy Muschietti proved otherwise with his two-part adaptation that delivers not only a heartfelt coming-of-age story but also plenty of scares. The first film is set in 1989 and follows a group of kids who call themselves the Losers Club as they face the flesh-eating supernatural being that haunts the sewers of their hometown. It's in this opening chapter that Muschietti hooks its audience with a teen cast as charming and lovable as the one assembled by the Duffer Brothers for Stranger Things.
While the sequel brings in way more star power, including Bill Hader, Jessica Chastain, and James McAvoy, it's the initial group of young actors that prove to be the heart of this story, and it's sad to see them grow up into disillusioned adults in Chapter Two. That said, when it comes to the titular monster, Bill Skarsgård is consistently terrifying as wonderfully mean-spirited Pennywise the Dancing Clown. Even Vecna wouldn't dare mess with this guy. JS
Hellbound
Stream on: Netflix
Squid Game's enormous success around the world converted millions of non-Korean speakers to K-drama, paving the way for the likes of Hellbound. Set in South Korea in the near future, Hellbound is about a spate of otherworldly visitations which condemn people to hell at a specific time in the future. When that deadline arrives, supernatural monsters manifest to violently maul the person in question to death in acts some see as angelic, others see as demonic. The six episodes (a season two renewal is yet to be confirmed) take in existential questions of faith, cults, the afterlife, sin and punishment, against an ultra-violent backdrop (honestly, not one to watch for those with weak stomachs). If exploding Demogorgons and grotesque creatures are what drew you to Stranger Things, then this horror fantasy series from the director of Train to Busan will more than serve that need. LM
Attack the Block
Stream on: Starz (US); Netflix (UK)
After a meteor crashes into their neighborhood, all hell breaks loose for a South London street gang who suddenly find themselves right in the middle of an alien invasion. Now, these troublemakers have to step up to defend their apartment complex and neighbors from killer extra-terrestrials in this street-level sci-fi action film written and directed by Joe Cornish. And not only does this film scratch many of the same boxes as Stranger Things – including plenty of scares, monsters, gruesome deaths – it also features John Boyega and Jodie Whittaker before they were in Star Wars and Doctor Who, respectively. This is another perfect mix of sci-fi and horror for fans of the Netflix series. JS
Lovecraft Country
Stream on: HBO Max (US); Sky & NOW (UK)
The 1980s nostalgia of Stranger Things and the 1950s-set horror of Lovecraft Country are clearly two different prospects with very different contexts, so don't expect much crossover apart from their characters each battling monsters in retro America. Misha Green's 10-episode HBO series follows two young Black Americans (Jurnee Smollett-Bell and Jonathan Majors) on a perilous road trip across the segregated US in the 1950s search of a missing man. Along the way, they face racist terror, and fantasy horror creatures inspired by the imagination of H.P. Lovecraft. It's a visionary, political exploration of the systemic racism underpinning American society through the medium of an entertaining monster tale that lands on real historical touchstones. Unfortunately for fans, season two is not happening. Read more about the show's creature designs here. LM
Are You Afraid of the Dark?
Stream on: Paramount+ & Nickhits (US); Buy on Amazon Prime Video (UK)
We'll soon be three seasons deep on the very decent Are You Afraid of the Dark? revival, which first brought back the spooky campfire tale anthology in 2019 (see trailer above), but for a Stranger Things-style nostalgia hit, you want the 1990s original. That's where Zeebo the Clown and the Ghastly Grinner are lurking, ready to bring back your childhood scares and whimpers. The Canadian kids' horror show ran for five seasons between 1992 and 1996, plus two additional runs in 1999 and 2000 before the recent reboot. The framing device of the Midnight Society – a gang of school kids who gather together to tell each other scary stories we then see play out in live-action (much like the new Mike Flanagan anthology horror) – means it skews younger than Stranger Things, yet still hits many of the same marks. Kudos too, for making nightmare-causing monsters without the Netflix show's SFX tech and extensive budget. LM
Fright Night
Stream on: Pluto TV (US); various to rent/buy (UK)
Now, technically speaking, either vintage of Fright Night, the 1985 original or the surprisingly fresh spin in the 2011 remake, can scratch the itch of seeing younguns get the better of monsters. However, for a follow up on that Stranger Things thrill, we'd suggest the '85 version because it has all those Gen-X staples that were still kitsch even then, but obliviously so in the case of this movie.
Take for instance the reason young Charley Brewster (William Ragsdale) begins to suspect his neighbor across the street is a vampire: Charley watches too many late night creature features hosted at the local television station by an aged "star" of Hammer-esque horror from the 1960s, Peter Vincent (Roddy McDowall channeling his inner-Peter Cushing). Together, Charley, a skeptical but desperate Peter, and two other teens who'll get a closer look at the fangs of Chris Sarandon than they would like, get trapped in an old school vampire movie with the trappings of '50s horror—but in a world of neon lights and synth power chords. Sounds familiar. DC
Lost in Space
Stream on: Netflix
The underwhelming 1998 movie reboot of this classic 1960s adventure TV series set low expectations for the 2018 Netflix revival. Too low, as it turned out, because the new Lost in Space was sleek, fun, family entertainment with cool technology, a big VFX budget and a solid cast. It has all the kids vs aliens joy of a series like Stranger Things, with highlights among both the child and adult cast (hello, Molly Parker!). You know the story (and if you didn't, the title gets you at least halfway there): the Robinson family are marooned on a mysterious planet after aliens attack their colonist spaceship. There, they deal with other lost humans, alien robots, their own issues as a family, and well, that would be telling. It's bright, fun, and achieves the right balance between the camp of the original TV show and the grittiness of its post-apocalyptic setting. Three seasons are available to stream. LM
Locke & Key
Stream on: Netflix
Slotting in neatly alongside Chilling Adventures of Sabrina and Riverdale as a smart YA-skewing fantasy-horror comic adaptation, Locke & Key is definitely one for Stranger Things fans. Based on Joe Hill and Gabriel Rodríguez' comic book series, this mix of magical fantasy and high school shenanigans is terrific-looking and makes the perfect entertaining binge. Lost's Carlton Cuse and The Haunting of Hill House's Meredith Averill run the show, which tells the story of the Locke family's return to their ancestral home – Keyhouse (yes, lock and… you get it. Everybody gets it. Your dog gets it.) which is filled with magical hidden keys for the Locke kids to uncover and learn how to use. Don't be fooled into thinking this is lightweight and fluffy, despite the premise, like Sabrina before it, Locke & Key is not afraid to go dark. Seasons one and two are available to stream now, so you have time to catch up before the third and final arrives in August 2022. LM
The Monster Squad
Stream on: Starz (US); various to buy/rent (UK)
It's ironic that Universal Pictures has struggled so mightily with revamping their classic movie monsters for a modern audience when TriStar Pictures did it—at least when the '80s were considered modern. This romp is from the minds of screenwriter Shane Black (one year after he penned Lethal Weapon while fresh out of school) and his co-writer/director Fred Dekker (Night of the Creeps). Together they riff on the then popular Amblin conceit of young boys going on an adventure, only these kids are bigger smartasses in their Gothic glow-up.
What do you do as a young boy when it turns out Dracula, Frankenstein's Monster, the Wolfman, the Mummy, and even Gil-Man from Creature from the Black Lagoon move into your suburban hometown? You get your homies together and shoot the Wolfman in the nards! DC
Stranger Things Season 4 is out now on Netflix worldwide.