Features
From All of Us Are Dead to Itaewon Class—Best K-Dramas Based on Webtoons
Here are some of the many popular K-dramas that began narrative life on platforms like Naver Webtoon and Kakao Webtoon.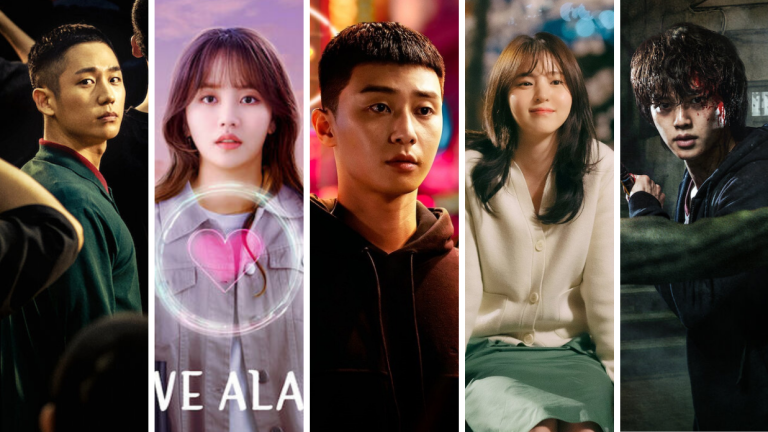 If you're into K-dramas, then you've probably already watched at least one series that was once a webtoon. Web-based comics that are told in a continuous strip, webtoons are a uniquely Korean storytelling format that developed alongside the internet via platforms like Daum Webtoon (now Kakao Webtoon) and Naver Webtoon (known simply as Webtoon). As K-culture continues to expand globally, webtoons will certainly be a major element of that ever-cresting Hallyu. In fact, the trends has already started: According to data from the Korea Creative Contents Agency (via The Korea Herald), the overall value of the domestic webtoon market jumped from 52.9 billion won ($43.5 million) in 2010 to over 880 billion won in 2019 Webtoons, with their scroll-driven, platform-friendly nature have grown in popularity even more during the pandemic. According to a 2020 KOCCA report (via Korea JoongAng Daily), 60.5 percent of webtoon companies said their local sales increased in 2020, with 71.9 percent noting an increase in overseas sales.
Let's look at some of the globally popular (or perhaps soon-to-be globally popular) K-dramas that you may or may not know are based on webtoons.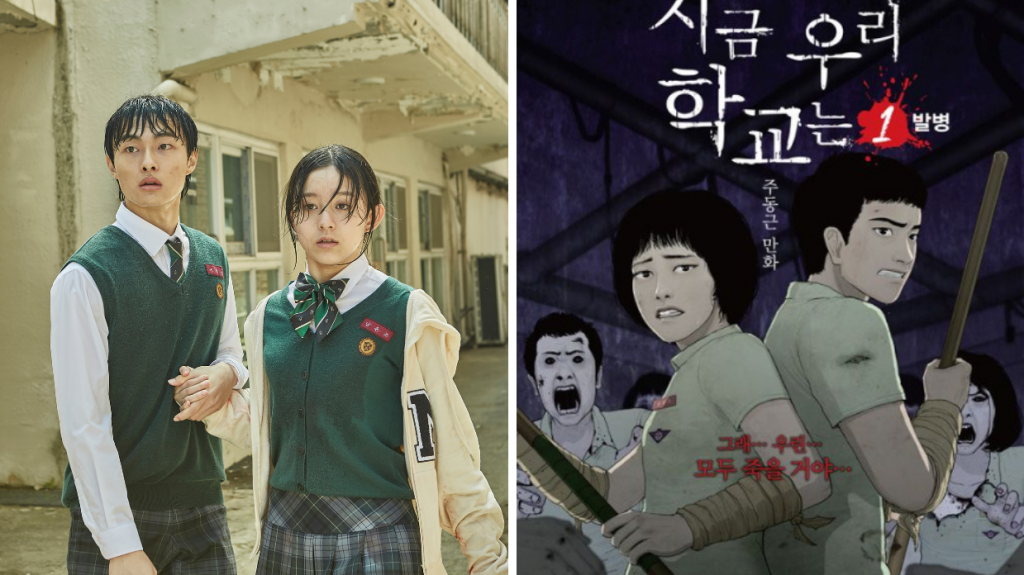 All of Us Are Dead
Webtoon: Naver
Series: Netflix
High school can be hell, but this becomes especially true at Hyosan High when it becomes ground zero for a zombie outbreak leaving kids to fight for their lives while trapped inside the building. This is the basic premise for Now At Our School, the webtoon that would become Netflix's new zombie K-drama, All of Us Are Dead. The webtoon was created by Joo Dong-geun and released in 131 chapters from 2009 to 2011. The story follows the same basic premise, though the art style doesn't allow for the kind of violence and horror director Lee Jae-kyoo depicts in the 12-part TV series. If you've watched the Netflix series and are curious about the webtoon source material, there is an English-language translation available on WEBTOON.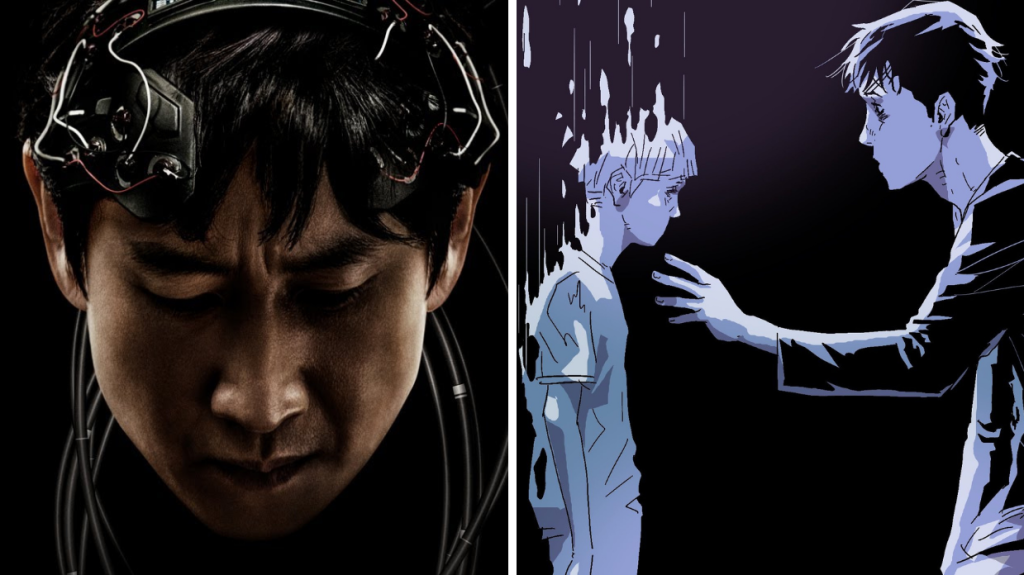 Dr. Brain
Webtoon: Kakao
Series: AppleTV+
Given webtoons prominence in Korean culture, it's perhaps fitting that AppleTV's first Korean-language series, Dr. Brain, started out as one. Dr. Brain premiered in November 2021 as part of the streamer's official launch in the East Asian country. The series is based on a popular Daum webtoon by Hongjacga that wrapped up its story back in 2016. Dr. Brain stars Parasite's Lee Sun-kyun in the title role as a brain scientist trying to solve the mysterious death of his family by accessing the memories and consciousness of… the dead. Behind the camera, A Tale of Two Sisters director Kim Jee-woon is acting as writer, director, and executive producer.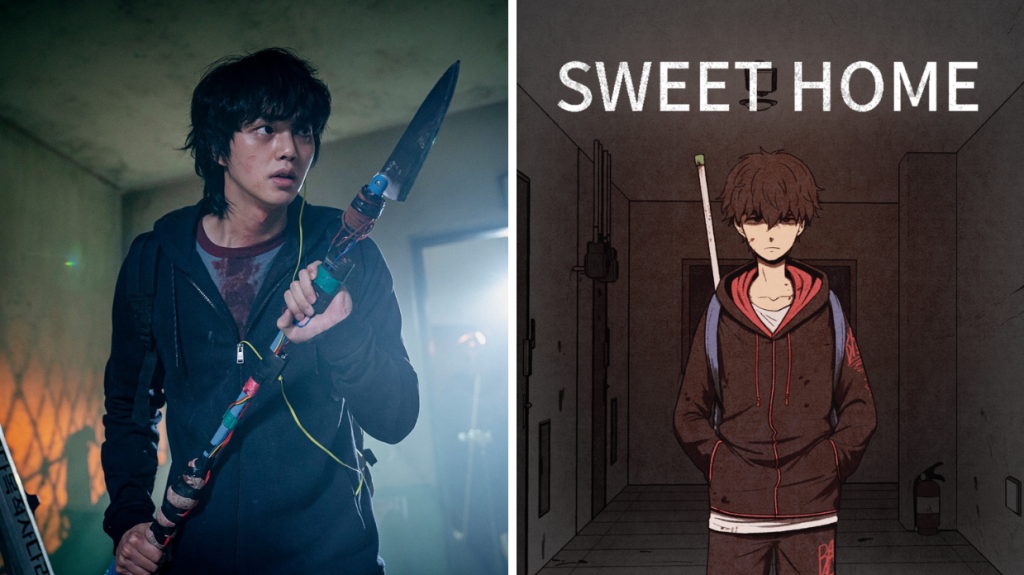 Sweet Home
Webtoon: Naver
Series: Netflix
Before Squid Game dominated the Netflix U.S. Top Ten, Sweet Home, you know, also made the list. The apocalyptic horror show about a high schooler who moves into an apartment building following the deaths of his parents, only to discover it is the home of a species of monsters set on world domination, was the first Korean series to rank in the Netflix U.S. Top Ten. The webtoon source material was written by Kim Carnby and illustrated by Hwang Young-chan, and it ran for 140 chapters (plus one prologue) from 2017 to 2020. Unlike some of the entries on this list, the Sweet Home webtoon has an English translation available for readers.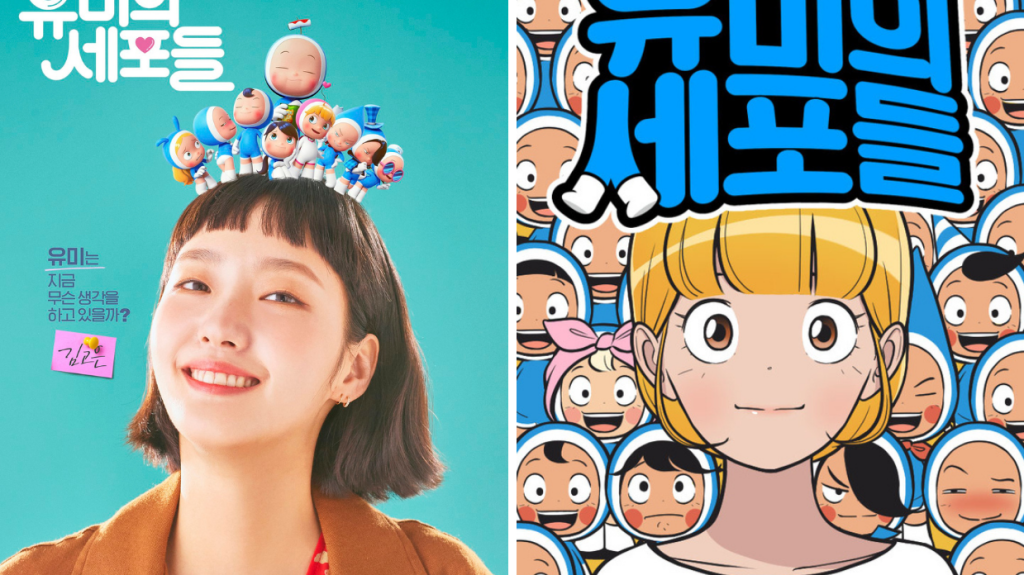 Yumi's Cells
Webtoon: Naver
Series: Viki
Yumi's Cells, a slice-of-life rom-com about an office worker named Yumi (Goblin's Kim Go Eun) that tells its ordinary story from the perspective of Yumi's… wait for it… cells, is a K-drama outlier in many ways. No, I am not talking about that radical premise—which has more in common with children's programming like Magic School Bus or Inside Out than a traditional western rom-com (this is not a criticism, quite the opposite)—but rather the fact that the K-drama went into production as a multi-season drama, which is relatively uncommon within Korea's one-and-done, single-season drama model.
Perhaps the decision was spurred by the popularity of the series' webtoon source material? When the Naver-based webtoon, written by Lee Dong-geun, wrapped up its 512-episode run last year, it has garnered 3.2 billion views and 5 million comments, marking it as one of the platform's most popular series of all time. The drama just wrapped up its first season on a bit of a cliffhanger, and it will be interesting to see where it goes with its multi-season story, especially given the length and richness of its beloved source material.
D.P.
Webtoon: Lezhin (originally); Naver (now)
Series: Netflix
While all of the webtoon-adapted series I've mentioned so far have a genre element (yes, I am including Yumi's Cells in this), not all webtoons do. D.P. Dog's Day, a webtoon adapted into a Netflix series earlier this year, is about a team of Korean military police whose mission it is to catch deserters, and it is very much based in reality. Written and illustrated by Kim Bo-tong and released in 2015 to 2016, while the webtoon follows Jun-ho, a Korean private in the military police, it also works to contextualize the pain and struggle of the young people who choose to desert. (Korea has mandatory military service for all able-bodied men.) The live-action Netflix adaptation, called simply D.P. (short for Deserter Pursuit), sparked a cultural conversation within Korea when it was released earlier this year, particularly around its portrayal of bullying and mental health in the military.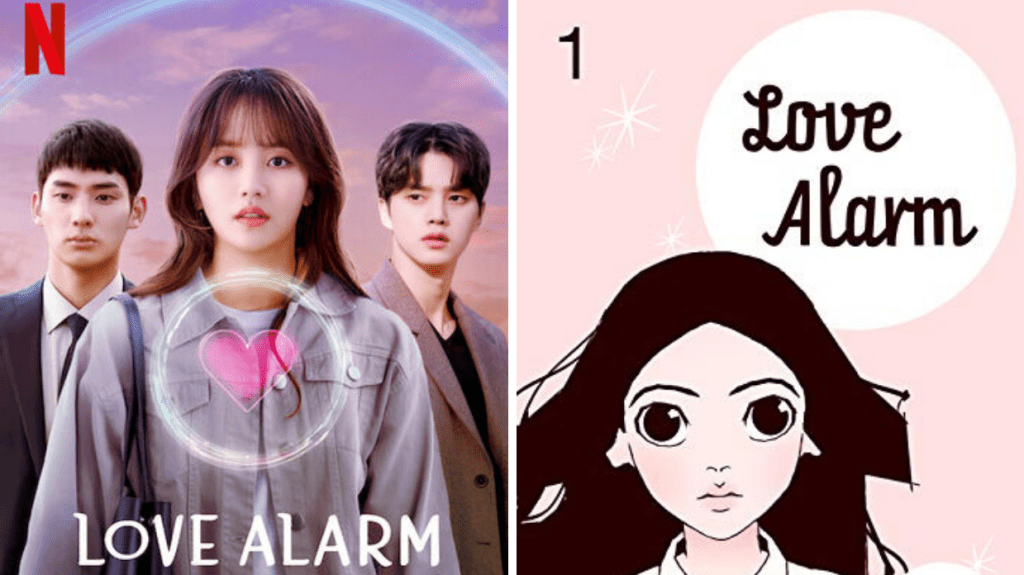 Love Alarm
Webtoon: Kakao
Series: Netflix
OK, back to the genre storytelling! If you're into the idea of Black Mirror but don't fancy spending hours watching (mostly) incredibly bleak storytelling, then try Love Alarm—the webtoon or the two-season Netflix adaptation originally released on the streamer in 2019. The story is set in a world in which a mobile app can notify people when someone within their vicinity (10 meters specifically) has romantic feelings for them. Love Alarm follows a group of high school kids, including protagonist Kim Jo-jo (Kim So-hyun), in the immediate aftermath of the app's release. The webtoon, by Chon Kye-young, is still running on Kakao after seven years and 169 chapters, so the possibilities feel endless when it comes to the Netflix series as well.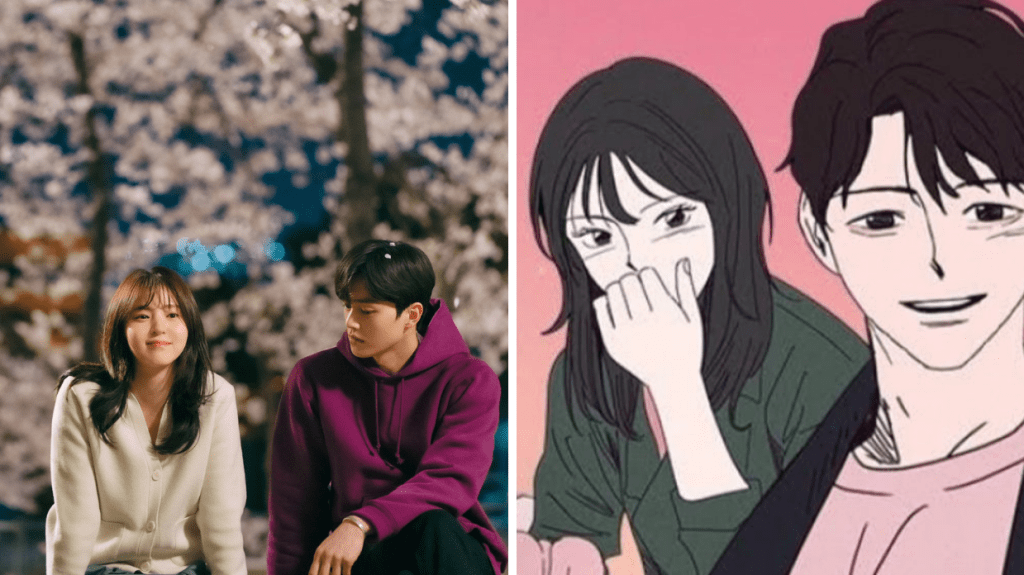 Nevertheless
Webtoon: Naver
Series: Netflix
Nevertheless follows Yoo Na-bi (My Name's Han So-hee), a university art student who is hesitant to enter into another relationship after discovering her boyfriend has been cheating on her. However, things get complicated when she meets Park Jae-eon (Love Alarm's Song Kang), and the two immediately hit it off. A bumpier, perhaps more realistic depiction of dating in your 20s than the average webtoon or K-drama, Nevertheless was made into a faithful live-action Netflix series earlier this year. The original webtoon, written and illustrated by Jung Seo, ran for 40 episodes on Webtoon.
Itaewon Class
Webtoon: Kakao
Series: Netflix
Itaewon Class was one of the most talked-about K-dramas in 2020, and for good reason. (Given series star Park Sae-ro-yi's upcoming role in Captain Marvel 2, I wonder if more people will find it in 2023.) The series about a group of misfits who open a restaurant in the hip Itaewon district of Seoul has a little bit of everything: a Count of Monte Cristo-like story structure, a stellar ensemble, and an original song from BTS' V. The Netflix series was adapted from a Kakao webtoon of the same name, written by Jo Gwang-jin. It is one of the platform's most popular webtoons of all time, and the series became one of the highest-rated dramas in Korean cable TV history.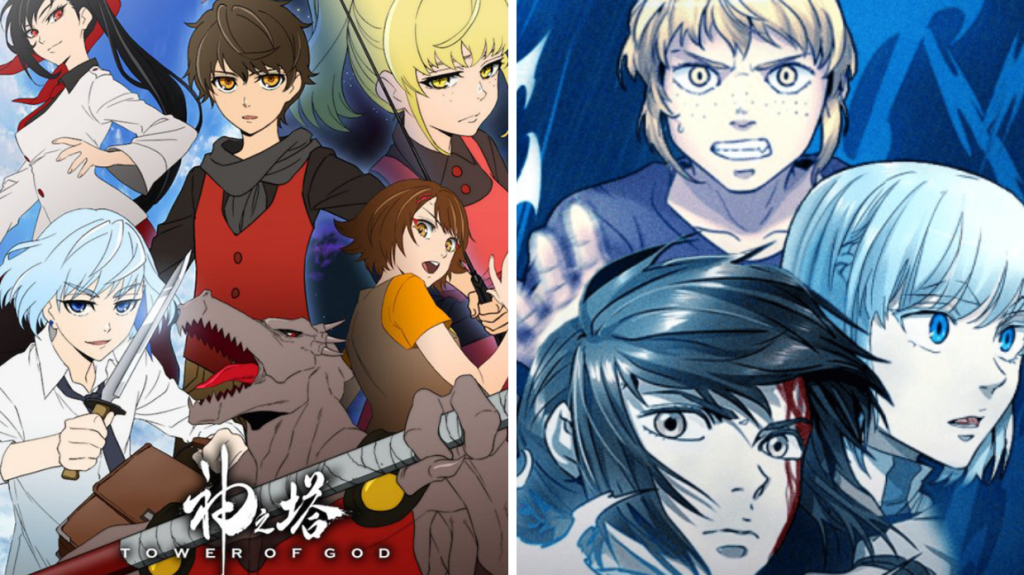 Tower of God
Webtoon: Naver
Series: HBO Max or Crunchyroll
OK, this one isn't technically a K-drama; it's a Japanese anime adaptation of the ongoing webtoon created by SIU (aka Lee Jong-hui), but as Tower of God is one of the most popular webtoons of all time, I wanted to include it on the list. Tower of God has racked up literally billions of views since premiering on Webtoon in 2010. In 2020, after a decade of weekly releases on Naver, it got an anime adaptation.
Both the webtoon and anime follow a traditional shonen coming-of-age format, but the story's setting is pretty cool: Tower of God takes place in a mysterious structure that stretches hundreds of levels skyward, each continent-sized tier playing host to a different environment. The Tower is imbued with a magic known as "Shinsu," which is controlled by the residents on the top levels. The residents of the lower levels work to battle their way upward; we follow a boy named Twenty-Fifth Baam, who follows his childhood friend Rachel into The Tower. The webtoon is ongoing, with new episodes released every Sunday in Korean on Webtoon, and 14 hours later in English via Line Webtoon.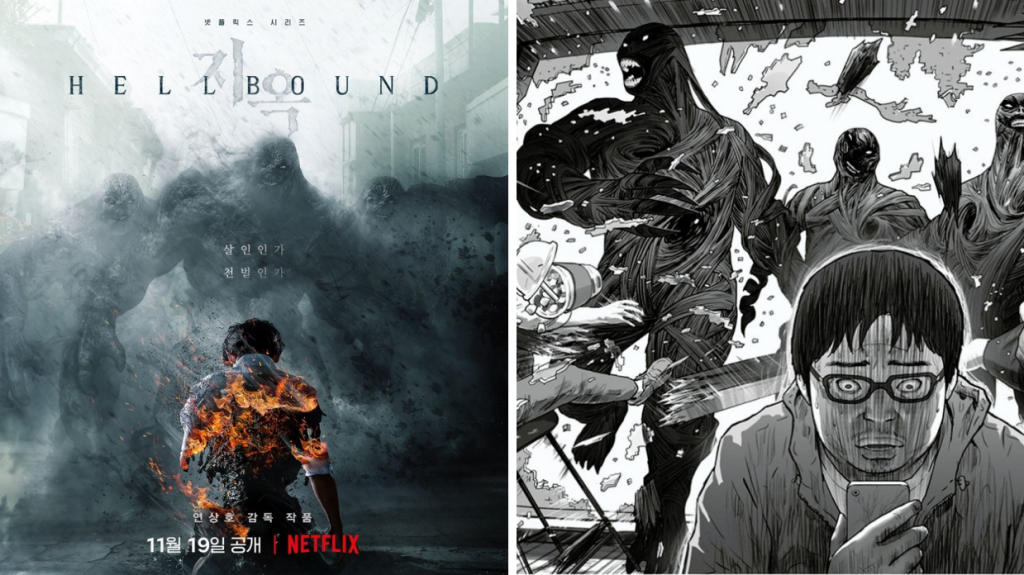 Hellbound
Webtoon: Naver
Series: Netflix
Hellbound is the story of an alternate Earth on which people are dragged by supernatural creatures to hell. It's even scarier than Train to Busan, which Hellbound creator Yeon Sang-ho made (among other projects) before this, and is sure to take the streamer by storm. The series is adapted from a 2019 webtoon, which Yeon actually also wrote (with illustrations by Choi Kyu-Seok). The story has been with Yeon for a long time; the creator made an 11-minute animated short called Jiok (the same name as the webtoon) back in 2002. Hellbound, which debuted on Netflix in November, was the third incarnation of this story.
Have you read any webtoons? What are your favorites? Let us know in the comments below.