Features
The Mandalorian: Axe Woves and the Season 3 Reunion That Changes the Series
Exclusive: Actor Simon Kassianides break down Axe Woves' huge moment with Bo-Katan in Star Wars: The Mandalorian season 3.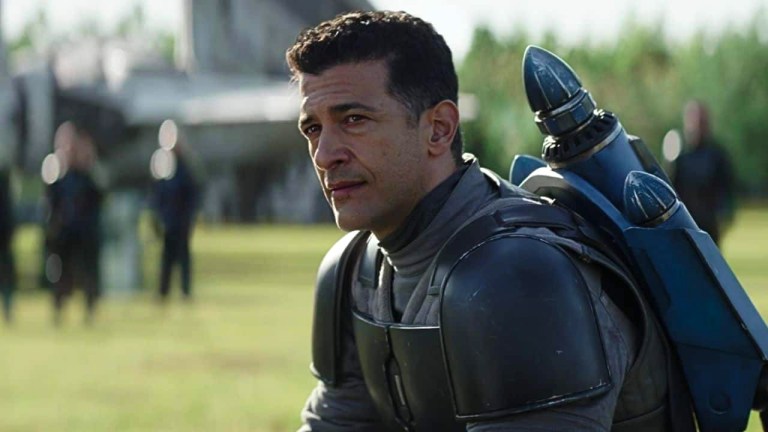 This Star Wars: The Mandalorian article contains spoilers.
When we first meet Axe Woves (Simon Kassianides) in season 2 of The Mandalorian, he's working with Bo-Katan Kryze to obtain the Darksaber and unite Mandalorians under her leadership. While we don't learn much about Axe in his debut episode, it's clear that he and Bo-Katan have a deep respect for each other. This makes the big season 3 premiere reveal even more devastating: Axe, Koska Reeves (Mercedes Varnado), and the other Nite Owls have left Bo-Katan to become mercenaries after she failed to obtain the Darksaber from Moff Gideon.
After everything the Mandalorians have gone through with the destruction of their homeworld and near genocide of their people, it makes sense that Axe and the others would see Bo-Katan's failure as another sign that their people are doomed to remain scattered across the galaxy. Even Bo-Katan had essentially given up on reuniting Mandalorians before seeing the Mythosaur in the Living Waters. But that shared pain and loss is ultimately what brings Bo-Katan and Axe back together in "Guns for Hire."
Earlier this season, Bo-Katan was tasked by the Armorer to bring the Mandalorians back together, and this episode follows her and Din Djarin as they try to convince Axe and the rest of the Nite Owl fleet to join them on their quest to take back Mandalore. But this won't be so easy now that Axe is the leader of the clan. When Din asks how Bo-Katan plans to approach this reunion with Axe, she is visibly nervous, a rare thing for us to see in this seasoned warrior: "I'll know when I get there," she replies.
"I think that when she meets Axe, there's pain there with him," Kassianides tells Den of Geek over Zoom. "I think he cares deeply, they have a deep history these two. And it's quite evident in the performance, which we gave in the episode in terms of it's not just about violence and fighting, it's within the two of them, but it's also about how they come together and what they talk about. And I think his loyalty means a hell of a great deal to her."
Ultimately, Bo-Katan much challenges Axe to reclaim her clan and its fleet of ships. Not because she's necessarily looking to assert dominance, but because she knows that combat is the easiest way to get through to another Mandalorian. Axe and Bo-Katan's fight is emotionally charged, with every swing channeling the shared history of loss that these warriors have been through since the Great Purge.
"I think that he lost, I imagine that," Kassianides reveals. "Actually, part of my backstory, which we talked through, he went through a lot of pain, I think he lost loved ones. I like to say that you see that in the performance, I think there's a depth there, you know, within that pain, which is multifaceted, which I'm eager to explore more. And I hope you get to see that."
Bo-Katan is finally able to talk to Axe after gaining the upper hand, but he's still reluctant to believe in a united future for Mandalorians. He presses her to fight Din to reclaim the Darksaber, but Bo-Katan reveals why she hasn't fought harder to take it from him, insisting that "enough Mandalorian blood has been spilled by our own hands."
For a brief moment, these two warriors are at a standstill. Without the Darksaber, Bo-Katan will never be able to truly lead the Mandalorians back to their homeworld. As Katee Sackhoff explained, Bo-Katan has made a choice to do things differently than she has in the past, which is why she won't fight Din for the blade, even if it means giving up on her dream to lead a united Mandalore once again. It's what pushes Axe to return the clan to a life of bounty hunting, working for the highest bidder and wandering the galaxy without a home. Bo-Katan's given up in Axe's eyes, so why should he continue on her mission?
"Like many people in this season, the initial long held belief is that there is no Mandalore, that there's nowhere to go back to, that this was a pipe dream," Kassianides says. "I just think that what's great about this season is that you're meeting people that hold on to their histories in different ways. And I think that when they come together, Bo certainly has to convince [him to] overcome those belief systems."
As we've seen with the Children of the Watch, beliefs and traditions are all that many Mandalorians have left to hold on to. But as we've also seen this season with Bo-Katan willing to follow the Creed, the Armorer allowing Bo-Katan to walk "both worlds," and now Axe accepting the Darksaber loophole that allows Din to simply hand over the weapon to Bo, it seems like Star Wars is finally ready to revive Mandalore.
Bo-Katan and Axe's reunion is an important step forward, a moment that sets the series on a new course and the next phase of its story. Instead of continuing to fight over whose beliefs are the right ones, these Mandalorians know it's time to see the bigger picture. While getting other clans to join may be more challenging for Bo-Katan and Din, the support of Axe and the rest of the Nite Owls is definitely a step in the right direction.
The Mandalorian season 3 streams Wednesday on Disney+.