News
Star Wars Confirms What Happened to Gina Carano's Cara Dune After The Mandalorian Exit
Gina Carano may be out of the Star Wars universe, but at least we know what happened to her character in-universe.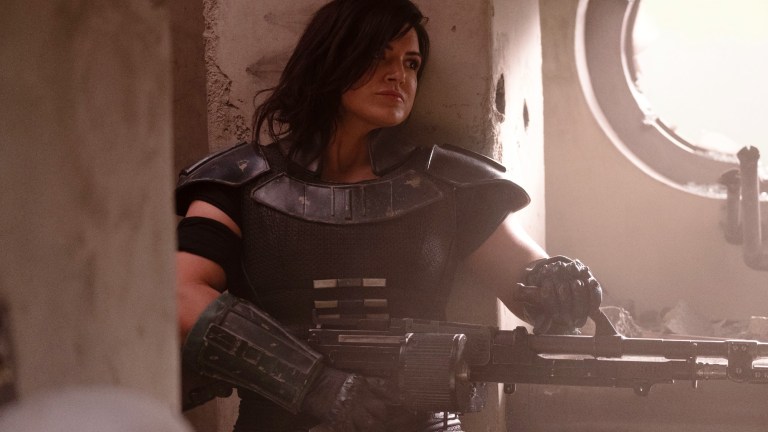 This Star Wars article contains spoilers for The Mandalorian season 3.
The Mandalorian is back for its third season, and it's bringing back all the recurring characters you know and love, with one notable exception. In 2021, actor Gina Carano's controversial online behavior forced Lucasfilm to cut her from the series after the season 2 finale. Yes, that means you shouldn't expect to see New Republic marshal Cara Dune in The Mandalorian season 3 — or in future Star Wars stories, for that matter.
Lucasfilm originally seemed to have big plans for Carano's character after season 2, including a spinoff series called Rangers of the New Republic, which would have allegedly starred Cara Dune. The spinoff has since been nixed from the Star Wars slate. But while Cara's "Mandoverse" journey may be over, that doesn't mean The Mandalorian has killed her off between seasons, either. Don't expect a "Somehow, Cara Dune died" moment in season 3.
In fact, the season 3 premiere, "The Apostate," confirms that Cara is still out there, recruited by New Republic special forces after capturing Moff Gideon. That means, while Cara has left Nevarro and is no longer part of The Mandalorian's story, she's still out there somewhere in the galaxy fighting the Empire.
"Cara was a big part and continues as a character to be part of the world," The Mandalorian executive producer and director Rick Famuyiwa confirmed to Deadline before the season 3 premiere. "It was something that was discussed as we knew it was going to have impact on the show," Famuyiwa admitted of Carano's removal from the cast. "[B]ut at the same time, what has been at the heart of the show are the two characters — Din Djarin and Grogu — so ultimately it felt like a servicing of that, and around the Mandalorians."
By keeping their attention primarily on Din and Grogu, Famuyiwa and the other creatives, including executive producers Jon Favreau and Dave Filoni, don't need to spend time explaining what happened to Cara. "It's a big galaxy and we have many characters in it — many characters are fighting for their screen time," Filoni said in the same interview. At this point, Din's story is less concerned with the Republic and Cara's place within it and more with his own people, the producer explained: "Now season 3 is mainly dealing with Mandalorians and the Mandalorian saga, the Mandalorian tale. [There's] different characters he's met since Bo-Katan [who] take a lot more prominence, which makes sense where his arc is going, the story of him and Grogu specifically."
Does that mean the show will never have to deal with Cara Dune again? Filoni is less concrete on that point. "We'll just have to see as the season unfolds what the adventures are, but it's a great character, someone who was vital to Din Djarin's beginnings," he said of Dune. "[W]e'll see if he has evolved beyond that."
Such ambiguous wording leaves many possibilities open for the future of the character. As Ewan McGregor and Hayden Christensen can tell you, the franchise has cast different actors in even iconic roles. However, the character's toxic baggage has likely made a recasting less than desirable for Disney. The more likely scenario is that Cara will simply never be mentioned again after "The Apostate."
The first episode of The Mandalorian season 3 is out now on Disney+.