News
Star Wars Ahsoka Release Time: Disney+ Schedule Change Explained
Ahsoka premieres this week on Disney+, but not at the usual time...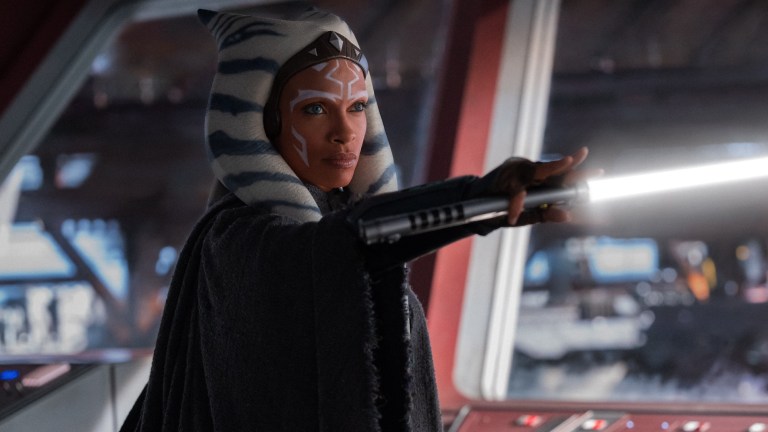 After years of waiting, Ahsoka Tano is finally set to return in her own Star Wars spinoff series this week. But fans expecting the usual Disney+ release schedule are in for a surprise. While most major Star Wars and Marvel TV releases on the service have launched on Wednesdays at 12 am PT/3 am ET, Disney is changing things up for Ahsoka. For some — those who didn't particularly like staying up until early morning to watch new episodes or waking up to a string of spoilers hours after release — the new schedule will come as a welcome change. For others, it will mean begrudgingly tweaking their usual TV-watching routine.
Ahead of the show's premiere, Disney+ has confirmed that episodes of Ahsoka will drop on Tuesdays at 6 pm PT/9pm ET in the US and Wednesdays at 2 am BST in the UK, which also means Star Wars fans will get to watch this series a little earlier than expected. Instead of the original premiere date of Wednesday, Aug. 23, the first two episodes of Ahsoka will now release on Tuesday, Aug. 22. The rest of the episodes will also drop on Tuesdays.
You can check out the full Ahsoka release schedule below:
Episodes 1 & 2: August 22
Episode 3: August 29
Episode 4: September 5
Episode 5: September 12
Episode 6: September 19
Episode 7: September 26
Episode 8: October 3
Although it's a live action series, Ahsoka essentially picks up where the Rebels animated series left off. Grand Admiral Thrawn and Ezra Bridger are both still missing a decade after they disappeared together in the Rebels series finale, but Ahsoka is now on the Imperial villain's trail. Locating the Grand Admiral in the far reaches of space could mean also finding her long-lost friend Ezra before it's too late. And she better find Thrawn soon: rumors have spread throughout the galaxy that the Grand Admiral is amassing an army to strike back at the fledgling New Republic and bring back the glory days of the Empire.
But to take down Thrawn and find Ezra, Ahsoka will need some help from a few friends. Enter the rest of the cast from Rebels, who are making the jump to live action for the first time. Natasha Liu Bordizzo takes on the role of Mandalorian warrior Sabine Wren, while Mary Elizabeth Winstead plays New Republic general and Rebel hero Hera Syndulla. Yet, as trailers have already teased, getting the band back together won't be so easy.
"That's going to be the interesting thing to kind of figure out what's truly going on with all these characters. There's real tension there," Dawson told Den of Geek magazine in June. "Yes, we can be part of the hero team that helped to get to where we are now, but it did not come without sacrifice. We're going to be able to see that explored."
At the end of Rebels, Ahsoka and Sabine were closer than ever before, but the two had a falling out at some point before the start of the new Disney+ series. So getting Sabine back on board may take some convincing. But as Hera says in the above trailer, "Once a Rebel, always a Rebel." Expect Sabine back on the team eventually. Perhaps she'll even resume her Jedi training under Ahsoka?
We'll find out what's next for all of our beloved Rebels heroes soon enough when the first two episodes of Ahsoka premiere on Tuesday, Aug. 22 at 6 pm PT/9 pm ET.