News
First Ahsoka Reactions Are in and Point to a Problem for Some Star Wars Fans
Critics have now seen a couple of episodes of the new Star Wars Disney+ series, Ahsoka. Here's what they're saying about it!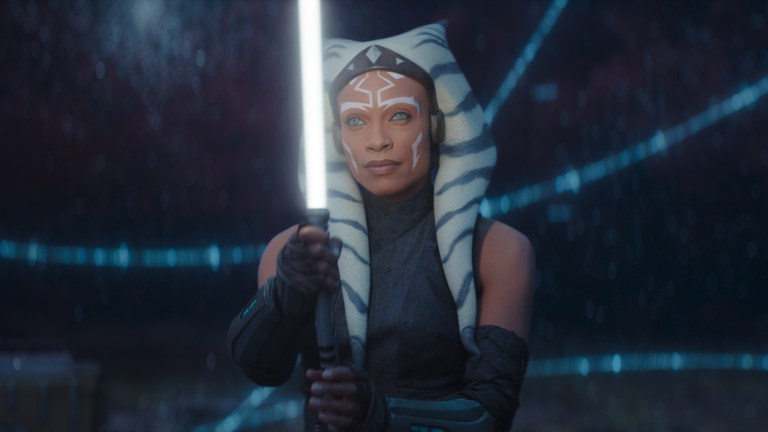 Star Wars is back on Disney+! Well, it's about to be, with the brand new Lucasfilm series Ahsoka just days away from streaming. Ahsoka will see the return of former Jedi Padawan Ahsoka Tano (Rosario Dawson) after she was last glimpsed in live-action during the second season of The Mandalorian and its spinoff series, The Book of Boba Fett.
The character has a rich history in the animated Star Wars universe, having appeared in The Clone Wars, Rebels, and Tales of the Jedi, but Ahsoka will give Dawson the chance to be in the spotlight for eight episodes, with the first two making their debut on Aug. 23, and weekly drops to Disney+ planned thereafter.
"This one is really taking the story on in a different way," Dawson told Den of Geek magazine. "It's really living with a character for such a long period of time, over several episodes."
Given the beloved character's lengthy animated background, you'll be unsurprised to learn that Star Wars veteran Dave Filoni has penned this new series, which also takes place in a post-Return of the Jedi timeline and features a cluster of live-action Rebels characters, including Lars Mikkelsen as Grand Admiral Thrawn, Natasha Liu Bordizzo as Sabine Wren, Mary Elizabeth Winstead as Hera Syndulla, and Eman Esfandi as Ezra Bridger. David Tennant also reprises his role as droid Huyang from Star Wars: The Clone Wars.
"That's going to be the interesting thing to kind of figure out what's truly going on with all these characters. There's real tension there," Dawson explained to us. "Yes, we can be part of the hero team that helped to get to where we are now, but it did not come without sacrifice. We're going to be able to see that explored."
Unfortunately, Ahsoka has a similar mountain to climb with critics and fans alike that the third season of The Mandalorian struggled to clamber up earlier this year, being yet another Star Wars series to emerge in the wake of the acclaimed Andor in 2022, and the first reactions to the series don't bode particularly well.
We often see first reviews of upcoming releases shared to social be typically glowing, but Ahsoka's are a real mixed bag so far, with some saying the first two episodes are a "promising start" and praising the series' score and visuals, while others have panned the "slow and wooden" first two episodes, saying they have "mediocre writing" and that Dawson is "very flat in the title role."
If you're more of a casual Star Wars fan and are concerned that Ahsoka might be buried too deep in the lore of the animated shows, it looks like that might well be the case. Comic Book's Joe Schmidt and pop culture expert Kristen Maldonado both expressed trepidation, with Kristen saying "super fans may enjoy the show, but newcomers/casual fans will be lost" and our own John Saavedra posting "this is 100% Rebels season 5." It looks like Rebels fans will be happy regardless!
Here's what people are saying about Ahsoka…
Ahsoka will be streaming on Disney+ from August 23.