News
New Star Wars Character Confirmed for Ahsoka Series
Is Ivanna Sakhno playing a Chiss character in Star Wars: Ahsoka?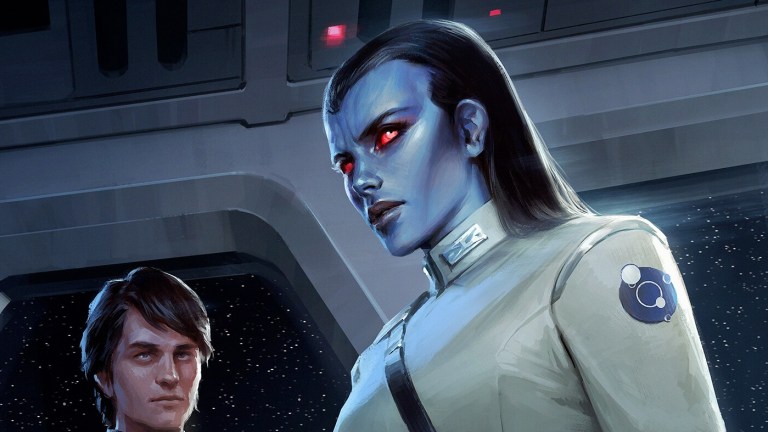 The expansion of Disney+ Star Wars series will continue in 2022 with The Book of Boba Fett, Obi-Wan Kenobi, and Andor, while The Mandalorian is also set to return with its long-awaited third season. That's quite a lot of Star Wars in the next year, but Lucasfilm is already looking toward its 2023 slate, which includes the highly-anticipated Ahsoka series starring Rosario Dawson.
The Jedi-centric series, which will reportedly go into production in March, has been busy rounding out its cast. Deadline is reporting another new addition: Ivanna Sakhno (Pacific Rim: Uprising) will play "a newly created character" in the series as opposed to a hero or villain we've met in the past. That means it's too early to say how big her role will be in the series, but that's not stopped fans from speculating about who she might be playing, from the mystical Force being known as "The Daughter" to one of Grand Admiral Thrawn's Chiss comrades.
The latter possibility is particularly exciting since the fan-favorite Chiss race, which debuted in 1991, has yet to make the jump to live action. It would make sense to show more of Thrawn's people, especially if the theory that he's hiding in the Unknown Regions of the galaxy is indeed true. This unexplored area of space just happens to be the home of the Chiss Ascendancy, the empire from which the Imperial villain hails.
While there's no sign of Thrawn (or Ezra Bridger) on the cast list yet, the show will definitely feature a live-action version of Mandalorian warrior and Rebel operative Sabine Wren played by Natasha Liu Bordizzo (The Society). It's a huge casting to be sure since Sabine's return not only comes with major implications for how the series will follow up on plot threads left hanging at the end of the Rebels animated series but also the on-going Darksaber drama on The Mandalorian. After all, she was the wielder of the legendary Mandalorian weapon before Bo-Katan Kryze. Surely, she'll have a few things to say about its rightful heir.
Also returning is Hayden Christensen, but probably not as Darth Vader, since Ahsoka will presumably take place years after his death in Return of the Jedi. We could instead get Anakin Skywalker as a commander during the Clone Wars and as Ahsoka Tano's Jedi master. Or perhaps Anakin's Force ghost will show up to finally give Ahsoka some closure after the fall of the Jedi Order at her former master's hand.
Whatever the case, this series is carrying quite a bit of baggage between Ahsoka, Thrawn, Sabine, and Anakin. It should make for some very captivating Star Wars.
Check out the full schedule of upcoming Star Wars movies and TV series here.