News
Star Wars: What Sabine Wren Return Means for Ahsoka, Ezra Bridger, and The Mandalorian
Natasha Liu Bordizzo will play Sabine Wren in the Star Wars: Ahsoka series! What does Sabine's return mean for The Mandalorian universe...and Ezra Bridger?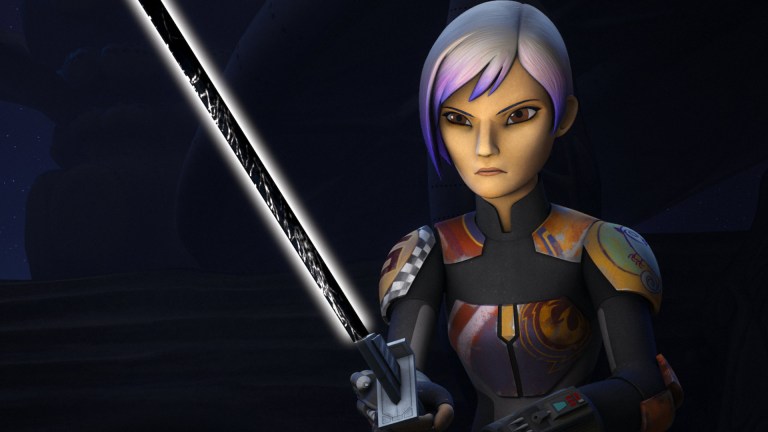 It was basically a foregone conclusion that Mandalorian warrior Sabine Wren would eventually make the jump to live action once Ahsoka Tano (Rosario Dawson) showed up on The Mandalorian still searching for Grand Admiral Thrawn. After all, when Ahsoka first set out on her mission to find the Imperial villain — and the Jedi friend he'd stolen from her — it was Sabine who joined her on that journey.
Well, Deadline has finally confirmed that, yes, Sabine is back and will be played Natasha Liu Bordizzo (The Society) on the upcoming Star Wars: Ahsoka series on Disney+. The outlet didn't dig up any plot details about Sabine's live-action debut, but we already know plenty, thanks to the Rebels animated series that concluded in 2018.
You can say Sabine's return has been years in the making. Dave Filoni, who is writing and executive producing Ahsoka, along with The Mandalorian showrunner Jon Favreau, first set Sabine on her current path in the final minutes of Rebels. In an epilogue, Sabine vowed to help Ahsoka find Ezra Bridger, the young protagonist of the series who was sent tumbling through hyperspace with Thrawn during a final Rebel assault to free the planet Lothal from the Empire. (How that happened is a bit complicated, but we get into that a bit here.)
When Ahsoka made her post-Original Trilogy debut on The Mandalorian season 2 episode "The Jedi" and asked the cruel Imperial Magistrate Morgan Elsbeth (Diana Lee Inosanto) about Thrawn's whereabouts, it implied that she was still searching for Ezra five years after first setting out on her quest. Now that Sabine is also playing a lead role in the Ahsoka series, the continuation of the Ezra storyline is all but confirmed. After Bordizzo shows up on Ahsoka, the next question will undoubtedly be who is playing Ezra? (Full transparency: I stan Rahul Kohli for the role.)
Sabine is a very interesting addition to The Mandalorian universe for reasons other than what she means for the plot of Ahsoka, though. As a former Rebel agent who is also a member of a respected Mandalorian clan, Sabine will likely turn out to be a key player in the on-going drama among the people of Mandalore. Not only did she fight to free her home planet from an Imperial puppet government alongside Bo-Katan Kryze (Katee Sackhoff), Sabine is the Mandalorian who first reclaimed the legendary Darksaber after it was lost after the Clone Wars. Once Mandalore was freed, Sabine gifted the weapon to Bo-Katan, making her the leader of the Mandalorian people in the process. Surely, Sabine would now have a thing or two to say about Bo-Katan losing the Darksaber to Moff Gideon (Giancarlo Esposito) as well as the sword's new wielder, Din Djarin (Pedro Pascal).
While The Mandalorian season 3 is currently in production, Ahsoka is eyeing a March 2022 production start date, according to Deadline. That likely means we won't see Bordizzo as Sabine until 2023…unless she's first introduced on The Mandalorian, which has proved to be a great platform for backdoor pilots for spinoff series, the first of which will premiere on Dec. 29 and star Boba Fett (Temuera Morrison) and Fennec Shand (Ming-Na Wen).
Check out the full release schedule of upcoming Star Wars movies and TV here.