News
Star Wars: Andor Set Photos Bring Back Imperial Enemy from Rogue One
The new Star Wars: Andor series on Disney+ will undoubtedly nod to Rogue One in quite a few ways. In fact, new set photos already reveal at least one Rogue One easter egg.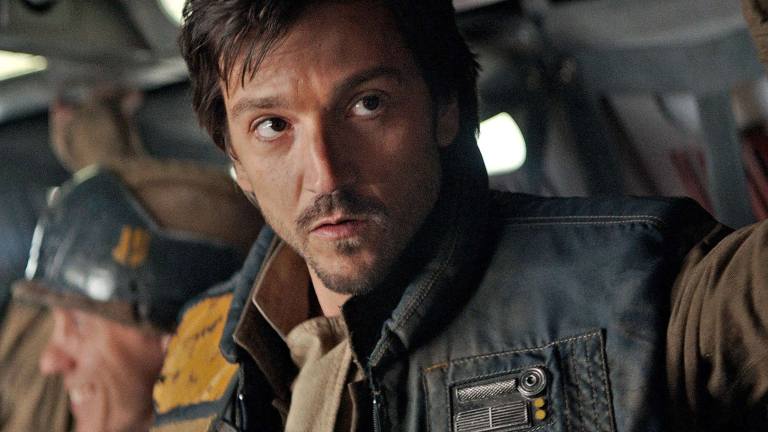 Rebel spy Cassian Andor (Diego Luna) returns for his on Disney+ live-action series, suitably titled Andor. Set before the events of Rogue One: A Star Wars Story, the show presumably tells the story of how Andor ended up joining the Rebel Alliance and becoming one of the group's most elite operatives.
The series, which was been in development for a few years now, has recently been shooting in Cleveleys, a coastal town in the UK that's just a few miles north of Blackpool. It's at this location that a leaker has managed to snap a few set photos that reveal Luna back in costume as well as a familiar Imperial enemy from Rogue One. Below, Cassian encounters a coastal defender stormtrooper, the same kind of infantry unit he, along with Jyn Erso and company, faced on Scarif during the mission to steal the plans to the Death Star.
You likely remember the action-packed third act of Rogue One, which many fans have hailed as one of the finest battles ever crafted for Star Wars on the big screen. Some fans would even rank the Battle of Scarif right up there with the attack on the Death Star in A New Hope and the Battle of Endor in Return of the Jedi. Like in the latter film, the final fight in Rogue One takes place both in space and on land. The Rebel fleet provides support from above while Cassian and Jyn lead a group of freedom fighters on the sand-swept beaches of what looks closer to a resort planet than an Imperial stronghold.
But the charge through Scarif is meant to evoke the beaches of Normandy during World War II and that certainly comes across as Cassian and his team fight their way through insurmountable odds, including countless units of the aforementioned coastal defender stormtroopers. The challenge is so great that the operation will eventually turn out to be a suicide mission that no one will return from. Indeed, by the end of the movie, Cassian and Jyn Erso will have met their ends when the Death Star fires its ultimate weapon on the Imperial base, completely ravaging the planet's surface.
Fortunately, Andor rewinds a bit to a happier point in Cassian's life — well, probably not happier judging from his backstory in Rogue One, but at least he's alive. Like most Star Wars stories, Andor will likely find plenty of ways to rhyme with and reference other movies and TV series set in the galaxy far, far away. This coastal defender trooper is probably the first of many easter eggs we'll be obsessing over when Andor premieres on Disney+ in 2022.
You can keep up with all the upcoming Star Wars movies and TV series here.