Features
Star Trek: Todd Stashwick on Captain Shaw's Unique "Gen X" Appeal & What's Next After Picard
Exclusive: Todd Stashwick dishes on his past, present, and future as well as what surprised him the most about playing Captain Shaw on Star Trek: Picard.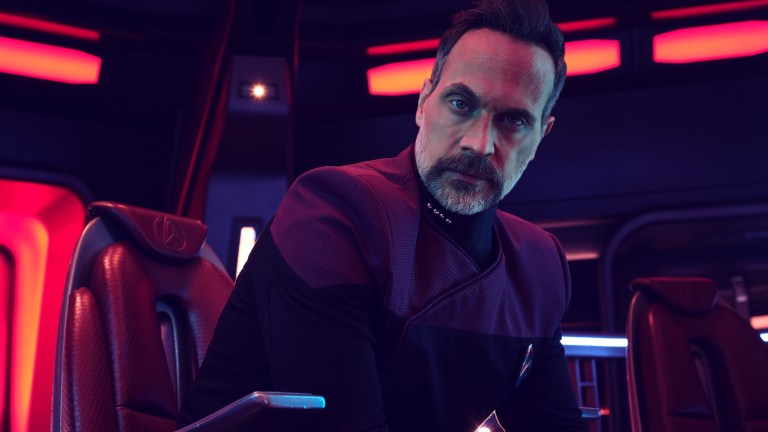 This Star Trek: Picard article contains spoilers.
Todd Stashwick is thirsty.
"I'm gonna go grab a LaCroix," he tells Den of Geek when we catch up with him over Zoom post-Star Trek: Picard season 3. "Don't go anywhere! Stay where you are! It'll be worth the wait if I grab a coconut LaCroix to wet my whistle."
No doubt we're just the latest in a long line of outlets waiting to chat with Stashwick now that Picard has wrapped. Everyone wants to know what the actor will be up to after his scene-stealing turn in the show, and whether he'll return to the Star Trek universe. The latter hangs in the balance because his character, Captain Liam Shaw, is currently super dead, and a new Trek series called Legacy that promises to see him return in an "absolutely amazing" way hasn't yet been greenlit at the time of writing.
Stashwick never imagined that his Trek character would become so popular. At most, he thought, people would find his character "refreshing," but he can remember the exact moment he knew that Shaw was resonating with Star Trek fans.
"It was when the tsunami of memes began," Stashwick reveals, and he admits there was a learning curve to the influx of attention he suddenly received on social media. "I had to figure out the healthiest way to deal with all of the direct messages I was getting. I realized I only had so much bandwidth to preserve my energy."
Captain Shaw was introduced as a bit of an antagonist to Jean-Luc Picard (Patrick Stewart) and the other legacy Trek characters in season three of Paramount's hit spinoff show. Shaw had the audacity to deny the former Enterprise captain's request to follow a distress signal that might put his own ship and crew in the kind of universe-threatening danger that Picard tends to attract. When fans said negative things about him online, Stashwick often waded into the conversation.
"I think my favorite thing is to be a little troll," he says. "People don't realize I'm tagged. They'll be like, 'he should be blown out an airlock,' and I'll be like, 'Totally, totally. Waste of space.' My favorite response is when someone goes 'Oh, sorry, I didn't realize who was tagged.' They're sad they got caught! Much of the internet is the equivalent of keying someone's car. You jump in, you do a little vandalism, and you jump out."
As season three progressed and Captain Shaw was dragged further into a dangerous situation against his will, the captain came across like a spacefaring Dante Hicks, which led to some fans describing him as the first real Gen X starship captain.
"I'm smack dab in the middle of Gen X," Stashwick says. "While the grownups were fighting, we had our heads down looking at each other. We had to figure it all out on our own. We forged our own identity, and we were considered the lost generation; the forgotten generation. I see exactly why people would say that about Shaw."
Although Shaw seemed exasperated and dismissive in the first half of the season, with his "'I'm not even supposed to be here today!"' attitude, Stashwick is engaged on an entirely different level. He seems genuinely thrilled to go out to conventions and meet the fans, and he feels lucky to be part of the Star Trek legacy. While Shaw may have kicked the bucket on Picard, Stashwick namechecks Spock, Data, and Picard himself as characters who have all come back from the dead to boldly go again. If viewers want to see more of Shaw, Stashwick says, "Don't threaten me with a good time."
It must be a weird time for the 54-year-old Chicago native, who is by no means new to the acting scene. As a kid, he tells us, he would put on puppet shows to The Muppet Movie soundtrack in his garage, and was doing plays by junior high. He says the applause was addictive, but as you scroll down his 130+ IMDb credits, you realize that this type of fame has been a long time coming. "I've been in Los Angeles for 23 years, and I was in New York doing film and television for five years before that. I get a lot of 'what do I know you from?' Now at least with Trek, there's a contingent of humanity that knows I'm Shaw, so it truncates the guessing."
Stashwick has popped up in Law & Order, Malcolm in the Middle, Supernatural, Heroes, Gotham, American Horror Story, Grey's Anatomy…the list goes on and on. Sometimes, he's very recognizable; sometimes not. He tells us a funny story about Buffy the Vampire Slayer star Sarah Michelle Gellar blanking on him because she'd never seen him without his demon makeup. 
"I'm a big fan of those shows," he says. "But being buried in makeup? I don't know how Doug Jones does it. I love the ultimate effect, but it feels claustrophobic." When we start to ask if he'd be willing to come back to Trek if that meant playing an alien in heavy makeup, Stashwick takes it a Hollywood step further. "Oh, if Kevin Feige calls and says 'come be the villain of the next Marvel film'? Put all the rubber on my face!"
After so many parts in both TV and film, it ended up being his long stint on 12 Monkeys, co-created by Picard showrunner Terry Matalas, that led to Stashwick's big Trek gig. He says that when Matalas approached him, he knew what "special sauce" he wanted him to bring to season three. "[Terry] and I already had a shorthand, so it was easy to slip into the role of Shaw. They knew how to tailor the suit to fit me. The minute I got the scripts, I could already hear my own voice in the work."
But what is Stashwick's voice? On his website, he describes himself as an "action-figure-collecting, comic-book-reading, dice-rolling, video-game-playing, Scifi-fantasy-loving, Tiki-drinking, Con-going, nerdboy." In other words, he's one of us, and has recently shown off a custom set of Dungeons & Dragons dice fashioned in Shaw's command colors on social media.
"I started playing D&D in 1979, and I played for three years before I succumbed to Satanic Panic," Stashwick recalls. "At camp, a counselor told me it was the gateway to Satan, so I gave all my books away and stopped playing, cold turkey. When I got older, I realized that was hokum. I came back with a vengeance and bought all my books back from eBay. I have three games on the go every month."
Along with being heavily involved with his website, where he sells everything from geeky t-shirts to Mai Tai glasses, Stashwick is currently co-writing a Captain America-Black Panther game for Marvel, and you can also catch him in the Apple TV+ series The Last Thing He Told Me with Jennifer Garner, but he's as interested as we are to see what will happen next.
"My favorite phrase is 'the thing I want to do next is the thing I don't see coming.' The best things that have happened to me in my career have been the things that I could not have anticipated, so I'm looking to see what that next adventure is going to be."
Star Trek: Picard season 3 is streaming now on Paramount+.