Features
Stranger Things: The True Story That Inspired Eddie Munson
The wrongful accusation of Eddie Munson in Stranger Things season 4 was inspired by a real life case of Satanic panic.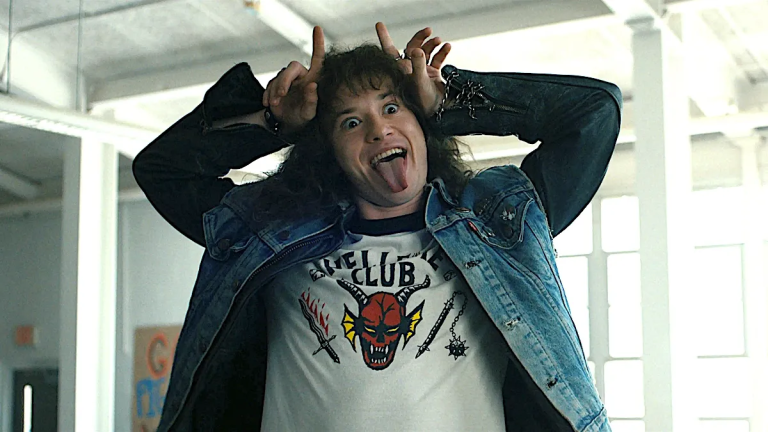 This article contains Stranger Things spoilers.
The Duffer Brothers may be the master storytellers behind the fictional tale of Stranger Things, but they also admit to taking inspiration from real life conspiracies and true crime stories. While longtime fans of the show may already know about the Montauk Project origins of the Hawkins Lab, some may not be aware that the tragically misplaced suspicion that Eddie Munson was under is also based on actual events in West Memphis, Arkansas in 1993.
The West Memphis Three were three teenagers who were accused of murdering three eight-year-old boys in what was presented to the press as a Satanic sacrifice. Heavy metal music of the type Eddie Munson would have undoubtedly enjoyed was mistaken for "the devil's music" by police investigators at the time. Despite a lack of evidence, West Memphis residents and the authorities were quick to accuse the metal-loving, long-haired teenagers who were viewed as outcasts by the rest of the Satanic panic-stricken community.
In March 1994, Damien Echols, Jessie Misskelley Jr., and Jason Baldwin were found guilty of three counts of murder, although the police investigation and trials were widely criticized in the years following the decision. The case was the subject of the 1996 HBO documentary Paradise Lost as well as 2012's West of Memphis, which was written and directed by Amy Berg and produced by Peter Jackson with Echols.
"When you talk about satanic panic, Damien Echols [has] a tragic story we've been obsessed with," Matt Duffer told Deadline in a recent interview. "I think we saw the HBO documentary Paradise Lost. We were in high school when we first caught those, and then, of course we saw West of Memphis. It seemed like a really great character and a means to explore Satanic panic, and that's why [Eddie] kind of had tragedy etched all over him."
Signs of the West Memphis story appear elsewhere in Stranger Things as well. The Hawkins High School guidance counselor who was helping Chrissy and Max, among others, was named Miss Kelley, a likely nod to Misskelley Jr. Additionally, one of the murder victims had the last name "Byers," which seems to fit with the season 1 storyline of Will Byers' supernatural kidnapping.
Although Eddie had his heroic moment in the Stranger Things finale, the townspeople of Hawkins still thought he was responsible for Chrissy's death, and he likely would have faced wrongful imprisonment like that of Echols and his black-clothed friends, who were on death row until the Paradise Lost films and new DNA evidence assisted in their release in 2011. But their Alford plea deal means that the men are still viewed as guilty of the crimes by the court despite the fact that they maintain their innocence. To this day, the real killer has never been identified despite Echols, Misskelley, and Baldwin's requests for the state of Arkansas to conduct new DNA testing.
"Even had he survived the season, you know it wouldn't have ended well for him," Duffer said of Eddie. "He would have been demonized and blamed for all this. The minute that Chrissy died in his trailer, it was the end for a character like that. He either ends up dead or in jail, and that's the tragedy ultimately of Eddie Munson. There was nothing really our kids would have been able to do for him."
At least Eddie went out rocking hard to the metal sounds of Metallica's "Master of Puppets." He may not have rolled a natural 20 in his battle against Vecna the way the Hellfire Club did in his Dungeons & Dragons campaign, but he made his perfect roll with Stranger Things viewers at the end of an exciting penultimate season.