News
Star Trek: Rosario Dawson Keen to Be Female Q in Discovery and Picard
Rosario Dawson was on hand for a Briarpatch Q&A, where she also revealed that her Star Wars: The Mandalorian season 2 casting has not yet been confirmed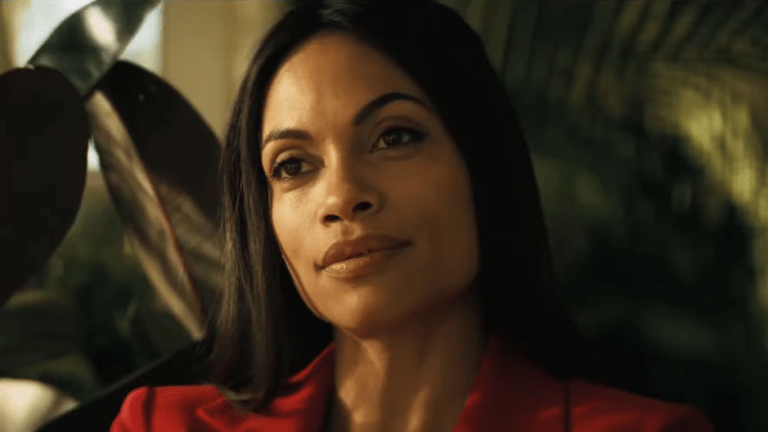 In a new interview with Variety, Rosario Dawson has credited fans for her rumored casting as Ahsoka Tano in Season 2 of Disney+'s Star Wars: The Mandalorian, which she says still "isn't confirmed yet" and revealed she's set her sights on another role, this time in the Star Trek universe.
"I'm hoping, and I'm not trying to be greedy, but since we are talking about Star Wars and we are talking about fan-casting, if I get Mandalorian it is a million and one percent because of fans, also the Star Trek, okay. That's it. I am just putting it out there. The two universes: Star Trek and Star Wars. I get in those two, I am telling you, that's it. I will just retire," she said (via TrekMovie).
So who does the Briarpatch actress see herself playing in Star Trek? A Q, naturally. John de Lancie originally starred as the most well-known Q from the race of extra-dimensional beings, who hold a terrifying amount of control over time, space – and even reality itself – in Star Trek: The Next Generation, but there are Q everywhere, and Dawson's family have been hyping up the idea of her playing a new Q character in both CBS All-Access' Star Trek: Discovery and Picard.
"I was thinking that I know people who do makeup on it and I could just be a background Romulan or Vulcan or whatever," she explained. "It would be so fun to just throw me in there. I could just walk through as a Klingon. Just something in the background. And my brother got really mad and said "absolutely not!" I was thinking I could just be a red shirt, who always get killed. He was "No! We talked about this. You have to be a captain!" He plays the Star Trek Online game and does missions and thinks I have to at least be a captain. But then my dad said I should be Q. Because male Q, female Q, young Q. They are all just Q. It's the Q continuum. It would be great. Then I could jump on Discovery and I can be on Picard. I just want to be on with Jean-Luc Picard."
Work on the second season of Star Trek: Picard, along with most other TV series, has stalled in the midst of the COVID-19 pandemic. Dawson has said in the past that she's interested in perusing a political career at some point, and the actress, who is currently dating NJ senator Cory Booker, appears to be even more enthusiastic about making a difference in these uncertain times.
"Are people having to lose their homes over this? Are people able to have the safety gear that they need? Are people able to keep paying their rent? Are people being paid a living wage? Do people have access to healthcare?" Dawson asked. "It's a really critical moment, I think, for people. If you're feeling bored, to understand that that's a privilege 'cause there's a lot of people in severe alarm right now."
You can read everything we know about Star Wars: The Mandalorian Season 2 here and Star Trek: Discovery Season 3 here.