News
Star Trek: Discovery Season 3 Release Date, Cast, Trailer, and News
CBS All Access is all in for Star Trek: Discovery Season 3. Here's everything you need to know about the show...
Star Trek: Discovery Season 3 is happening!
CBS All Access, which brought the iconic Star Trek sci-fi franchise back to its original small screen medium, ordered a third season halfway through Season 2's airing. And, with everything that went down in the Season 2 finale back in April 2019, we're so eager to find out what is next for the crew of the USS Discovery.
Here's everything we know about it so far…
Star Trek: Discovery Season 3 Release Date
We have an official release date for Season 3! The first episode will be coming on Thursday, October 15th to CBS All-Access in the United States. New episodes will drop every Thursday. There will be 13 episodes in Season 3.
Star Trek: Discovery Season 3 Trailer
The first teaser trailer has arrived! Watch it below:
Star Trek: Discovery Season 3 Cast
With the Discovery jumping 950 years into the future in the Season 2 finale with only some of its series regular cast, and several Star Trek spin-off shows in the works, you better believe its Season 3 cast might look a bit different.
Here's who was on board when Discovery made that jump into the future: Cmdr. Michael Burnham (Sonequa Martin-Green), Cmdr. Saru (Doug Jones), Lt. Cmdr. Paul Stamets (Anthony Rapp), Ensign Sylvia Tilly (Mary Wiseman), Dr. Hugh Culber (Wilson Cruz), Cmdr. Nhan (Rachael Ancheril), Lt. Nilsson (Sara Mitich), Lt. Keyla Detmer (Emily Coutts), Lt. Gen Rhys (Patrick Kwok-Choon), Lt. Joann Owosekun (Oyin Oladejo), Lt. R.A. Bryce (Ronnie Rowe), Philippa Georgiou (Michelle Yeoh), and Jett Reno (Tig Notaro).
Casting news arrived during SDCC 2019: David Ajala (Nightflyers) is joining Star Trek: Discovery Season 3 as a new character named Cleveland Booker, according to Deadline, which describes him as having "a natural charisma and devil-may-care attitude that tends to get him into trouble as often as it gets him out."
Ajala said during the Star Trek panel at SDCC of his character: "Book is gonna be a character that's gonna break the rules, just a little bit.
"He will be a character who isn't exactly what you expect right away," showrunner Alex Kurtzman said of the Booker. "When they get to the other side of the wormhole, they have big problems. In fact, even getting to find each other will be a problem because they may not have landed in the same place."
Here's a picture of the character: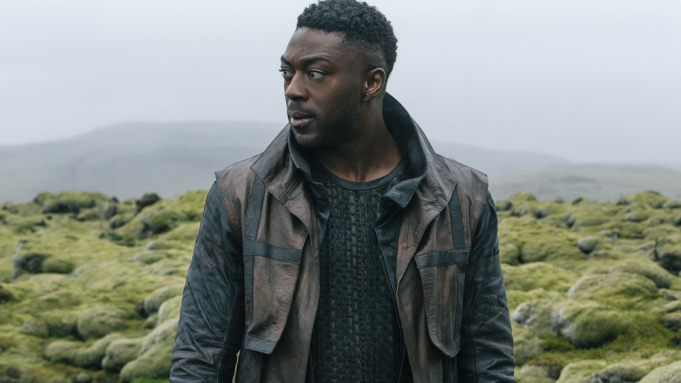 Captain Pike will not be returning for Season 3 (nor will Ethan Peck and Rebecca Romijn), though you can catch them in some Short Treks.
read more: Star Trek: Discovery Season 2 Episode Guide
Star Trek: Discovery Season 3 Story
According to a report from Discussing Film (via We Got This Covered), CBS is looking for an actor to play the role of a 16-year-old non-binary character named ADIRA. This would be a pretty cool addition to the cast.
Star Trek: Discovery Season 3 Showrunners
Interestingly, the third season of Star Trek: Discovery will manifest under the purview of an amended creative staff, with current showrunner Alex Kurtzman set to be joined in that capacity by Michelle Paradise. As Kurtzman explains in a statement of his new partner:
Michelle joined us midway through season two and energized the room with her ferocious knowledge of 'Trek.' Her grasp of character and story detail, her drive and her focus have already become essential in ensuring the 'Trek' legacy, and her fresh perspective always keeps us looking forward. I'm proud to say Michelle and I are officially running STAR TREK: DISCOVERY together.
Paradise's arrival marks yet another major shakeup in the Star Trek: Discovery creative team, which notably experienced a tectonic shift after co-creator and showrunner, Bryan Fuller, departed the series after Season 1. After his replacements, Aaron Harberts and Gretchen Berg, exited, the series returned under Kurtzman for Season 2, restructured from much of Fuller's previous grandiose (and seriously expensive,) concepts.
As Julie McNamara, Executive Vice President, Original Content, CBS All Access, chimes in on the renewal:
"The massive success of STAR TREK: DISCOVERY's second season launch exceeded our expectations in both driving subscriber growth and generating a phenomenal response from Star Trek fans. With Alex Kurtzman and Michelle Paradise at the helm, we look forward to continuing STAR TREK: DISCOVERY's journey, growing the 'Star Trek' franchise on CBS All Access and bringing fans new 'Star Trek' stories for many years to come."