Features
Sky Cinema: What's New in January 2022?
Nicolas Cage stars in Pig, and A Quiet Place II are among the films landing on Sky Cinema in the UK this January.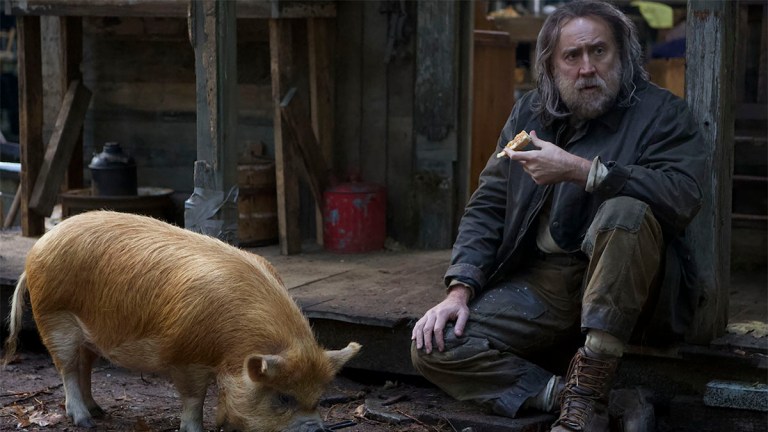 Really, this one's all about Pig isn't it? The film in which Nicolas Cage plays a chef who embarks on a mission to retrieve his kidnapped best friend – a truffle-foraging pig. If you don't want to watch that at least twice in January, then you may be beyond help. Other than that, Sky Cinema in the UK is offering the sequel to acclaimed horror A Quiet Place, which stars Cillian Murphy this time around, as well as videogame adaptation Monster Hunter (which didn't do much to impress our reviewer back in December 2020, but who knows, it might be just the thing after a long day. A veeeeeeeery long day).
Other than those three, check out what's coming to Sky Cinema this month below.
Movie Premieres & Sky Originals
The Croods 2: A New Age – 1st January
Animated sequel about a prehistoric family featuring the voices of Nicolas Cage, Emma Stone, Ryan Reynolds and more.
Naked Singularity – 2nd January
A comedy crime-drama starring Star Wars' John Boyega as a New York public defender who gets tangled up with a drug heist.
A Quiet Place Part II – 7th January
The sequel to John Krasinski's tense extra-terrestrial alien horror, in which Emily Blunt, Millicent Simmonds and Noah Jupe are joined by Peaky Blinders' Cillian Murphy.
Rock Dog 2: Rock Around the Park – 8th January
Animated comedy adventure sequel about a dog guitar band.
Land – 9th January
Robin Wright directs and stars in this story of a woman who retreats to the Rockies after experiencing a trauma, and learns how to survive and heal in the unforgiving wild.
Save the Cinema – 14th January
Samantha Morton plays youth theatre leader Liz Evans, the real-life Welsh campaigner who fought to save a local community theatre.
The Paper Tigers – 15th January
2020 action comedy-drama about a trio of former Kung Fu experts who team up to avenge the murder of their former master.
Pig – 16th January
Nicolas Cage plays a chef who spends his days foraging for truffles with his beloved pet pig in the forests of Oregon, until revenge comes a'callin. Read our review here.
Mass – 20th January
2021 drama starring Jason Isaacs, Ann Dowd and Martha Plimpton about a tragedy that unites two sets of parents attempting to heal.
Nobody – 21st January
Bob Odenkirk and Connie Nielsen star in this action drama, the story of an overlooked ordinary guy whose inner badass emerges after a break-in at his home.
Supernova – 22nd January
Colin Firth and Stanley Tucci play a couple travelling around England while dealing with a dementia diagnosis in this romantic drama.
Monster Hunter – 28th January
Paul W.S. Anderson's action-fantasy based on the hit video game series stars Milla Jovovich, Tony Jaa and Ron Perlman.
One Shot – 29th January
Action thriller starring Ryan Philippe, Ashley Greene and Scott Adkins, about a Navy SEAL unit trapped on a black site island prison mid-mission, and the attempt to stop a terrorist bomb plot.
French Exit – 30th January
Michelle Pfeiffer stars in this comedy-drama about a down-on-her-luck Manhattan socialite forced to move to Paris with her son and cat.